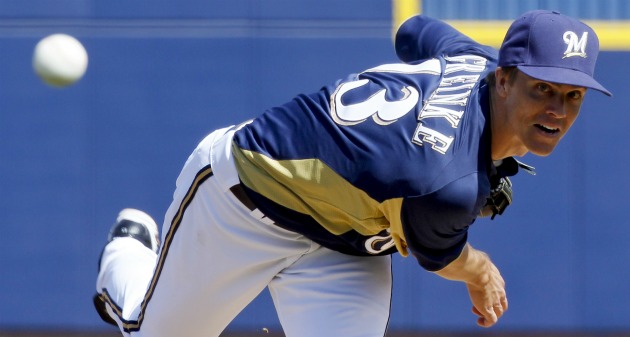 By C. Trent Rosecrans
At this point of the season, there's little reason to worry much about free agency -- there's a lot more things to happen before it's an issue. But during the long six weeks of real nothingness that is spring training, most of the free agents-to-be will be asked about their impending status.
Brewers
right-hander
Zack Greinke
is today's subject. In Brewers camp, the 28-year-old was asked about his plans after this season. While, as is customary in this dance, Greinke said he was interested in re-signing with Milwaukee, he also acknowledged the possibility of listening to offers.
Greinke is currently without an agent, but said he'd hire a new one after the season -- thus insinuating he's not going to sign with the Brewers before testing the free-agent waters.
"I think it would be kind of neat. There could be positives to it, and there could end up being negatives. It's not like everyone who gets to free agency, it ends up working perfectly for them, and everything comes true that they want," Greinke
told Tom Haurdricourt of the Milwaukee Journal Sentinel
. "Sometimes it ends up backfiring on you and you would have been better off signing with your team. A lot of times, when you get all 30 teams fighting for you, you should be in a pretty good situation. It has happened where it doesn't work out for people."
That kind of statement sows the seeds in the mind of the Brewers' brass that he could re-sign with the Brewers before he's eligible for free agency. He noted that owner Mark Attanasio and general manager Doug Melvin are expected to meet this weekend to talk about an extension with Greinke.
Said Melvin (again,
via the Journal Sentinel
): "Mark and I have to talk first," said Melvin. "We won't let (having no agent) stop us if we decide to talk to him. There's no timetable to do it. We haven't set any timetable. We definitely have to have a conversation (with Greinke) before the season starts. I'd like to be able to do that."
That said, he should be, along with
Cole Hamels
and
Matt Cain
, the prize of the free-agent market this coming winter. No matter what is said now, there's a lot more money available after the season than before it. The Brewers will certainly make an offer, but that doesn't guarantee much, if anything.
For more baseball news, rumors and analysis, follow @EyeOnBaseball on Twitter, subscribe to the RSS feed and "like" us on Facebook.