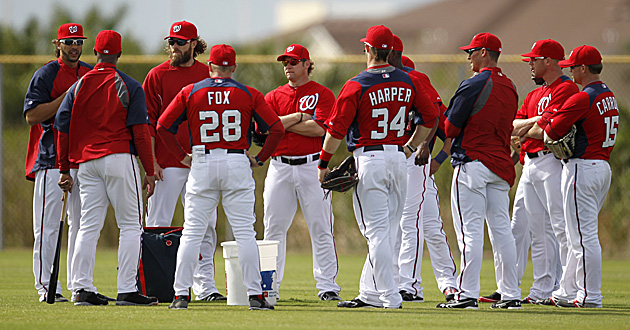 By Matt Snyder
The Washington
Nationals
have never had a winning record. They finished 81-81 in 2005 but came in last. Then they dipped all the way down to consecutive 59-win seasons before winning 69 in 2010 and going 80-81 last season. So is 2012 the time for the first Nationals winning season -- and possibly more? Unfortunately for the Nats, they play in one of the toughest divisions in baseball. Fortunately for the Nats, they are improved from last season's third-place team.
Danny Knobler's camp report:
Harper decision might make all the difference
|
Likes, dislikes
Major additions:
LHP
Gio Gonzalez
, RHP
Edwin Jackson
, RHP
Brad Lidge
Major departures:
OF Layne Nix, RHP
Livan Hernandez
, RHP
Todd Coffey
Probable lineup
1.
Ian Desmond
, SS
2.
Jayson Werth
, RF
3.
Ryan Zimmerman
, 3B
4.
Michael Morse
, LF
5.
Adam LaRoche
, 1B
6.
Danny Espinosa
, 2B
7.
Wilson Ramos
, C
8.
Roger Bernadina
, CF
Probable rotation
1.
Stephen Strasburg
2. Gio Gonzalez
3. Jordan Zimmerman
4. Edwin Jackson
5.
Chien-Ming Wang
John Lannan
is also a possibility as the fifth starter, and remember Strasburg is on a 160-inning limit this season.
Back-end bullpen
Closer:
Drew Storen
Set-up:
Tyler Clippard
, Brad Lidge
Important bench players
C
Jesus Flores
, IF/OF
Mark DeRosa
, OF
Rick Ankiel
Prospect to watch
C'mon. You know who. We've all been watching
Bryce Harper
since he was about 15, and from everything said in camp it sounds like 2012 is the year we see him in the majors. Will he break camp with the club? Only if they're ready to play him everyday, which means Werth is shoved to center. I believe the Nationals would have to be 100 percent convinced Harper was ready to star right now, otherwise there's no reason to do so -- especially since the defense would suffer as a result. More likely, an injury or underperformance opens the door sometime in May or June. Regardless, scouts collectively believe Harper is an elite-level superstar when he does stick in the majors.
Anthony Rendon
bears watching as well, but not to the extent of Harper.
Fantasy breakout:
Jordan Zimmermann
"One could argue that in his first full season back from Tommy John surgery Zimmermann had already broken out. Last year the 25-year-old posted a 3.18 ERA and 1.15 WHIP and only an innings limit kept him from being a top 40 starting pitcher. This season, Zimmermann won't be curtailed in terms of his workload, and better yet, there is room for him to perform better even on a per-inning basis. He averaged slightly less than seven strikeouts per nine innings in 2011, not meeting the standard he set prior to his surgery but he started to miss a lot more bats over his final 10 starts. Over that span, Zimmermann got to strike three 53 times in 58 2/3 innings. With more innings and a higher K-rate likely this season, look for Zimmermann to emerge as a No. 3 starting pitcher in mixed leagues." - Al Melchior [
Full Nationals fantasy team preview
]
Fantasy bust
Jayson Werth
"Leaving a homer-friendly ballpark in Philadelphia behind, many expected Werth to have a down year in 2011, but the worst may be yet to come. Park factors may have worked against Werth with his move to Washington but even before he signed with the Nationals he was facing a steady decline in his home run per flyball ratio. While Werth's home run power seems to be evaporating the 46 doubles he hit in 2010 was merely an outlier as he has never hit more than 26 in a season barring that one year." - Al Melchior [
Full Nationals fantasy team preview
]
Optimistic outlook
Every player plays like he's capable and the Nationals don't have a major weakness. The offense has the potential to be strong top-to-bottom, with great starting pitching -- Edwin Jackson proving to be the best No. 4 in the league -- and a lock-down back-end of the bullpen. If everything comes together like it can, the Nationals would make the playoffs. They may not be able to win the toughest division in the National League, but with a possibility of two wild cards on the table -- seriously, Bud, how long until this is decided?!? -- there's certainly no reason to count out the Nats.
Pessimistic outlook
While there are good hitters in the lineup, the lack of an elite slugger in addition to a hole in center field holds the offense back. Werth's struggles bleed into 2012, Zimmerman again can't stay healthy and the pitching staff is plagued by Gonzalez's control issues and Jackson's inconsistency -- not to mention Strasburg's inning limit. Playing in the mighty NL East, the Nationals come in fourth or even last, with the
Mets
surprising and jumping over them.
For more baseball news, rumors and analysis, follow @EyeOnBaseball on Twitter, subscribe to the RSS feed and "like" us on Facebook.