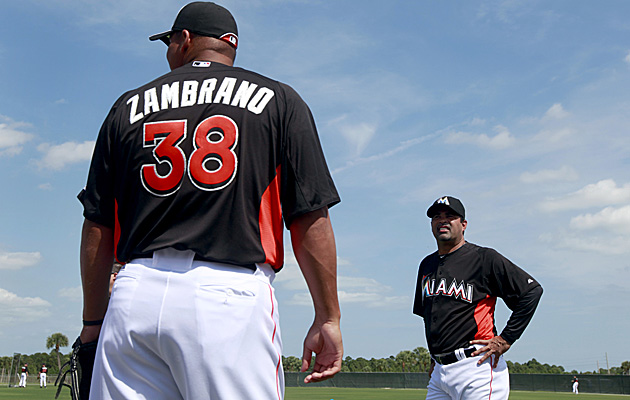 By Matt Snyder
All of a sudden, in just one offseason, the Miami
Marlins
have undergone a complete makeover. They have a new name, logo and stadium. New, more colorful uniforms are part of the deal as well. Still, that's all window-dressing if the on-field product resembles the 72-90 one from 2011. And it doesn't. Not only did the Marlins bring in three highly-coveted and high-priced free agents, but they traded for fiery
Carlos Zambrano
and brought in one of the most outspoken -- and, at times, effective -- managers in baseball. How Ozzie Guillen's new-look troops fare in the 2012 season remains to be seen, but two things are certain: More people will be in attendance to find out and it's not going to be boring.
Major additions:
SS
Jose Reyes
, LHP
Mark Buehrle
, RHP Carlos Zambrano, RHP
Heath Bell
, LHP
Wade LeBlanc
Major departures:
RHP
Javier Vazquez
, C
John Baker
, RHP
Burke Badenhop
, RHP
Chris Volstad
Probable lineup
1. Jose Reyes, SS
2.
Emilio Bonifacio
, CF
3.
Hanley Ramirez
, 3B
4.
Giancarlo Stanton
, RF (
a.k.a. Mike Stanton
)
5.
Logan Morrison
, LF
6.
Gaby Sanchez
, 1B
7.
John Buck
, C
8.
Omar Infante
, 2B
Probable rotation
1.
Josh Johnson
2. Mark Buehrle
3.
Anibal Sanchez
4.
Ricky Nolasco
5. Carlos Zambrano
Wade LeBlanc is the injury replacement.
Back-end bullpen
Closer: Heath Bell
Set-up:
Edward Mujica
,
Mike Dunn
Important bench players
C
Brett Hayes
, IF
Greg Dobbs
, OF
Scott Cousins
, OF
Bryan Petersen
Prospect to watch
For this year, there really aren't many guys on the radar ready to jump in and immediately help. Third base prospect
Matt Dominguez
is in Triple-A, but he's now blocked by one of the team leaders in Hanley Ramirez. All the other highly-ranked Marlins prospects are in the lower-levels of the minors. So we'll go with Dominguez here for this reason: Should he have a big first three months in Triple-A while the Marlins are in the thick of the pennant race, he makes for good trade bait at the deadline. Maybe they could use him to upgrade the bridge to Heath Bell or even as part of a package to landing a really good center fielder.
Fantasy breakout:
Logan Morrison
"Morrison's track record suggests both his walk rate and BABIP should rebound, and in fact, his .268 BABIP from a year ago looks like the result of some horrendously bad luck. He is a strong bet to improve on his OBP and, at worst, maintain the home run power he displayed in 2011. Add in some improvement and subtract out his minor league demotion and DL time from last season, and Morrison suddenly profiles as a No. 3 mixed league OF." - Al Melchior [
Full Marlins team fantasy preview
]
Fantasy bounce-back:
Hanley Ramirez
"Ramirez had a miserable first half last season, and just when he started to get untracked, he suffered a shoulder injury that led to season-ending surgery. As the season progressed, Ramirez adjusted and started hitting more line drives and flyballs, and his batting average and power numbers rose accordingly. Even though his overall stats were pale compared to his norms, a good sign for Ramirez was that his home run per flyball rate was not much lower than usual." - Al Melchior [
Full Marlins team fantasy preview
]
Optimistic outlook
Everyone behaves, Ramirez and Johnson stay healthy and have big seasons while the youngsters (Stanton, Morrison) develop into stars. Especially now that there are two wild cards, the Marlins have a great shot at the playoffs with this group. And once you get there, anything can happen, so I'd say an optimistic outlook has them winning the third World Series in franchise history. If you look at the upside in the offense and rotation in particular, it's hard to argue against a best-case scenario being a championship. Then again ...
Pessimistic outlook
Utter disaster. The club doesn't respond to Guillen, Johnson injures his arm again, Zambrano melts down, Morrison quibbles with management over Twitter, Ramirez starts slow and demands a trade due to wanting to play shortstop again ... you get it. I can't think of another club with such high-peak and low-valley potential entering the 2012 season. This group of personalities could be the new Bronx Zoo champion or a catastrophic mix on the field that finishes last. Almost literally, anything could happen. As I said in the intro, it certainly won't be boring. Just sit back, relax and enjoy the show.
For more baseball news, rumors and analysis, follow @EyeOnBaseball on Twitter, subscribe to the RSS feed and "like" us on Facebook.