By Evan Brunell

As the trade deadline kicks into gear, teams who consider themselves buyers -- much like the
Cardinals
in acquiring
Edwin Jackson
and relievers, but
sending away young
center fielder
Colby Rasmus
-- are hoping that years from now, those teams will land on articles detailing moves that worked out at the trade deadline.
This is one such article looking back at the three previous years and the deadline deals that occurred. Which of these deals ended up being fantastic ones for teams? Looking strictly at those who were "buyers" -- that is, they went after the best player in the deal or made a trade clearly geared toward winning, let's take a look at the top five in reverse order.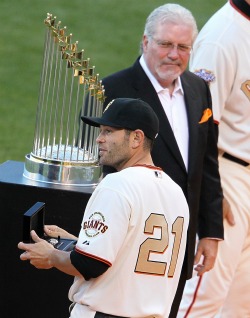 5. FREDDY GOT FINGERED
July 29, 2009: Pirates trade 2B Freddy Sanchez to Giants for minor league RHP Tim Alderson.
The Giants were seven games out of first place, but leading the wild card when they added second baseman Freddy Sanchez from Pittsburgh. Sanchez was supposed help settle the Giants' offense en route to a playoff berth. "A kid that has distinguished himself as an All-Star three out of the last four years and a batting champ within that time frame," GM Brian Sabean told the Associated Press at the time of the trade. The timing's great."
Unfortunately for Sabean, Sanchez has neither been an All-Star or batting champion since, but this trade still comes away as a win. That's because Sanchez wasn't acquired with just 2009 in mind, as he limped to the finish line with his new team that season. Battling a leg injury, Sanchez appeared in only 25 games, hitting .284/.295/.324. But in 2010, Sanchez hit .292/.342/.397 as an important part of the team, which would eventually win the World Series that October.
This deal was actually considered a loss for San Francisco at the time, as they coughed up Tim Alderson, then ranked the No. 4 prospect in the Giants organization by
Baseball America
. But declining velocity took all the luster off of the lefty, who is 22 years old and attempting to reinvent himself as a reliever for Double-A and won't reach the majors unless something changes.
4. BACK TO ATLANTA
July 31, 2009: Red Sox trade 1B Adam LaRoche to Braves for 1B Casey Kotchman.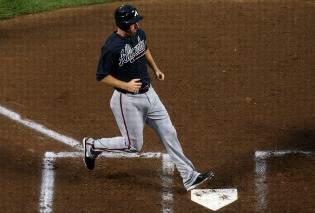 Mark Teixeira
's replacement in Casey Kotchman wasn't bearing fruit, so the Braves gave up and shipped Kotchman north for Adam LaRoche, who came up with Atlanta and spent three years with the team before being dealt to Pittsburgh in the offseason prior to 2007. At just one game over .500, the Braves were looking for an offensive punch that could get them into the wild card and division mix.
It worked, as the Braves finished the season 10 games over .500, but they still fell short of the playoffs, despite LaRoche's patented second-half surge aiding the team with 12 home runs in 242 plate appearances, hitting .325/.401/.557. That's fantastic production with a cost in only Kotchman, who was traded after the season to Seattle for
Bill Hall
and hit .217/.280/.336 in full-time duty. Kotchman has rebounded this season in Tampa Bay with a .328 batting average as the club's starting first baseman, but Atlanta's happy with rookie first baseman
Freddie Freeman
.
3. IT'S ALWAYS SUNNY IN PHILADELPHIA
July 29, 2009: Indians trade LHP Cliff Lee and OF Ben Francisco to Phillies for minor league RHP Jason Knapp, RHP Carlos Carrasco, SS Jason Donald and C Lou Marson.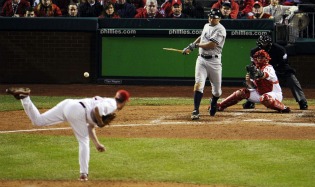 This ended up being a fantastic deal for the Phillies. While the players Philadelphia coughed up have either not yet started their major-league careers or have just started -- making full evaluation of the deal impossible -- we can try. Let's go in order, starting with Knapp. What made him so highly regarded is obvious when he steps on a mound, but that's not often. He briefly pitched for the Indians following the trade, then checked in with just 28 2/3 innings all of last season and has yet to pitch this year after undergoing his second major shoulder surgery since being acquired. He could still end up an ace, but it doesn't look good.
Carrasco has developed into a solid middle-rotation starter for Cleveland. That's all well and good but Philly doesn't lack for prospects and while Carrasco has value, he's not going to make the deal worth it all by himself. It'll be up to Donald and Marson. Donald hit .253/.312/.378 in 325 plate appearances for the Indians last season and is the man with the lone hit in Armando Galarraga's not-perfect game. He's toiling in the minors and isn't much more than a backup infielder, while Marson isn't much more than a backup catcher, hitting .208/.279/.296 in 424 PA over the last two seasons in that capacity.
So the Phillies benefit by giving up a package that, so far, isn't much for an ace like Lee. The left-hander would go on to post a 3.39 ERA in 79 1/2 innings for Philadelphia, giving the club an ace it desperately needed to defend their 2008 World Series title. Philly didn't do that against the
Yankees
(although Lee did win the only two games Philadelphia came away with in the series), but they did capture a second straight NL pennant and established Philadelphia as a big-market team that would be around for a while.
And of course, while Lee's stay in Philadelphia would be brief as he was moved to Seattle in the offseason to make way for
Roy Halladay
, Lee's time in Philly was so good that he returned to town as a free agent, taking less years to get back in the City of Brotherly Love. (And we haven't even mentioned Francisco, who has continued his fine career as a fourth outfielder in Philly, although he stumbled this season when handed more playing time.)
2. MANNYWOOD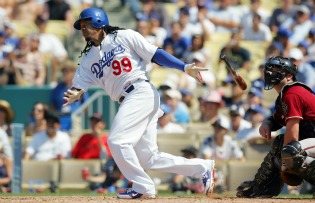 July 31, 2008: Red Sox trade LF Manny Ramirez to Dodgers, with 3B Andy LaRoche and minor league RHP Bryan Morris going to the Pirates in a three-team trade.
Manny Ramirez wore his welcome out in Boston so badly, the Red Sox would have given anything to get rid of ManRam. They ended up walking away with
Jason Bay
in a three-team deal, sending Ramirez to Los Angeles. (The full details: Morris and LaRoche to the Pirates along with Boston's RHP Craig Hansen and OF Brandon Moss.) The Red Sox ended up pleased with their investment, giving up essentially nothing. But the Dodgers had the bigger coup, as LaRoche was a colossal bust in Pittsburgh and is now in the farm system of Oakland. Morris is now 24 and has an outside chance of making the majors.
But Manny was all the rage in Los Angeles for the rest of the year back in 2008, hitting an unconscionable .396/.489/.743 with 17 home runs in 53 games. Even
Jose Bautista
can only aspire to these levels. Ramirez took a .500 team to the division title and boasted a .520 batting average in October as the Dodgers fell to the Phillies, who would eventually win the World Series. He hit well enough in 2009 for Los Angeles at .290/.418/.531 in 431 PA, but was suspended 50 games for violating baseball's drug program. A year later, Ramirez was no longer the toast of town and quickly forced his way out to the
White Sox
. Still, Ramirez helped revive the Dodgers, if only for a brief period of time before Frank McCourt would do Manny one better in demoralizing Dodger fans.
1. A HOLLIDAY IN ST. LOUIS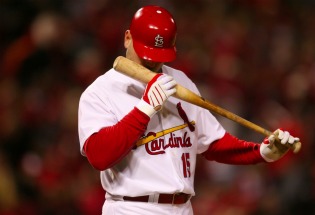 July 24, 2009: Athletics trade LF Matt Holliday to Cardinals for minor league 3B Brett Wallace, OF Shane Patterson and RHP Clayton Mortensen.
This is the fourth 2009 deal on this list. It was certainly a good time to be a buyer back then, as the Cardinals well know. They picked up a slugger for ... well, nothing special. Holliday had been acquired from the
Rockies
in the offseason by Oakland, who offered up (gulp)
Carlos Gonzalez
,
Huston Street
and Greg Smith. They didn't get anywhere close the return for Holliday after he failed to produce in Oakland's cavernous stadium. Wallace was supposed to be a good hitting prospect -- his luster had yet to dim. But it did in the next two years, with Wallace being flipped to Toronto after the season, the Jays then immediately sending him to Houston. Opening the year as the starting first baseman for Houston, Wallace has hit .275/.352/.382 and just lost his starting spot.
Mortensen was a fleeting -- and failing -- pitcher in Oakland before being traded for next to nothing to Colorado and has been a solid swingman this season but is currently in Triple-A. Peterson was just promoted to Triple-A and has a shot to develop into ... well, something. But that's a very weak return for a man who has paired with
Albert Pujols
for a devastating 3-4 punch. He was so overjoyed to be back in the NL that he hit .352 the rest of the way, and is at .320/.400/.549 after inking a contract extension. That's even better than his Colorado numbers, so this was a masterstroke for St. Louis. Odd to say that on a day where the Cardinals did the opposite of a masterstroke by dealing Colby Rasmus to Toronto.
For more baseball news, rumors and analysis, follow @cbssportsmlb on Twitter or subscribe to the RSS feed.