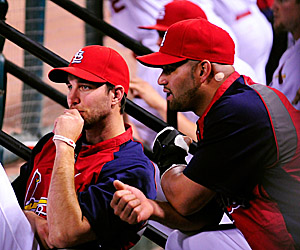 By Matt Snyder
The
Cardinals
fully expect to pick up
Adam Wainwright
's two-year, $21 million option following this season, according to general manager John Mozeliak (
St. Louis Post-Dispatch
). Obviously it's not official yet and something could change, but it seems like a safe assumption. Wainwright is currently on the disabled list as he recovers from Tommy John surgery, which he had in the spring. He's 29 and finished in the top three of Cy Young voting in both 2009 and 2010, so he's likely to return to ace form pretty soon.
The option was always in the Cardinals budget for the 2012 and 2013 seasons, so the only reason there was any question whatsoever was his injury. Still, when hearing about this option, the mind can't help but wander over to first base. As we all know,
Albert Pujols
is a free agent after this season.
I find it hilarious when people talk about Pujols having a down year in some sort of derogatory fashion. His numbers are the worst of his career, but saying it's a down year is actually a testament to how good he is. He leads the NL in home runs. He's hitting .290 with a .900 OPS. He's ninth in the NL with a 148 OPS-plus (to those unaware, that's 48 percent above the league average). This is a career year for most players in baseball history. And it's the worst of Pujols' career.
Basically, all Pujols' season has done is make "the best player in baseball" discussions into arguments. Before there was no question it was Pujols. Now, Pujols is simply on the short list of candidates. But he's still only 31 and very much in his prime.
With Pujols' ties to St. Louis and vice versa, there's every reason to believe a ballclub with the revenue stream the Cardinals have will do everything it can to keep him.
So then, the fallout is what kind of team can the Cardinals put around Wainwright, Pujols and
Matt Holliday
. The Cardinals are committed to just over $50 million in payroll for next season, but that's without Pujols,
Chris Carpenter
,
Yadier Molina
,
Lance Berkman
,
Edwin Jackson
,
Rafael Furcal
, five major-leaguers eligible for arbitration and several other pieces.
Let's assume the Cardinals give Pujols $25 million a season, which I feel like they'll do. That means they're up to around $75 million in player payroll for 2012. They're at around $110 million this season. Assuming they don't want to raise payroll, the Chris Carpenter option probably cannot be picked up.
Carpenter's player option is $15 million for next season. Molina's option is for $7 million and we've got to assume they'll grab that. The aforementioned arbitration-eligible players make around $8 million this season and usually arbitration lands raises. That jumps the payroll to $115 million range before even considering the players not yet eligible for arbitration, adding any free agents from outside the organization or retaining, say, Berkman. If the Cardinals wanted a similar team to this season, only having a healthy Wainwright in Edwin Jackson's rotation spot (Jackson is a free agent), the payroll might have to jump upwards of $15-$20 million. Maybe more, depending on myriad factors.
The Cardinals do make a lot of money, but are still in a relatively small market. If they don't want to raise payroll and still want to keep Pujols, the rest of the roster is going to take a hit in some form or another.
For more baseball news, rumors and analysis, follow @EyeOnBaseball on Twitter or subscribe to the RSS feed.