By C. Trent Rosecrans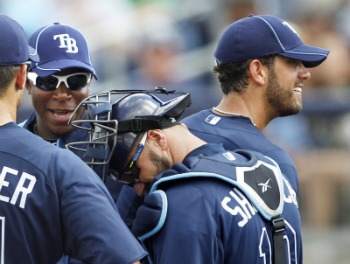 Perhaps looking ahead to the NFL lockout when he may need a part-time job, Buccaneers head coach Raheem Morris tried his hand at managing a baseball team on Tuesday.
Morris was in uniform and sat on the bench with Rays manager Joe Maddon on Tuesday and even had carte blanche to call hit-and-runs and bunts. And then in the fourth inning of the game against the Blue Jays, Morris went out to the mound to take James Shields out of the game after the right-hander reached his 60-pitch limit.
"It was funny. I'm definitely used to seeing Joe come out there," Shields told the Tampa Tribune. "He came out, he walked out to the mound and said, 'So what do we do now?' I said you're supposed to get the ball from me, and he's like, 'Oh, OK. Then hand me the ball. What are we doing after the game?' This is what we're supposed to talk about out there. It was pretty funny."
Morris also took the lineup card to the umpires at the start of the game.
Bucs wide receivers coach Eric Yarber took batting practice and ground balls before the game and served as the first base coach during the first inning.
Morris also did some scouting of his own while he was in camp.
"[Evan Longoria could] probably play a little linebacker for me, a little Sam," Morris told MLB.com. "He's got some toughness. I notice he's got a little bit of swagger."
He'd also take B.J. Upton.
"Maybe coming in as the nickel, he doesn't want to tackle," Morris said. "So I'll get him out there on third down. But Joe got him to run the bases hard now, so I can get him to tackle."
Maddon said he'd like to take a turn running the Bucs' scout team.
"If he can see over our line, he's got a chance," Morris said.
For more baseball news, rumors and analysis, follow @cbssportsmlb on Twitter or subscribe to the RSS feed.