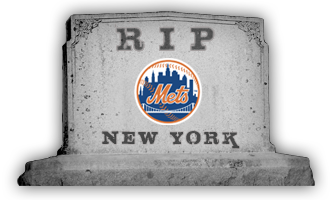 By Evan Brunell
Another season gone, another disappointment for 29 teams as one is immortalized forever. Let's take a look back at 2011 and forward in Eye on Baseball's R.I.P. series...
Team name:
New York
Mets
Record:
77-85, 4th place, 25 GB
Manager:
Terry Collins
Best hitter:
Jose Reyes
-- .337/.384/.493, 101 R, 39 SB
Best pitcher:
R.A. Dickey
-- 8-13, 208 2/3 IP, 3.28 ERA, 134 K, 54 BB
2011 SEASON RECAP
Coming into the season, no one expected the Mets to contend and the team did fans a favor by starting out 11-16 and setting expectations. The club rebounded to post three straight winning months largely on the strength of Reyes, Carlos Beltran and Dickey. There was some noise in the summer months about how New York could potentially finish .500, which would have been a resounding success, but once Beltran was traded and Reyes battled hamstring problems, New York quickly fell out of the race, with a season-worst 10-16 August and by then, it was just playing the string out.
2012 AUDIT
The Mets are still a couple of years away from contending, and 2012 will be much like 2011 in that GM Sandy Alderson needs to get the team in order moving forward to win. That means wiggling out of poor contracts (looking at you, Jason Bay) or finding players who can fit in New York. The free-agent market isn't robust, so for any significant changes, the Mets will need to turn to the trade market. Don't expect them to deal any of their heralded prospects, though, as these players are the future of New York. The club could use more pitching, but what team doesn't? Alderson will have a tough call on his hands this winter, deciding whether or not to bring back Jose Reyes as well as trade the face of the franchise, David Wright.
FREE AGENTS
Chris Capuano
, SP
Scott Hairston
, OF
Willie Harris
, UTIL
Jason Isringhausen
, RP
Jose Reyes, SS
Chris Young
, SP
OFFSEASON FOCUS
It'll be difficult for fans to accept it, but Jose Reyes needs to walk. The amount of money that would be otherwise tied up in Reyes would be astronomical given his checkered injury history. In addition, as great a year as he had, it was also a career season, and he's only had two other seasons in which his OPS has been greater than .800. It's not the right investment for Alderson to make, especially since Reyes would fetch compensatory draft picks that can stock the Mets' farm system. To replace Reyes, the team shouldn't go for a silver bullet. No one can replace Reyes in the minds of fans, so they shouldn't even try. Instead, sign defensive wizard Clint Barmes, whom pitchers will love.
Keep David Wright. There's been scuttlebutt that the Mets might consider trading him, but New York needs to give fans at least one reason to come to the park. Deleting Wright wouldn't provide enough of a return coming off an injury-plagued and poor year. Start the year with Wright in the lineup and make him available in July.
Resign Chris Capuano. The lefty wants to be with the Mets, and he was more than capable in the back of the rotation. Someone who clearly wants to be with the Mets is a good thing right now.
Go with Ruben Tejada at second base permanently. The Mets need to figure out if they have a long-term answer at the position with Tejada, and playing him is the only way to find out. Daniel Murphy could also stick at the position if and when Ike Davis returns from his injuries.
Do nothing else. Yes, really. Look, this isn't a team that can contend in 2012. It just can't, and Alderson is not the type of GM who will trade away prospects important to the future just to slap a band-aid on the major league team. There is a significant crop of free agents coming in 2012, and the Mets need to save their money for then as well as work through the remaining questions on the roster. Jason Bay is entering a put-up or shut-up season for the Mets, Angel Pagan is looking to rebound, and there are two outfielders close to the majors that need to break in and get at-bats in Fernando Martinez and Kirk Nieuwenhuis. By this time next year, the Mets will have a clearer picture as to the future of the team, its top prospects will be that much closer to the majors, a bountiful free-agent crop will await, and the Phillies will be another year older. It will take time, but Alderson can and will get the Mets back to relevancy.
For more baseball news, rumors and analysis, follow @EyeonBaseball on Twitter or subscribe to the RSS feed.