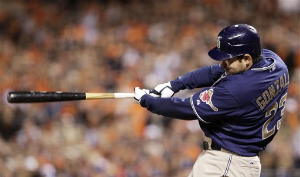 The
Red Sox
are making a bid for some players who will cost big money, but they also apparently have interest in a big acquisition that would be paid in players.
An ESPNBoston.com
report
says Boston general manager Theo Epstein has been talking with
Padres
counterpart (and former Epstein assistant) Jed Hoyer about a deal that would bring big-hitting first baseman
Adrian Gonzalez
to the Red Sox. Gonzalez, who batted .298/.393/.511 with 31 homers and 101 RBI last season, will be a free agent after next season, and he'll be well out of the Padres' price range. San Diego had the second-smallest payroll in the majors last season.
Moving Gonzalez is a tough decision for the Padres. He's far and away their best offensive player (while he had 101 RBI last season, no other Padre had more than 58), he's popular and he's affordable for next season ($5.5 million). And the Padres, who missed the playoffs by one game after their offense couldn't score enough to support their stellar pitching, won't be able to come near replacing his offense at the same price.
Still, that's how small-payroll teams compete: Make great, cheap acquisitions, then make great trade decisions when moving them prior to free agency. And the Padres seem uniquely positioned to judge this trade, given that Hoyer, assistant GM Jason McLeod, and Josh Byrnes,
hired Friday
as San Diego's vice president of baseball operations, all worked for the Red Sox and know their prospects well. You wouldn't figure they'll get fleeced, nor will they make a deal that doesn't bring enough back. (
Here
is a
Baseball America
's analysis of Boston's top prospects.)
Perhaps the best part of this deal from Boston's perpective would be that they would add an elite offensive player with virtually no effect on their pursuit of big-hitting free agents Jayson Werth and Carl Crawford. Imagine how scary Boston's lineup would look with all three.
Interestingly, this news came out hours after the Red Sox met with Scott Boras about free-agent third baseman Adrian Beltre. If Boston loses Beltre, the plan would be to move
Kevin Youkilis
to third, freeing up first base. The pursuit of Gonzalez could signal that the Red Sox are planning for life after Beltre.
-- David Andriesen
For more baseball news, rumors and analysis, follow @cbssportsmlb on Twitter or subscribe to the RSS feed.