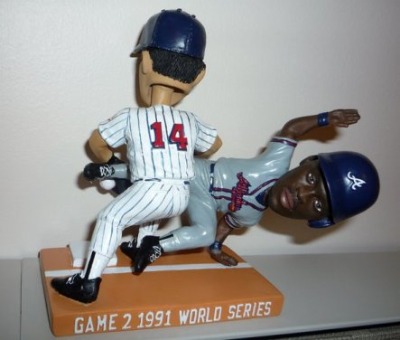 Braves
fans may not want to visit Target Field this year just in case they manage to go on the day of Kent Hrbek-Ron Gant bobblehead night.
The
Twins
confirmed to the
Star-Tribune
that the bobblehead seen to the right will indeed be given away this year -- at a date to be released in March.
The play, of course, is from Game 2 of the 1991 World Series when the Twins first baseman -- well, either kept the tag on Gant as he came off the base or pulled Gant off the base, the exact wording depends on your allegiance -- leading to 3-2 Twins victory.
I grew up playing first base, so I always identified with Hrbek -- it's all within he rules if you can get away with it. And there's a ton of little things you could do at first base that aren't exactly within the rules. I actually got a job in high school because of my knowledge of playing outside the rules. I was playing first four our team and one of the umpires was keeping an eye on me and noticed what I was doing. After the game, he asked if I was interested in umpiring Little League games in the summer, since I obviously knew the rules enough to know I was breaking them.
I've been wanting to get to Target Field soon, and this may push me to it. Or, you know, at least send me to the electronic Bay.
If you don't remember the play, here it is recreated by Legos:
BELISLE SIGNS:
The
Rockies
signed reliever
Matt Belisle
to a two-year deal worth $6.125 million plus bonuses, his agency, CAA,
tweets
.
How far did baseball change in the 90s? I always think about Matt Belisle when I think about the draft and bonuses. When I was on the
Reds
beat, I remember guys sitting around talking about draft bonuses, and Ken Griffey Jr. was joking that he, the No. 1 overall pick in 1987 received a signing bonus of $160,000.
What was funny, was nobody believed him. To all the younger players, it seemed impossible that the No. 1 overall pick -- and Ken Griffey Jr. no less -- got just a $160,000 signing bonus.
Somebody pointed out Belisle was a second-round pick and I don't remember if Belisle or someone else revealed the Braves gave him $1.75 million in 1998 -- and that had Griffey going for a while. And it had everyone else laughing.
NICE RIDE:
One of the best parts of spring training is checking out the rides players bring into the park. Check out
Mariners
' non-roster pitcher
Royce Ring
's ride. Not too shabby. (
Everett Herald
)
HAPPY TEAMMATES:
Jason Varitek
said he's happy to have
Carl Crawford
as a teammate, since now he won't have to try to throw him out. (
Boston Herald
)
Yankees TALE:
A good story from
Freddy Garcia
about throwing a split-finger fastball for the first time during a game. (
NorthJersey.com
)
HALTED:
The 56-game hitting streak of Florida International's Garrett Wittels was stopped Friday in the team's season-opener against Southeastern Louisiana. Wittels, a junior shortstop, was held hitless in four at-bats. The Division I record is 58 games, set in 1987 by Robin Ventura. (
MLB.com
)
CONCUSSION INFO:
FanGraphs.com's Jeff Zimmerman looks
at the recent history of concussions in baseball and looks at players' performance before and after the concussions. The small sample of players performed worse after their concussion.
This makes sense, but the bigger problem is concussion are likely under-reported. This has become a huge issue in football, expect to hear more about it in baseball.
THE RESULTS ARE IN:
Pablo Sandoval
is down 38 pounds since the end of last season. (
San Jose Mercury News
)
BAD HAIR SEASON:
Johnny Damon
's new 'do is drawing attention in Tampa -- gotta give it the ol' thumbs down. (
St. Petersburg Times
)
TRIBUTE:
Bill Bergen may be the worst hitter in baseball history. (
FanGraphs.com
)
WELCOME RETURN
: Could the VW Microbus be coming back? I love it. (
Road & Track
)
TEARFUL GOODBYE?:
A ruling in a California court could hurt the future of EA's NCAA series of video games. (
CNBC.com
)
FEELING OLD:
The new bassist for the Smashing Pumpkins is one of the little girls from the Siamese Dream album cover. (
Kottke.org
)
-- C. Trent Rosecrans
For more baseball news, rumors and analysis, follow @cbssportsmlb on Twitter or subscribe to the RSS feed.