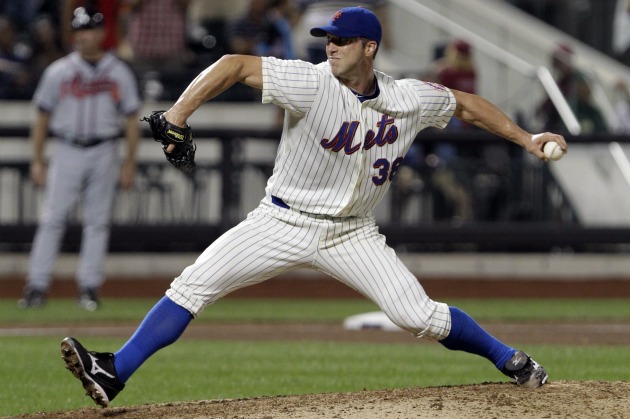 By Evan Brunell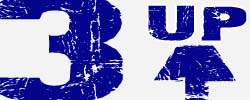 Chris Capuano, Mets:
It was a game for the ages for Capuano, who threw a complete game shutout while punching out a career-high 13, limiting the
Braves
to just two hits and zero walks. It was just the second loss in nine games for Atlanta, throwing 122 pitches in the effort. Capuano had a perfect game through five until
Dan Uggla
singled to break it up. The lefty had two good seasons for the
Brewers
back in 2005-06, but missed two seasons starting in 2008, and only tallied up 66 innings last year before moving to the Mets, where he's had a bounceback year with 154 1/3 innings with a 4.43 ERA. Capuano isn't a great pitcher, but he's a capable back-of-the-rotation starter that's providing value to New York at minimal cost.
James Shields, Rays:
While James Shields won't win the Cy Young Award, he's making a bid to finish pretty high up in the standings, as he blew away the
Royals
, allowing just one run in a complete game, whiffing 12 to give him 192 on the year. His ERA is down to 2.96 in 201 innings and set a prestigious record for being the first pitcher to register at least 10 complete games in a season since
CC Sabathia
in 2008 between the
Indians
and Brewers. It's also just the second time it's happened since 2000, so Shields has accomplished something quite remarkable.
Nelson Cruz, Rangers:
Cruz was a beast Friday, allowing the Rangers to take a three-game lead in the AL West. He slammed two home runs and doubles apiece to grab his 27th and 28th of the year, chipping in six RBI to push up to 84 and added three runs on a monstrous 4-for-5 night. He's now hitting .265/.318/.528 on the year, but August hasn't been kind to Cruz thus far. This game snaps a 4-for-23 skid.
---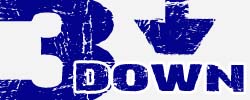 Roy Oswalt, Phillies:
In Oswalt's last start, he had an outing worthy of landing on the 3 Up. But Friday, he had nothing against Florida, giving up five earned runs in 5 2/3 innings, coughing up 12 hits while allowing a walk and striking out just two. "It was pretty much one bad pitch," Oswalt told the Associated Press, referring to
Marlins
catcher
John Buck
's grand slam . "[It was] a slider that didn't do what I wanted it to do." Oswalt was surprisingly booed by his home crowd, and now has a 3.77 ERA on the year. He's been touch and go ever since missing over a month with a back injury, and this was just one of these days where nothing quite worked.
A.J. Burnett, Yankees:
What can you say about A.J. Burnett these days? His ERA is now 11.91 in August after giving up nine runs in five innings against the
Orioles
. He also racked up nine hits allowed. That August ERA is pretty bad, but so is his ERA in the second half of the year: 8.64.
Phil Hughes
isn't exactly doing a great job forcing the issue, but the Yankees need to skip Burnett in the rotation and put him on layaway for a bit. It's time for drastic measures, as nothing is working. Give Hughes a few turns through, and then re-evaluate things. If New York wants Burnett locked in for the postseason, a breather may be the best thing at this point.
Jose Constanza, Braves:
Even through the hubbub around manager Fredi Gonzalez sitting
Jason Heyward
in favor for Constanza, everyone seemed to realize the benching would only be temporary. Eventually Constanza would cool off after a scorching start. Well, after going 0 for 3 with a strikeout against the Mets, it dropped his average to .173 over the last 23 at-bats. The cooling off is starting and should eventually result in Heyward returning to full-time play. Just in time for the postseason, too.
For more baseball news, rumors and analysis, follow @EyeonBaseball on Twitter or subscribe to the RSS feed.