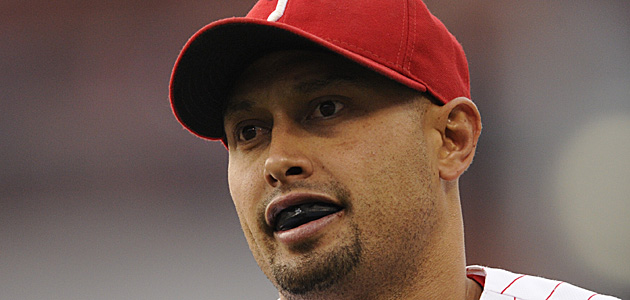 By Matt Snyder
Let's go the light-hearted route in leading off Pepper on this Tuesday morning.
Phillies
All-Star center fielder
Shane Victorino
had a moment in a rehab assignment Sunday that prompted him to say he was embarrassed. No, it wasn't an angry embarrassed caused by poor play. In fact, Victorino crushed a ball down the left-field line in his first at-bat. As he rounded first base, he heard a loud cheer from the crowd and assumed it was a home run. The umpires evidently signaled home run, but no one ever verbally told Victorino. He had his head down and was running hard, so he just keep on running, until manager Jeff Parent -- who was coaching third -- told Victorino.
"Parent stopped me at third and said, 'It wasn't a home run,'" Victorino said (
NJ.com
). "I said, 'Well, I appreciate you letting me trot around the bases.' No one stopped me. It was an embarrassing moment."
Don't be so hard on yourself, Shane. Could've happened to anyone who was getting around the bases quickly.
There is a
GIF of the play over at SB Nation
.
CATCHING THE FEVER:
As the
Pirates
moved into sole possession of first place Monday night, the popularity of the team has continued to rise. It's been 18 years since the Pirates have had a winning season, so the fans are taking everything in here in 2011. Merchandise sales are reportedly on a huge rise in the Pittsburgh area, with one store owner saying he had to pull some Penguins gear to make room for Pirates' merchandise. That's a great sign for a franchise that had for so long seemingly lost its fan base. (
Pittsburgh Live
)
MORE SUPPORT:
White Sox
manager Ozzie Guillen isn't shy in speaking his mind, we know that. This time around, he's saying Major League Baseball should do more to support the Negro League Museum in Kansas City, which is having financial troubles. (
Chicago Tribune
)
ON-AIR RESIGNATION:
A minor-league play-by-play announcer quit on the air. He went out in a blaze of glory, going with a near-four-minute speech on how people in the organization are treated unfairly and mentioning how he hasn't been paid in full. He had lots of good points and was quite measured and sane.
Check it out over at Awful Announcing
.
PARALYSIS ONLY A 'SETBACK?'
Former San Jacinto pitcher Buddy Lamothe would have been drafted much higher than the 40th round, had he not suffered a swimming accident that left him paralyzed from the waist down. He was in Houston Monday to throw out the first pitch and called the accident "just a little setback," and said he hopes to be on the mound one day as an
Astros
pitcher. That would be amazing. (
Ultimate Astros
)
OH, TORII:
Torii Hunter
of the
Angels
occasionally throws out a tweet that is funny in a "did we really need to think about that," kinda way. On his 36th birthday, Monday, he did it again. He thanked everyone who had tweeted him birthday wishes and noted that, at the ripe old age of 36, he still doesn't need Viagra. Well, that's a relief. I'll sleep tonight. (
Torii's tweet
)
NEW MENTAL APPROACH:
The
Nationals
have brought in a sports psychologist to work with some of the players, including the struggling
Jayson Werth
. The psychologist is one that has been previously used by the
Braves
-- back in the early 1990s. You might recall a lengthy streak of division title beginning around that time. Maybe this guy knows what he's going? (
Big League Stew
)
SAFETY FIRST:
Big league ballparks are focusing more on safety after the tragic death at
Rangers
Ballpark at Arlington a few weeks ago. They're looking at everything from the railing to security guards to discussing with the players how to throw the ball into the crowd. This is all good, but we as fans need to keep the surroundings in mind also. The Texas thing was a freak accident where a man simply lost his balance, but I saw several people doing pretty stupid things at the Home Run Derby in Arizona just to catch a baseball. If you're stepping one leg over the rail, maybe some priorities need to be re-examined. (
San Jose Mercury News
)
ABOUT THAT BOOING:
Remember how one of the dominant themes of the All-Star Game was how the Arizona fans were booing everyone?
I certainly do
.
Giants
closer
Brian Wilson
does, too, and he doesn't understand it. Wilson has basically the same point of view as I do, in that it's not anger, but it's not understanding the point of view. Why spend all that money to just be angry the entire time? (
Big League Stew
)
END OF AN ERA?
It's possible we're seeing the last few months of
Mark Buehrle
's career. The veteran pitcher is only 32 and surely has several more season's worth of production in that left arm. But he has openly discussed retirement and is a free agent at the end of the season. He's also made it known there aren't many other places he'd want to play. So this could very well be it. If he's content with his earnings and career achievements, there's nothing wrong with retiring to spend time with his family. (
Chicago Tribune
)
BARTON AND KOUZMANOFF TOGETHER IN TRIPLE-A:
Daric Barton and Kevin Kouzmanoff opened the season as the A's first and third basemen, respectively. They're still working opposite corners of the infield together, it's just in the minors.
MLB.com
has a lengthy update on the duo, including Barton taking full accountability for his futility at the plate and Kouzmanoff discussing how he was surprised by the demotion.
PITCHERS IN THE BOX:
Here's an interesting stat. Seeing pitchers get a base hit occurs almost as frequently as position players triple. (
WSJ.com blog
)
STILL IN LIMBO:
Brewers
All-Star left fielder
Ryan Braun
is not going on the disabled list for the time being, at least that's the plan, despite Braun having missed 10 of the Brewers' last 13 games. He did pinch hit Sunday, so the Brewers are definitely taking a risk that a possible DL stint would go deeper into the season. (
Journal-Sentinel
)
For more baseball news, rumors and analysis, follow @cbssportsmlb on Twitter or subscribe to the RSS feed.