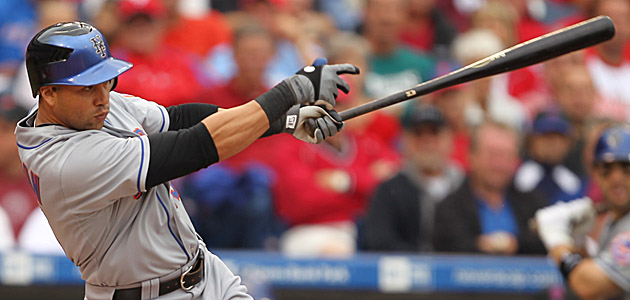 RESURRECTIONS:
Carlos Beltran
is making some progress on his rehab program, as he ran the bases Wednesday. "That's a huge sign, because he told me when he starts running the bases he'll be close to playing. So that was a big sign for me," manager Terry Collins said (
ESPN New York
). The five-time All-Star hasn't played a full season since 2008, but at age 33, it's not out of the question to return to form for at least a year or two. He played last September, but was shut down the last week when his bothersome knee flared up.
Disclaimer alert: he hasn't pitched in a game since June 13, 2009, he's 38 years old and it's awfully early in camp. Still,
Jason Isringhausen
is impressing
Mets
brass thus far. Armed with a new changeup, Izzy has been good enough to draw the word "outstanding," from Collins. (
New York Times
)
Elsewhere,
Brandon Webb
is still on a long road back himself. He threw "60 to 65 pitches off flat ground" Thursday. He'll throw again Friday and if there are no setbacks, the
Rangers
will put him on the mound either Sunday or Monday (
ESPN Dallas
). The right-hander, who finished in the top two of Cy Young voting three consecutive seasons before falling injured, hasn't thrown a pitch in the majors since April 6, 2009. Webb, 31, is a complete wild card this season for the defending AL champs.
And though it isn't near as long a road back as Webb,
Jake Peavy
of the
White Sox
is feeling very optimistic, though he's careful not to get too far ahead of himself. "I'm far ahead of where I thought I would be at this point,"
Peavy told MLB.com
. "But I can't push it and I've got to be cautious." In fact, the White Sox's potential ace might be on track to start April 6, if everything goes as well as it possibly could. The 29 year old went 7-6 with a 4.63 ERA in 17 starts in 2010, last pitching July 6. He underwent season-ending surgery to repair a detached muscle in his pitching arm.
ABDOMINAL ANNOYANCE:
Franklin Gutierrez was forced to fly back to Seattle to visit with some doctors about an ongoing stomach issue Thursday. The center fielder has suffered severe stomach pains on occasion since late last season, to the point that he couldn't eat well and his play was affected. It could help explain some of his offensive woes, as Gutierrez went .212/.253/.304 in his last 75 games at the plate. He did tell reporters last week his issue was gone, but it has apparently resurfaced and he'll likely need to get on some sort of medication to alleviate the pains. (
Seattle Times
)
SLIM CC:
After dropping 25 pounds this offseason,
CC Sabathia
says he can already tell the difference when it comes to his stamina. "In years past, I would get a little gassed in my bullpens once I got 30, 40 pitches in, but I felt pretty good," he told the
New York Times
. "I was able to keep my mechanics together and work on stuff that I need to work on." If this carries over the regular season, watch out. The big fella has averaged 240 innings a season since 2007, averaging just a tick above seven innings per start. And he has
more
stamina?
On a lighter note, he noted the toughest tests for him during the season are road trips to Kansas City (BBQ) and Chicago (deep-dish pizza). Amen, CC.
BREWER BARGAIN:
As
Ryan Braun
watches peers cash in with what some consider ludicrous contracts, one might wonder if he feels like his eight-year, $45 million contract -- of which he has five years remaining -- is short-changing him. The reality is that with the numbers Braun puts up, factoring in his age (27) and durability (at least 151 games in each of his three full seasons), the contract is an absolute steal for Milwaukee. To Braun's credit, he's not griping. He's only thinking about the playoffs, he says. As for the money thing, he told MLB.com: "I get it, but it's a non-issue. I pay attention to what goes on around the game, obviously, but I'm happy for all of those guys. I agreed to a deal three years ago that goes five [more] years, and I'm excited and honored to be here." (
MLB.com
)
IRON MAN?
The ever-polarizing
A.J. Pierzynski
wants to catch every game this season. Yes, all 162. There's no need to get into the realism of that one, what with his career high in games being 140, his offensive skills deteriorating and his age hitting 34. Plus, there's nothing wrong with
wanting
to play every game. More guys should want that. The juice in this article is the always-hilarious Ozzie Guillen, who once said he hates his catcher only a little less than the competition. This time around, he again said Pierzynski annoys him and that "sometimes I wish he wouldn't even come to the ballpark." It should be noted, Guillen was laughing, thus, saying everything tongue-in-cheek. (
MLB.com
)

UNDER BYRD'S WING:
It's always sad when veteran players have an ego too big to take a younger player under their wing. A football example comes to mind: you know, something with a guy wearing number four and a team that just won the Super Bowl. Anyway, I digress. We're talking about baseball. And
Marlon Byrd
of the
Cubs
has been working with top Cubs prospect Brett Jackson this spring. They're both center fielders, and Byrd's even embracing the inevitable for the sake of the franchise. "Last year, he really didn't know me," Byrd told
MLB.com
. "Now I say things and he understands that it's to help him. I even have to sit him down and say, 'I've got to help you to get ready because if you're going to move me to right field, you have to be ready. If not, I'm capable of playing at 34, 35 years old.' He got a kick out of that. He laughed."
RESTORING POWER IN THE BAY:
ESPN's SweetSpot blog
takes a look at
Jason Bay
, specifically his power. Or, if we're talking about 2010, a lack thereof. Four times in Bay's career he went yard at least 30 times in a season. After signing a big contract with the Mets, he did so just six times in 401 plate appearances in 2010. There were health problems and an adjustment to a new, cavernous park, but the output was still horrifying, as Bay slugged just .402 (his career slugging percentage is .508). Bay said he believes 30 home runs this season is "reasonable," and points to
David Wright
-- whose home run total jumped from 10 to 29 in his second season with Citi Field as a home.

BOSTON RED STALKS:
Remember how
Carl Crawford
was creeped out about the
Red Sox
virtually tailing him over the winter before inking him to a colossal contract? Johnny Damon, part of the group replacing Crawford in Tampa Bay and former Red Sox outfielder, isn't surprised. He even offered up an example of when it had happened in the past. "I know Boston had followed guys before like Mo Vaughn especially; they wanted to see what he was doing all the time. The Boston fans, they follow you around too to see what you're doing, it seems like they're everywhere. But when a team's investing $142 million they probably have a right to know every little bit of your history," he told the
St. Petersburgh Times
. Interesting. Damon wasn't anywhere close to Boston when Vaughn departed via free agency, but he could very well be correct. And if he is, the Red Sox did their homework well. Check out
Vaughn's stats by year
-- right when he departed Boston, his regression began.
-- Matt Snyder
For more baseball news, rumors and analysis, follow @cbssportsmlb on Twitter or subscribe to the RSS feed.