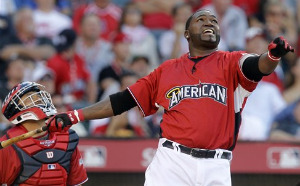 The 2010 Home Run Derby kicks off with four American League competitors trying to take out the National League competitors and establish some momentum heading into the All-Star Game Tuesday night.

The AL does battle with Miguel Cabrera, David Ortiz, Nick Swisher and Vernon Wells while the NL will answer with Corey Hart, Matt Holliday, Hanley Ramirez and Chris Young .


CHAMPION
: David Ortiz. Eight, 13, 11 home runs by round, respectively. His 32 total blasts place him third on the list for most total home runs in a Home Run Derby.
Bobby Abreu
's 41 in 2005 and
Josh Hamilton
's 35 in 2008 are the top two.
Ortiz was most appreciative of the fans, saying that the players want to give the fans a good experience to thank them for following the team. He called Ramirez "a son" to him, saying "the longer he is here, I will be a mentor to him."
THIRD ROUND
Hanley Ramirez - 6
Hanley Ramirez couldn't find the magic even after David Ortiz gave him a mid-round hug, and Big Papi is the Home Run Derby champion.
Ramirez started off with two outs before blasting a 449-foot shot, but followed that up with two more outs to dig himself a big hole. He was able to start sending balls to the rocks in center field -- at one point ripping off consecutive shots -- but then fell back into a slump with two outs, making poor contact each time. That sparked the pep talk from Big Papi, but could only muster one more home run the rest of the way.


David Ortiz - 11


Hanley Ramirez has his work cut out for him, as Big Papi cranked 11 home runs in the final round. That's tied for the most in the final round, and Papi peppered the right-field bleachers with his longest blast in the right-field well, 450 feet away.
Papi continued his tradition of taking a drink and towel midway through but still couldn't recover his energy. He dinged three homers after the respite, but that's enough to get a comfortable lead over the Florida shortstop. Win or lose, it was a very impressive showing for the DH who has shown that he really is back to being a self-titled "bad man."
SECOND ROUND

Corey Hart - 0 (13)


Well, that was anti-climatic. After the possibility of a Hanley Ramirez-David Ortiz tiebreaker to see who advances to the finals, Corey Hart followed up with a disappointing oh-fer.
"I don't feel too tired but it was a long break and I wasn't able to get my body back [to where he could hit home runs again,]" Hart told a reporter after his second-round performance.
Ortiz and Ramirez will square off in the finals next.

Hanley Ramirez - 12 (21)


Hanley Ramirez certainly didn't go quietly, bashing 13 home runs to tie Big Papi at 21 home runs apiece, meaning Corey Hart needs to boom at least nine to assure himself of a place in the finals.
After two outs, Ramirez decided that the center left-field bullpen and rocks had angered him and pummeled them without mercy. He amassed five home runs before turning his attention to left field and cranking a 476-foot blast followed by a 465-foot bomb. He then eked one over the left-field bleachers by the foul pole for a puny 373-foot home run. After seven straight home runs, he took several pitches before launching his final homer of the round to tie Big Papi.

Miguel Cabrera - 5 (12)


Miguel Cabrera only hit five home runs and won't reach the final round as he couldn't even combine to defeat Corey Hart's first-round total. However, he had some doozies, denting the rocks in center field with the farthest going 474 feet. An ice-cold streak halts his night, however
David Ortiz - 13 (21)


David Ortiz just put on an incredible power display, bashing 12 home runs with his longest going 478 feet. He made his living hanging around right-center field and the right-field well, chipping in a 413-foot wraparound of the right-field foul pole at one point. With five outs and nine homers in the bank, Ortiz grabbed a drink and towel but couldn't sustain his barrage, "just" hitting four bombs the rest of the way.
Ortiz stuck to pulling the ball, averaging 420 feet with his homers. Only his second home run of the day has been on the left side of center field. Big Papi seems near guaranteed to reach the finals now, but there's still plenty more Home Run Derby to be had.
FIRST ROUND
Miguel Cabrera - 7


Miguel Cabrera, a veritable Triple Crown candidate, will finish off the first round by stepping to the plate with 22 long balls on the season. He got things started with what seemed to be a requisite first round. He then rocked four straight home runs, the farthest going in deep left at 469 feet. It's not the farthest homer he would blast, however, which went 476 feet. It looked like he'd be stuck on six after four straight outs to take him to eight outs, but blasted one more to solidify his ranking in the second round.
It's Corey Hart, David Ortiz, Hanley Ramirez and Cabrera who advance.
Hanley Ramirez - 9


Hanley Ramirez gets things started with a home run to center as Will Ferrell is delivering plenty of punch lines on the air as an announcer, complimenting the broadcasters for their difficult job as HanRam rips off three straight outs before skying a 417-foot fly for his second homer.
Ramirez then put on a power display, jacking three straight with a deep fly of 472 feet. He spread his homers between left and center and took a cue from Big Papi by summoning a drink and towel -- except earlier in the round than Ortiz did. The renewed strength got Ramirez to power past Big Papi for nine total home runs, popping a 462-foot and 455-foot home run as part of his barrage, causing Ferrell to claim "If that ball wasn't hit hard, I'm Santa Claus!"
David Ortiz - 8
David Ortiz, continuing his resurrection from a pitiful April, blasts eight home runs and is in prime position entering the second round. Hitting off of
Yankees
coach Tony Pena who also delivered to Swisher, Ortiz' first fly came after one out and was straight away into the rocks after initially looking it would die a quick death.
His next swing saw his farthest pitch, a 440-foot shot, end up in right field before getting friendly with the area by the right-field foul pole. His next four home runs spread over four outs were in the vicinity of the foul pole. Ortiz, wearing padded cleats to protect his feet in case of foul balls, then moved over to traditional right field for his remaining home runs. After eight outs, he grabbed a towel and drink although it didn't do any good as he registered two outs.
Matt Holliday
-
5


It looked like Matt Holliday was going to follow in the footsteps of Chris Young with just one home run a 434-foot bomb to left field once he reached nine outs. However, he took a liking to the gold ball and ripped four consecutive home runs which may be enough to land him in the second round.
He skied an absolute bomb over the left-field foul pole, going an impressive 497 feet and drawing quite the impression from teammate
Albert Pujols
who was on the sidelines. Two of his home runs landed in the bullpen and averaged 441 feet, the longest average to date.
Nick Swisher - 4
Nick Swisher -- who, let's be honest, shouldn't have beaten
Kevin Youkilis
in the Final Vote -- cranked four home runs to pull into second place on the leaderboard. The switch-hitter batted lefty, where he has had the most success in the power department over his career.
He got things started with a 424-foot home run pulled into the left-field bleachers and wrapped one around the foul pole as well to jump out to two home runs against one out. He'd crank just two the rest of the way, although he did bomb a 440-foot home run. Eyeing several balls with eight outs left wasn't enough as a fly ball dies at the wall to finish the first round for Swish.

Corey Hart - 13


Corey Hart certainly put on a show, registering back-to-back deep flies after his first out to immediately pull even within Vernon Wells for the lead in the Home Run Derby.
He then tacked on three additional home runs before his second out. He flashed tremendous opposite-field power on his third and fourth blasts, knocking homers over 420 feet away. His deepest home run was his ninth, just after eking a 382-foot shot into the bullpens in left field. This one went into deep left at 464 feet but he wasn't done with the long bombs. He skied a 459-foot shot, lined an out into center then rapped a 453-foot bomb. He ended his barrage with a 451-foot drive into the rocks in center field and finished with an average of 433-foot home runs.


Vernon Wells - 2


Vernon Wells ripped some traditional big flies, but most didn't have much juice on it. He received a gift with his first home run after three outs when a fan caught a 361-foot homer by sticking his glove out over the fence, much to Wells' amusement. He then skied some shots dying at the warning track before ripping the most legitimate home run of the night, a 428-foot blast.
That's all Wells can do, however, and takes quite the imposing lead with two home runs. While most of Young's shots were liners, Wells at least had the pretty looping fly ball, just not enough distance.

Chris Young - 1


Young could only grab a single home run, going 410 feet after notching two outs. The outfielder predominantly pulled the ball but could only get major air on the lone home run, the rest dying out as liners. Several went foul, a groundball was mixed in there and the only ball not to be pulled was on the last out of round one when Young skied one to center field.
-- Evan Brunell

For more baseball news, rumors and analysis, follow @cbssportsmlb on Twitter.