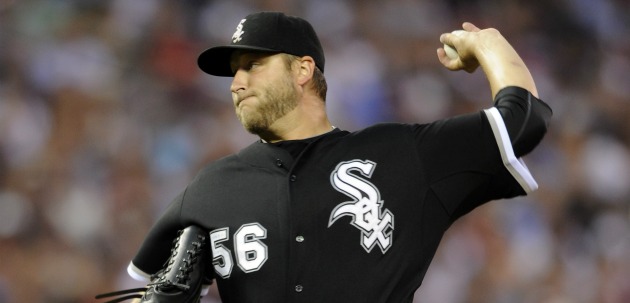 By Evan Brunell

WHAT ABOUT FIVE
? The
White Sox
had a six-man rotation for much of the season, fitting in Phil Humber after his strong start into the rotation when
Jake Peavy
returned from the disabled list. Now that
Edwin Jackson
is a Cardinal, that means the White Sox can go back to five members in the rotation, right?
Not so fast. Rookie starter
Zach Stewart
has made a start in the still-continuing six-man rotation and will draw another one, but after that Chicago expects to end the six-man rotation. Except instead of going back to five, the ChiSox are entertaining the thought of a four-man rotation. It would allow Mark Buerhle, who has been hot as of late -- and with the White Sox having won four in a row and pulling to within five of the division, the team needs as much improvement as it can get.
"You're tempted to say, 'Let's run [Buerhle] out there,' " pitching coach Don Cooper said. "If we keep playing good ball, it's an option we have to look at it. Get the hottest guys out there.
"We have something down on paper but nothing official," Cooper added. "We have to see how it goes. If we have a good week, and we ain't had a good week …. if we get hot, you never know." (
Chicago Tribune
)

HYPNOTIZED
:
Giants
manager Bruce Bochy, along with several other members of the staff, have finally quit dipping. How did they do it? By seeing a hypnotist, who explained the dangers of continuing to dip and using relaxation techniques. Bochy says that the cravings vanished almost immediately. Others remain skeptical. "Follow my finger. Do not smoke," bench coach Ron Wotus said jokingly. "You're cured. Next! ... A hypnotist, come on. Good for them. The mind is a powerful thing." (
San Jose Mercury News
)
SPRAINED WRIST
:
Carlos Beltran
sprained his wrist in Monday's game, but the good news is that he might be ready to play Tuesday night. There's a quick turnaround to Wednesday afternoon, though, so it would come as no surprise if the Giants decided to keep Beltran out of the lineup until Wednesday. (
Fox Sports
)
'ROADIE DAD'
: Todd Zeile, as he put it, has gone from baseball player to producer to roadie dad as 17-year-old son Garrett's band, Jetstream, is touring with the Stone Tempe Pilots. Pretty cool, but also interesting is that the producer part of Zeile's life involves helping Charlie Sheen's show,
Anger Management
, get off the ground. (
ESPN New York
)
WHERE DO OLD SHORTSTOPS GO?
San Francisco. Think about it -- the Giants had
Omar Vizquel
, moved to
Edgar Renteria
, then tabbed
Miguel Tejada
this season. When that didn't work out, GM Brian Sabean turned to
Orlando Cabrera
. No Giants shortstop who leads the team in games started over the past decade has been in his 20s. (
San Francisco Chronicle
)
STAMPING
: The United States Postal Service is
unveiling stamps with four major-leaguers
commemorated. The first is Joe DiMaggio, but who else will make the list? That's unknown, but Joe Posnanski runs through the rules involving who will and won't be on the stamp and settled on Ted Williams as the most obvious choice. His most likely candidates to round out the other two stamps? Larry Doby and Carl Hubbell. (
JoeBlogs
)
WELCOME TO THE SHOW
: The Jays are calling up a 21-year-old to fill the vacant rotation spot. Henderson Alvarez has a 2.86 ERA and could skip Triple-A so Toronto can see what it might have in the promising left-hander. (
National Post
)
HIRED
: Former
Astros
hitting coach Gary Gaetti will be named the first manager of the Sugar Land Skeeters, an independent club in the Atlantic League. (
Houston Chronicle
)
PHONE CALL
: A nice story about
Phillies
skipper Charlie Manuel, who called a Navy seaman battling cancer after the 2008 World Series. " It wasn't one of those "sorry you're sick, hope you feel better" calls, it was two baseball fans talking to each other about a sport they both loved," brother Scott Andrews wrote in. (
Big League Stew
)
SABR
: Interested in what the top 40 events in baseball are since the SABR era (1971-present)? You're in luck. (
SABR.org
)
BREAK IT DOWN
: The NPB (Japan's version of MLB) is meeting with MLB to discuss the breakdown of revenue from the World Baseball Classic. (
Yakyubaka.com
)
For more baseball news, rumors and analysis, follow @cbssportsmlb on Twitter or subscribe to the RSS feed.