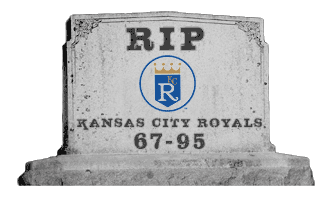 As the sports world waits for the crowning of a champion, 22 other teams are busy preparing for spring training. What went wrong for these teams, and what does 2011 hold? MLB Facts and Rumors here at CBS Sports will be answering those questions through all of October. Today: The Kansas City Royals
Oh Royals, through the 70s and 80s, the team was the model franchise. Since the turn of the century, the team's only been a punchline. That wasn't much different in 2010.
WHAT WENT WRONG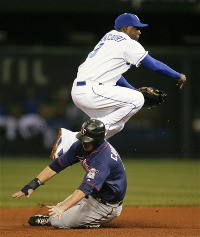 Ewing Kauffman died in 1993. That's been the reason for the last 17 years of failure.
Oh, on the field? This year? Beyond
Yuniesky Betancourt
(pictured) being the team's shortstop? OK,
Zack Greinke
took a step back from his Cy Young 2009. Worse, he looked like another guy in a Royals uniform -- and that's not a good thing. Greinke went 10-14 with a 4.17 ERA.
WHAT WENT RIGHT
How about
Bruce Chen
? Chen was 12-7 with a 4.17 ERA (the same as Greinke) -- but if you're looking long-term success, you're not betting on Chen.
Other positives?
Joakim Soria
may have been the best closer in the game, even if he didn't have too many games to close. Soria finished with 43 saves, a 1.78 ERA and 71 strikeouts and 16 walks in 65 2/3 innings.
The team also got rid of overpaid veterans like
Kyle Farnsworth
, Jose Guillen,
Scott Podsednik
and
Rick Ankiel
.
HELP ON THE WAY
Oh, is there ever.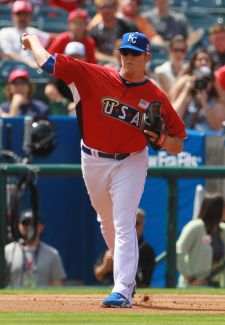 The Royals have the deepest minor league system in the majors. Of Baseball America's 15-man Minor League All-Star Team, a full third were Royals.
The Royals are deep in position players (first baseman Eric Hosmer, catcher Wil Myers and third baseman Mike Moustakas (pictured)) and pitchers (lefty starters John Lamb and Mike Montgomery, reliever Tim Collins).
That's the good news, the bad news is with all this talent, it's still not ready for the big leagues in 2011, maybe 2012.
EXPECTATIONS FOR 2011
Same as they always are in Kansas City -- grim. As noted, there's help on the way and maybe some of those guys can make their debut late in the season, but this won't be the season for the Royals to make a move. There is a brighter days ahead, but they aren't in the 10-day forecast.
SUGGESTIONS FOR 2011
Don't raise ticket prices, because it's going to be another long year.
Greinke has started griping about not wanting to wait around for the Royals to get better, but he's still under contract through 2012. There's no reason to trade him this offseason, his value is lower than it should be and the asking price will be better in 2011 -- either at the trade deadline or after the season.
The Royals have already picked up the $6 million club option for outfielder
David DeJesus
, and he'll certainly bring something at the trade deadline next year.
There will certainly be plenty of suitors trying to pick up Soria, who is under team control through 2014. Listen, but unless bowled over for a deal, he's too valuable and under control for too long to move.
No fan is going to want to hear that they need patience, but there is actually hope for the Royals after so long without it. If half their prospects turn out as expected, they'll be the new
Rays
.
2011 PREDICTION
Same as it ever was. The Royals will be out of the picture by the All-Star break, and Ned Yost may even worry about his job. The only drama in September will be whether this team loses 100 games. But this time next year, there may be some excitement for 2012.
Check out the rest of the
R.I.P. reports here.

-- C. Trent Rosecrans

For more baseball news, rumors and analysis, follow @cbssportsmlb on Twitter or subscribe to the RSS feed .