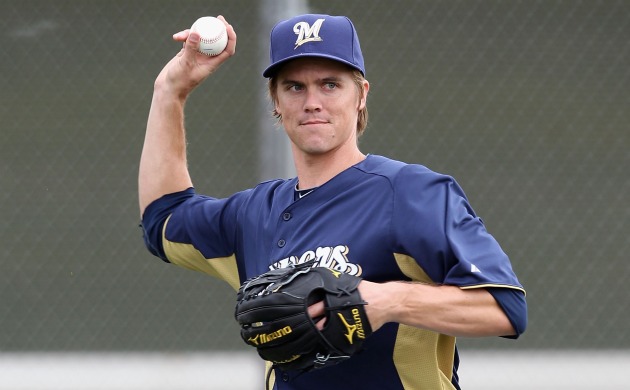 By Evan Brunell
JUST WIN, BABY: Zack Greinke spoke about rejecting a trade to the Nationals in favor of the Brewers, turning down an extension that would have been worth over $100 million.
The reason for the deal, Greinke says, has nothing to do with having anything against Washington. In fact, Greinke wouldn't rule out going to the Nationals once he hits free agency, but Milwaukee is where he wanted to be.
"The one thing I couldn't get over was the fact that, here I was trying to get out of Kansas City because the team wasn't good," Greinke said. "Not saying [the Nationals] don't have a chance, but I was trying to get to a team that was looking really good at the moment. And I believe [the Nationals] will be good eventually."
In addition, Greinke cited the fact that Washington would have given up too much of its building blocks that could take the team into contention, including Jordan Zimmermann, Danny Espinosa and others. Milwaukee, meanwhile, coughed up players that weren't crucial to the contending process.
But for now, Greinke is with the Brew Crew and rehabilitating a cracked rib. While everyone involved would prefer Greinke was healthy, the extra time has allowed those in the organization to get to know Greinke. (Washington Post)
STICK TO THE MALL: Tommy Hilfiger came out with some redesigns of iconic sports uniforms with his take on the Dallas Cowboys, Los Angeles Lakers, Montreal Canadiens and New York Yankees. Umm, Tommy... stick with what's gotten you here, 'kay? (San Antonio Express News)
WELCOME TO THE JOB: In Joe Garagiola, Jr.'s first ruling, baseball's new disciplinarian is expected to hand down a ruling on the Cardinals-Nationals fracas from Tuesday in which Livan Hernandez admitted plunking Colby Rasmus on purpose. It's unclear how hard Garagiola will come down, but expect fines at the very least. (Washington Post)
POLE POSITION: "MLB wants to play in Europe and the Netherlands have conquered pole position," says MLB's director for Europe, the Middle East and Africa. The Netherlands are on track to build a baseball stadium for 2014 to host baseball's first European games in Hoofddorp, a 30-minute drive from Amsterdam. Germany (Regensburg) and Italy (Rome) are also in contention. (Mister Baseball)
"NOW PLAYING CENTER FIELD -- WAIT, WHAT?" Jason Bay took a turn in center field for the Mets on Tuesday, and it could be something you see again. Skipper Terry Collins says Bay could play center in a pinch as he will not allow Carlos Beltran to return to center at any point. (New York Times)
Josh Hamilton v.2: Everyone knows Josh Hamilton's story, but have you heard of Jeff Allison? The Marlins grabbed him with their first-round pick in 2003 after Hamilton was named Baseball America's High School Player of the Year. Two heroin overdoses and an Oxycontin addiction later, Allison seemed on the verge of leaving baseball -- and life. But he's been clean for over four years now and got his first taste of the majors Tuesday. (Miami Herald)
ROTATING LINEUP: Joe Maddon would love to have a set lineup for the Rays, but that's not going to happen. There's too much good information, he says, that comes from within the organization regarding production against certain pitchers and especially this year, Maddon plans to take advantage of it. (MLB.com)
TALKING CONTRACT: Adrian Gonzalez's agent, John Boggs, was in town on Tuesday to talk contract with the Red Sox. Both sides came away optimistic, and -- stop me if you haven't heard this before -- expect an extension to be consummated in April. (Boston Globe)
IZZY'S FINE: One of the more intriguing stories of spring training was Jason Isringhausen's return to the majors with the Mets. An injury appeared to have perhaps changed that, but Isringhausen says the injury won't knock him out for a while and he should still be ready for Opening Day. (New York Post)
STILL NO NO. 5: The Cubs still haven't made any decisions on who the No. 5 starter will be, so Carlos Silva gets another chance to turn his spring training around when he draws the start in Wednesday's spring-training game. (Chicago Tribune)
RIDE THE PONY: A classic restaurant that was the staple of baseball people in Scottsdale, Ariz. for a decade has reopened under new ownership and has drawn rave reviews for ... keeping things exactly the same, which is how patrons of the restaurant like it. (Washington Post)
ORGAN MUSIC: A nice little story on the White Sox's new organist, replacing one who retired after 40 years on the job. (Chicago Tribune)
REMEMBERING STEVE OLIN AND TIM CREWS: Tuesday was the 18th anniversary of the tragedy that took the lives of Indians pitchers Steve Olin and Tim Crews. A look back... (Cleveland Plain-Dealer)
For more baseball news, rumors and analysis, follow @cbssportsmlb on Twitter or subscribe to the RSS feed.