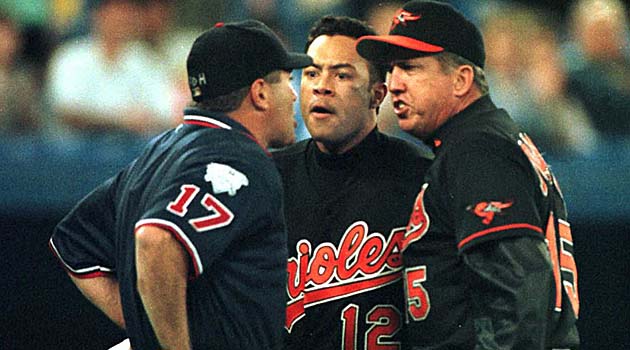 By Matt Snyder
We're just two days away from the induction of Bert Blyleven and Roberto Alomar into the Hall of Fame, so I'm going to concentrate on the negativity. This is a special moment for Blyleven, Alomar, their families and their fans. If you don't like either player or believe there's some reason for the general public to dislike either one, just shut it for a few days. It's their moment, and many, many fans and baseball people believe they both deserve it.
It feels as if most of the venom directed toward Blyleven's Hall candidacy has waned, but whenever Alomar's name gets brought up, we're bound to have someone -- even if it's only one person -- bring up the fact he spit in an umpire's face. Sure enough, it happened
earlier this week when I posted on the
Blue Jays
retiring Alomar's number.
Make no mistake about it, that incident was bad. It was
really
bad. Alomar made a one-time mistake. Now, we may not have all spat in the face of an authority figure, but we've all made mistakes that we regret. It happened 15 years ago. Oh, and the person on the receiving end of the spit is just fine with Alomar, in case you didn't know.
"I'm very, very happy for him," said John Hirschbeck (
MLB.com
), the umpire Alomar spat on. "I've been in the big leagues for 29 years, and he's by far the best second baseman I've ever seen. Hitting, fielding -- he was the whole package. I think he should have gotten in the first time, but he's very deserving. I'm glad he's in."
Hirschbeck also noted (
MLB.com
), "If that's the worst thing Roberto Alomar ever does in his life, he's led a very good life."
And here's what Alomar had to say about Hirschbeck (
MLB.com
): "He and I have become great friends. I want people to know that the year I didn't make it, one of the first calls I got was from him. He said he felt sorry because maybe one of the reasons I didn't make it was because of the incident. I told him, 'No. It was not your fault. It was my fault.' John embraced me the same way I embraced him."
See, they've both long since moved on. Isn't it time everyone else gets on the same page and just forgets about it?
HARDEST TO HIT:
The easy route in looking at the hardest pitchers to hit is looking at things like ERA, batting average against, OPS against, etc. But what about if you looked at hits per swing. For example, the hardest pitchers to hit would miss many bats and also -- when someone does get a bat on it -- would induce many foul balls.
SB Nation took a look at the data since 2002
and found the 10 highest and lowest swing/hit percentages. It's interesting enough just to see the names on there and reminisce a bit. The thing I found most interesting, however, was that of the 10 guys who allowed the lowest percentage of hits per swing, nine were stud closers (
Joe Nathan
, Billy Wagner, etc.) and one was a starting pitcher. Randy Johnson? Nope.
Roy Halladay
?
Justin Verlander
. Nah, how about
Chris Young
. Shocking, eh?
WE'RE NO. 1:
New Brewer
Francisco Rodriguez
blew a lead in the eighth inning Wednesday night and was caught displaying a middle finger on camera from the dugout afterward. Shockingly, the New York media are trying to make it out like a huge problem, in that K-Rod will disrupt the
Brewers
chemistry (
New York Daily News
). Yeah, I'm sure K-Rod's new teammates will be angry that he's aggravated
at himself
for blowing a lead and blame
no one but himself
. How dare he.
KEEPING HIS HEAD UP:
Highly touted
Royals
prospect
Mike Moustakas
was promoted with great fanfare a little less than six weeks ago. He started strong, going five for his first 18 (.385) with a home run and 1.145 OPS. Since then he's struggled mightily, and he's in the midst of a horrifying stretch. The 22-year-old third baseman has only two hits in his last 47 at-bats and is zero for his last 22. But you have to give Moustakas credit, as he seems to have maturity beyond his years. "Yeah, I'm hitting .190 right now, but we won the last two ballgames and that's what's important," he told the
Kansas City Star
. Kudos to the young man. He'll come around, too.
MATUSZ SHELLED:
Orioles
starting pitcher Brian Matusz showed flashes of his immense potential in 2010, but this season has been a different story. The former top-five prospect battled an injury early in the season but returned to the O's in June. He was mercifully demoted to Triple-A after six starts and an 8.77 ERA. Thursday, though, he was no match for the minor-league hitters he faced, as Matusz was knocked around to the tune of eight hits and seven earned runs in 3 2/3 innings. (
MiLB.com box score
)
UNDERRATED STAT ALERT:
When
James Shields
actually lets guys on base -- and his 1.01 WHIP says it doesn't happen often -- they most certainly aren't going to take a free base. Not only are runners 0-for-3 in stolen base attempts against Shields, but he's picked off 11 guys. And he's right-handed. (
ESPN.com
)
POUTING WORKS, PART DEUX:
Earlier this week, we brought you
the video of the young boy in San Francisco being upset that he didn't get a ball
... and then later getting a ball. This time around, we'll link to a story about a boy getting a baseball and then giving the ball to a younger boy who was upset. God love the charitable nature at such a young age. (
Big League Stew
)
SEEING HELPS:
Aaron Miles
was horrible in 2009 and not very good in 2010, but he's hitting .311 this season for the
Dodgers
. He believes the difference is that he had laser eye surgery in the offseason. (
Los Angeles Times
)
COCO'S 'FRO:
Remember when
Coco Crisp
let out his dreadlocks and had a huge afro? Well, now there's a shirt to help the memory live on. Awesome. (
MLB Shop
)
JOSHY BLUE EYES:
Much has been made of
Josh Hamilton
's woes during day games this season, as some have attempted to prove his blue eyes make it more difficult to see. Thursday, he tried some new sunglasses (
MLB.com
) that he thought were much more clear. Of course, he went 0-3 and ditched the glasses (
ESPN Dallas
).
A LOOK BACK:
This time of year, each season, we hear rumors involving major-league players and mostly focus on the impact every move will have for the rest of the season. Sometimes deals -- such as the
Mark Teixeira
to the
Braves
trade -- end up proving quite costly for the acquiring team due to coughing up prospects.
SB Nation took a look back
at some recent deals that didn't happen but could have had a huge impact. For example, the A's reportedly could have gotten
Matt Kemp
,
Clayton Kershaw
and
Andre Ethier
for
Joe Blanton
back in 2007. Wow.
For more baseball news, rumors and analysis, follow @cbssportsmlb on Twitter or subscribe to the RSS feed.