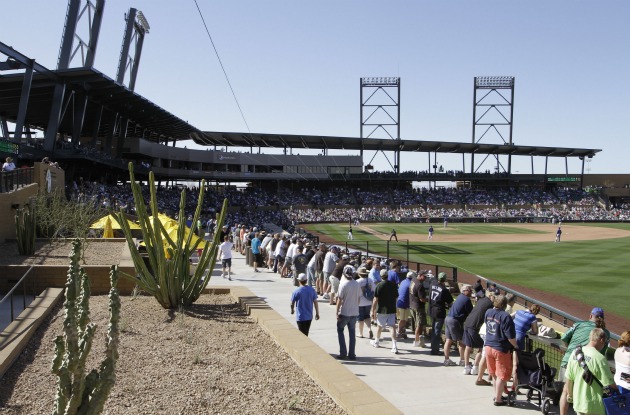 By C. Trent Rosecrans
Every spring we get excited and pick winners for every division, count out teams, give a couple of other teams a free ride to the World Series and then sit back and are surprised when it doesn't happen.
The thing is, in baseball and in life, things change quickly and can change drastically.
Since the start of spring training games -- a little less than two weeks -- we've seen the Cardinals and Brewers lose some of their luster in the NL Central and the Phillies go from 110 wins to a struggling offense. We've even seen Carlos Zambrano be the calm, collected, sane member of the Cubs staff.
It's a rite of spring to project and to then react and overreact to anything we see on the field in these four weeks of meaningless games. And even when meaningful games start, there's enough time for injuries to happen, players to return and players to emerge to really know what's going to happen at the end.
And that's the fun of it. We don't know. You never know.
Sure, we can all expect a Red Sox-Phillies World Series, but there's no guarantee that'll happen. But if it does, I guarantee the road there will be completely different than we all imagined. And that's why this game is so great. You just never know, even if you think you know.
FEELING 'HITTERISH': Nationals über-prospect Bryce Harper has been nearly as entertaining off the field as on it, as he coin a new term on Wednesday.
"I feel really confident in myself. There's guys who are going to come after you. I want to hit right now. I'm feeling hitterish. I'm trying to go up there and get some hacks in. I'm not going to be here for a long time. I want to try to go up there and get my hits in."
So, what's the definition of "hitterish" Adam Kilgore asked?
"You wake up in the morning, and you're feeling hitterish, you're going to get a hit that day," Harper said. "That's what it is. If you get a hit every day, you're feeling hitterish, for sure. Wake and rake."
Harper had an RBI single in his only at-bat on Wednesday and is hitting .357 this spring (in 14 at-bats).
BELTRAN BETTER: Carlos Beltran won't play in a Grapefruit League until next week, but he does feel "a lot better" and has not been "shut down." He took batting practice and played catch on Wednesday.
The Mets are looking at Willie Harris and Scott Hairston in right field if Beltran can't go, and are also giving Lucas Duda extra work in right field to prepare him to play there if needed. (New York Daily News)
GARLAND GROUNDED: Dodgers starter Jon Garland is expected to start the season on the disabled list after leaving Wednesday's game with a strained oblique muscle on his left side. He had an MRI on Wednesday and the team is expected to announce the results today.
The team has already lost starter Vicente Padilla for at least the first month of the season after surgery to repair a nerve below his right elbow.
The injuries mean the once-pitching rich Dodgers are down to four starters, although the team won't need a fifth starter until April 12. John Ely and Tim Redding would likely be candidates if Garland and Padilla are still sidelined. (Los Angeles Times)
GOOD ADVICE: Maybe the Dodgers could get that old guy to take the mound -- the one working with Ted Lilly on Wednesday. That guy was Sandy Koufax.
"He still loves to watch baseball, loves the art of pitching," Lilly told MLB.com. "You know he was great. But he's also smart, he's passionate about pitching, he understands and sees things. Sometimes they are little things.
"I enjoy learning about baseball and talking about it with someone like Sandy Koufax, and I enjoy talking about it with Clayton Kershaw and Chad Billingsley and Jon Garland. There are always ways to move forward, even if they are small."
ZOOM GROUNDED: Tigers manager Jim Leyland is planning his bullpen to start the season without Joel Zumaya, who has been sidelined with pain in his surgically repaired right elbow this spring.
"I don't think right now, from within camp or by trade, that you can replace a healthy Joel Zumaya -- and I emphasize a healthy Joel Zumaya," Leyland told MLB.com. "So you have to just keep looking and try to come up with somebody, mostly from within."
The Tigers did go out and spend a lot of money on a set-up man, Joaquin Benoit, so the path leading up to closer Jose Valverde isn't barren. Ryan Perry is expected to handle seventh-inning duties, which he was expected to shoulder with Zumaya.
SALAZAR IMPROVING: Several Braves players said they feared for the worst after minor league manager Luis Salazar was hit in the face by a foul ball on Wednesday.
"A ball hit that hard, at that short a distance, can certainly kill somebody if it hits them in the right spot," Chipper Jones told David O'Brien of the Atlanta Journal-Constitution. "I'm so glad to hear that he's conscious and breathing on his own."
Salazar was hit by a foul ball off the bat of Brian McCann and was airlifted to an Orlando hospital. MLB.com's Mark Bowman reports Salazar suffered multiple facial fractures, but did not suffer any brain damage. He was able to interact with family members later Wednesday night.
D-BACKS COACH BREAKS FOOT: While not nearly as serious as Salazar's injury, the timing does take away several light-hearted remarks I could make, but Diamondbacks third base coach Matt Williams may miss the beginning of the regular season with a broken foot.
Williams took a line drive off the foot while throwing soft toss to his son, Jake, on Monday. He's expected to miss two-to-three weeks. (Arizona Republic)
FIRST AT FIRST: Indians catcher Carlos Santana played his first-ever professional game at first base on Wednesday.
Santana cleanly fielded all nine chances he got at first and also had a double in the Indians' 9-2 loss to the Padres.
The Indians are searching for ways to keep his bat in the lineup and keep the young catcher healthy. (Cleveland Plain Dealer)
PILING ON: A New York storage company is joining in on making jokes about the city's easiest target -- the Mets.
In an ad on the city's subways for Manhattan Mini Storage, it says, "Why leave a city that has six professional sports teams, and also the Mets?" (New York Times)
WHEN HIDEKI MET RICKY: New A's slugger Hideki Matsui has connected with team icon Rickey Henderson, whom Matsui admired growing up in Japan -- and the feeling is mutual. (MLB.com)
HIGH PRAISE: Yankees closer Mariano Rivera says 19-year-old left-hander Manny Banuelos is the best pitching prospect he's ever seen.
"I like everything about him," Rivera told ESPNNewYork.com. "The makeup and how he keeps his composure. I notice situations and how you react in situations. Where you make your pitches in tough situations, where you spot your pitchers, he has the ability to do that."
WHITE RETIRES: Former West Virginia and Miami Dolphins quarterback Pat White has retired from baseball.
After White was released by the Dolphins last September, White signed a minor-league contract with the Royals and played in the Fall Instructional League. On Wednesday, the team said White did not report to spring training.
The Dolphins drafted him in the second round of the 2009 draft. He was also drafted by the Angels, Reds and Yankees. (Associated Press)
RISING WATER: It's been raining here in Cincinnati, but check out just how much -- this photo from Reds assistant media relations director Jamie Ramsey gives you a big-picture view of just how high the water is on the banks of the Ohio River.
He adds another picture of flood gates set up around Great American Ball Park. (Better Off Red)
For more baseball news, rumors and analysis, follow @cbssportsmlb on Twitter or subscribe to the RSS feed.