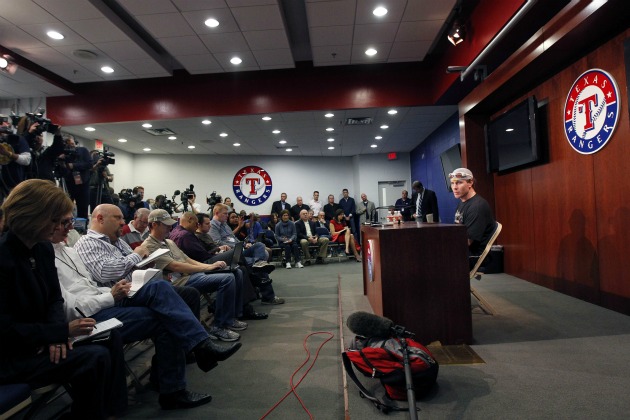 By C. Trent Rosecrans
The first time I met
Josh Hamilton
was the two days before pitchers and catchers reported in 2007. The
Reds
had acquired him from the
Cubs
after the Rule 5 draft and he was at the team's complex in Sarasota, Fla., working with manager Jerry Narron and Johnny Narron, who would go on to become what the
Rangers
would call his "accountability coach." I briefly saw Josh and was struck by the size of the guy -- if God were to build a baseball player, he'd look exactly like this -- minus the tattoos. That wasn't the first time I was shocked by Hamilton.
Our first meeting was quick, we introduced ourselves and that was it. His full press conference and time to write the full Josh Hamilton story would come later. As the Reds beat writer for the
Cincinnati Post
, I'd be spending plenty of time with Hamilton in the next seven months or so, talking to him quite a bit and watching a budding superstar on the field.
Early in the first spring training, Hamilton held a press conference and said he'd take all questions. He went through his entire story, a story that has become widely known since then, but was incredible and fresh at the time. He was open, honest and above all, accountable for his own actions. At one point, he spoke about the guy who introduced him to drugs, who opened the door to his path of addiction. He made sure to note, the guy "wasn't a bad person, he was just into bad things." That always impressed me. Josh said he made the decision, he'd live the with the consequences and refused to blame anyone but himself for his addiction.
I only remember one question he wouldn't answer, it came after his press conference I went up to him and asked about specifics of which drugs he used and he said it didn't really matter, that wasn't the point -- but did note he never used a needle. I respected his wishes and left it alone.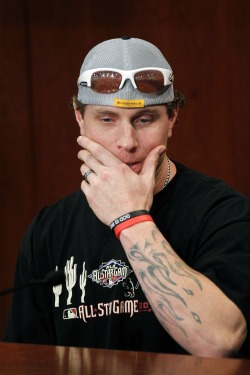 After hours of writing, I wrote "the Josh Hamilton story" for my newspaper. It was long and didn't even come close to explaining the whole story, but I did my best and tried to do it justice. After that, all spring the story was about what he did on the field and it became evident that he'd not only make the team, but he'd be a big part of that year's team.
For a while, the Hamilton story went quiet, but once the regular season began, the "Josh Hamilton story" came up every time we went to a new city. The first game of every road series against a new team, Hamilton would hold another press conference, telling his story again and again. Throughout the season, he'd repeatedly tell the same stories, always smiling, always open, always honest. It was an incredible performance.
One day I asked him how he did it, if it ever got old? Was he sick of reliving his greatest mistakes and explaining himself in every new city? His answer shocked me -- he not only didn't mind doing it, he felt it was vital to his recovery.
"The media," I remember him telling me, "you, the other reporters, the fans -- everyone who hears my story holds me accountable. I want that, I need that."
I thought of that story two years ago when photos of him drinking at a bar in Arizona surfaced and I thought about it again last night when the reports surfaced that he'd relapsed and had a night of drinking. But it hit home when I saw it again today in his press conference. That was the same Josh Hamilton I heard many times, every time sincere, every time fighting his disease and blaming nobody but himself. And again, he said he needed help -- from the media, from the fans, from his family and from anyone who could help him. Addiction is a disease, one that is never cured, but managed. He's managed it well since 2007, but he's not cured and he never will be. But for now, as sad as I was to hear about his relapse, I'm happy to hear he's not only taking responsibility, but he's ready to continue his battle with addiction -- and if he doesn't win it, I hope he's always ahead in the count.
For more baseball news, rumors and analysis, follow @EyeOnBaseball on Twitter, subscribe to the RSS feed and "like" us on Facebook.