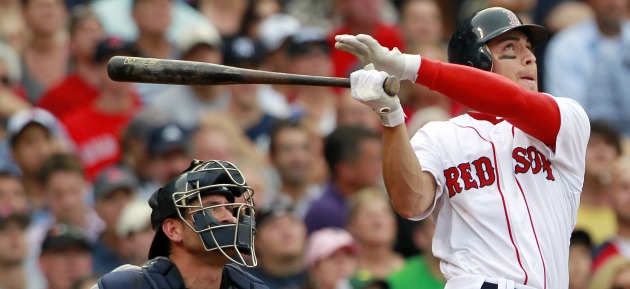 By Evan Brunell
Jacoby Ellsbury, Red Sox
: Ellsbury slammed a three-run home run that helped propel the Red Sox to victory, but he wasn't done driving in runs despite his career high coming into the game was at three. He doubled that figure to six by adding a sac fly for the game's first run, then contributing to Boston's three-run outburst in he bottom of the eighth to clinch the game by driving a two-run RBI single. The leadoff hitter continues to be red hot with a .321/.377/.522 line and is receiving heavy AL MVP consideration. While he'll have to contend with teammates
Adrian Gonzalez
and
Dustin Pedroia
along with Toronto's
Jose Bautista
, Ellsbury is certainly deserving of the honor, and BoSox fans serenaded him with "MVP!" chants on Saturday.
Prince Fielder, Brewers
: Fielder crushed four RBI in a victory over the
Astros
. Losses by third-place Pittsburgh and fourth-place Cincinnati left them nine and 9 1/2 back, respectively, of Milwaukee. That leaves St. Louis as the only serious contender for the division title, but the Brewers are rolling now. Fielder went 3 for 3 with two runs scored and adding two walks to push his season line to .300/.416/.562, leaving him in fantastic shape with less than two months to go before the regular season ends and he becomes a free agent. He blasted his 25th home run of the year, tying him for fourth in the NL with
Mike Stanton
, three behind
Lance Berkman
for the league lead.
Brandon McCarthy, Athletics
: "He was terrific," A's manager Bob Melvin told the Associated Press of McCarthy after the righty fired a five-hitter over eight innings to shut out the
Rays
in a 8-0 victory. "He's been as consistent a guy as we've had." The former top prospect was dealt from Chicago to Texas, but was never able to deliver on his promise amid injuries. While he still has a shoulder issue that's flared up from time to time, he's sandwiched 16 starts in the year and has a 3.31 ERA to show for it. In five starts since the All-Star Game, he's given up just 10 runs. After limiting Tampa to no walks and five hits, pushing his K/BB on the year to 74/16, it's time to take McCarthy seriously.
---
Neftali Feliz, Rangers
: Feliz gave up three of four runs in a ninth-inning rally for Cleveland, with Texas' own last gasp in the bottom of the frame going for naught, scoring one run en route to a 7-5 loss. Feliz has been shaky all season, and the Rangers importing two top setup men spoke volumes about how secure the brass feels the late innings are down south. Feliz was able to register two outs, but didn't strike out anyone en route to giving up three hits and three earned runs, getting into trouble immediately in the inning and being gifted an out in the form of a sacrifice bunt that eventually led to the inning's first run. Feliz has a 3.64 ERA, but he's pitched worse than that, and the Rangers have to be looking forward to getting him into the rotation next season.
Adam Dunn, White Sox
: At this point, it's bordering on abuse to keep slotting Adam Dunn in 3 Down. But what is one supposed to do, when Dunn consistently is one of the worst players to step on a field? At least those who can't hit a lick provide value on defense or baserunning. What exactly does Dunn provide value with? It was supposed to be hitting, but Dunn is having a season for the ages (in a not-good way) and whiffed three times against the
Twins
on Sunday in four hitless trips to the plate, sinking what already seems to be an unsinkable line to .163/.294/.302. Look, we get that Dunn needs to keep playing. He needs to hit for Chicago to do well, and there's a lot of years and money left on his deal, But does Ozzie Guillen really need to bat him cleanup?
Livan Hernandez, Nationals
: Two home runs -- both solo shots in the bottom of the fourth -- were bad enough for Livan Hernandez, but he ended up letting seven other runs cross the plate, giving up nine all told. Sure, two runs were unearned, but that's still a lot of bad pitching in 3 2/3 innings, with the ageless pitcher giving up nine hits against zero strikeouts and walks. That's how you know you've got nothing, and Colorado hitters enjoyed teeing off Hernandez, whose ERA rose to 4.41. The 36-year-old has had several poor starts in his most recent outings, and one has to wonder if he's running out of gas.
For more baseball news, rumors and analysis, follow @cbssportsmlb on Twitter or subscribe to the RSS feed.