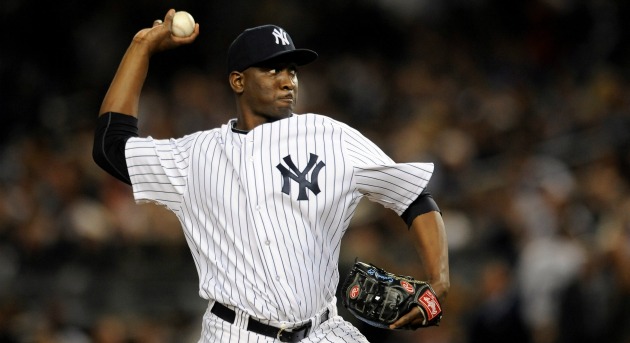 By Evan Brunell
In what had to be one of the most obvious calls in a long time, reliever
Rafael Soriano
will not opt out of his contract with the
Yankees
.
"He adjusted to the [seventh- eighth-inning] role, liked being there with Mariano [Rivera] and he adjusted to New York City," agent Scott Boras told the New York Post of Soriano, who tried to pretend this movie was about liking his situation and not about money. "The player is happy there."
Soriano signed a three-year, $35 million deal with New York prior to last season after not finding a market for his closing services. Soriano and agent Scott Boras settled for closer's money, but a setup role under
Mariano Rivera
. As part of the deal, the righty received the right to opt out of the deal after each of the 2011 or 2012 seasons. Soriano earned $10 million in 2011, an $11 million salary due in 2012 and then a bump to $14 million in 2013, which is not that surprising given that incumbent closer Mariano Rivera's deal runs through 2012, which could leave Soriano as closer in 2013. If Soriano opted out, he would have received a $1.5 million buyout.
Maybe if the flamethrower had a season reminiscent of his 2010, when he was a dominating closer for the
Rays
, he would have opted out. Except that Soriano had an injury-plagued year and pitched just 39 2/3 innings, coughing up a 4.12 ERA. He wasn't the same person when he was on the mound, struggling with command which may dissipate now that he has time to heal from his injuries, but either way, he wasn't going to sniff anywhere near two years and $25 million on the open market, so he is making the obvious decision to stay in New York.
This move is about money, period. If Soriano was truly interested in remaining as a setup man, these options wouldn't have been built in, and he wouldn't have taken so long to sign with a team. But that's OK -- nothing wrong with a pitcher trying to score what will be the biggest payday of his career. And the Yankees do have some optimism moving forward for Soriano to reclaim his dominance and give the club a devastating one-two punch in 2012. Once Soriano returned on July 30 from right-shoulder inflammation, he threw 24 1/3 innings, posting a 3.33 ERA and with control numbers reflecting his previous effectiveness. Between Soriano and fellow setup man
David Robertson
-- who emerged following Soriano's injury -- the Yankees are in great shape. And Boras credits them with starting what might be an emerging trend, utilizing two closers in the game and noting how Milwaukee followed in a similar path by acquiring
Francisco Rodriguez
to supplement
John Axford
.
"I give the Yankees a lot of credit, they used the platform well," Boras said. "At first [clubs] will say we are overpaying. Then it's oh my [gosh], we are winning a lot of games."
Except this is more of a gambit by an agent to get setup men more money than it is teams utilizing two closers. Boras is doing his job and one could argue that setup men are even more valuable than closers. I'm one of those in that camp, as setup men can be used in high-pressure situations in virtually any inning and most setup men are allowed to pitch more than one inning more often than a closer. There is a reason ex-Red Sox manager Terry Francona always called Boston setup man
Daniel Bard
his most valuable relief pitcher for years. But setup roles are exactly how Soriano and Rodriguez were utilized. Soriano received just two saves for the Yankees. One came on April 20 in a 6-2 Yankees win after
Lance Pendleton
failed at mopping up the game by allowing two batters. Rivera had pitched the day before, and three of the previous four games. The next save by Soriano came in the second game of a doubleheader on Sept. 21, when New York's playoff chances were secure and Rivera closed the first game out.
Rodriguez didn't even get one save as a Brewer. These guys may have been closers, but they served in the very specific role of a setup man. These teams did not utilize two closers; two people splitting saves. It's the same arrangement that has worked so well in Boston, and Bard has never closed. He's been a setup man. That's the very reason why Soriano is returning to New York -- if he was valued as a quality closer, he would be a free agent.
For all free agency moves, check out the CBSSports.com free agency tracker.
For more baseball news, rumors and analysis, follow @EyeonBaseball on Twitter or subscribe to the RSS feed.