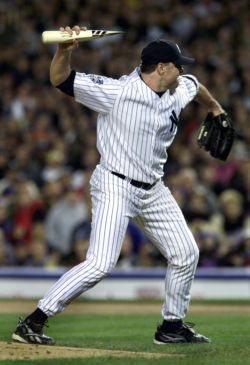 Stay classy, Roger Clemens.
Even with a perjury trial looming, Clemens found enough time to crack wise about his altercation with Mike Piazza in the 2000 World Series. Clemens participated in one of the most lasting memories of his career when he picked up part of a broken bat belonging to Mike Piazza and hurled it at the catcher, although the bat fell short of its mark. Clemens had claimed in the past, amongst other things, that he thought the bat was actually the baseball. Of course, that doesn't explain why Clemens would throw the ball at Piazza.
On Friday night, Clemens attended a charity event in Connecticut along with David Cone and Bobby Valentine, where the topic of the incident came up. Cue laugh track:
"I just remember my form being really good when I threw the bat," Clemens said, according to ESPN New York. "My form was impeccable. I fielded it perfectly. My arm angle when I whistled it on-deck was a little low."
Yep, because it's funny to joke about aiming a weapon at a star player who had an acrimonous history with Piazza. And if you don't think broken bats are weapons, clearly you haven't seen the numerous incidents and close calls over the last few years. If Clemens had been on the mark, he could have impaled Piazza and who knows what would have happened at that point. Well, we know this -- Clemens certainly would have been ejected from the game instead of throwing eight shutout innings.
All eyes were on Clemens and Piazza in Game 2 because Piazza had hit Clemens very well over his career (.421/.500/.1.105 in 19 at-bats, not including postseason) and Clemens had beaned Piazza in the head earlier in the season. After the beaning, Clemens called over to the Mets clubhouse to check on Piazza, but the backstop never returned his call.
In hindsight, with no harm done and 11 years of time passed, Clemens' comments can be a little humorous. But when it comes to Clemens these days, nothing's a laughing matter.
-- Evan Brunell
For more baseball news, rumors and analysis, follow @cbssportsmlb on Twitter or subscribe to the RSS feed.