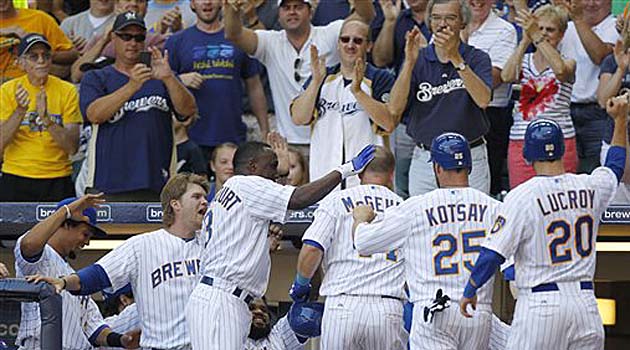 By Matt Snyder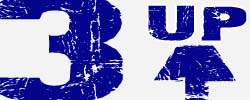 Casey McGehee, Brewers.
Maybe the Brewers should just start using McGehee strictly as a pinch-hitter? It's been a rough year for McGehee, as he entered Wednesday hitting .222 with four homers, 33 RBI and a .582 OPS. This was after hitting .285 with 23 homers, 103 RBI and an .801 OPS last season. Wednesday, however, McGehee came through with a clutch pinch-hit three-run homer. It came in the bottom of the seventh and put the Brewers up for good. Earlier this season, McGehee hit a two-run go-ahead homer in the bottom of the eighth as a pinch-hitter. So, in just four pinch-hit at-bats, McGehee has accrued 40 percent of his home runs, driven home five runs and won two games for the Brewers. This one was huge, too, because the Brewers had lost seven of eight and fallen into fourth place in the NL Central prior to the game.
Justin Masterson, Indians.
The
Yankees
hadn't lost a series since being swept by the
Red Sox
in early June, but Masterson brought home the second win in three games against the Yankees with a dominant performance Wednesday. He threw eight shutout innings, allowing only three hits and two walks while striking out six. That's quite the feat against the powerful Yankees, and the outing lowered Masterson's ERA to 2.66. Poor run support is one of the reasons Masterson was kept off the All-Star team, because his record is now just 7-6, but he's pitched far better than that.
Dan Uggla, Braves.
The Braves' 9-1 win Wednesday -- their eighth in the past nine games -- was a complete team effort.
Jair Jurrjens
was great again and the offense pounded 14 hits for nine runs. Let us look closer at Dan Uggla, though. He'd been a disaster for the Braves for most of the season -- you could argue only
Adam Dunn
had hurt his team more offensively -- but the past two days should provide from confidence for Uggla. In the two Braves' wins, Uggla was 4-5 with two home runs, a double, three walks, four runs and three RBI. With that pitching staff, getting some more offense would be a big step in the Braves challenging the
Phillies
in the NL East, where the deficit is now three games.
Room for one more -- Nate Schierholtz, Giants:
We initially published this before the Giants-Padres game concluded, because it felt like it would literally last all night, but Schierholtz took care of things in the bottom of the 14th. He slugged a walk-off homer that cleared the wall by mere inches. It was his second home run of the night as he went 3-6 with two runs and three RBI.
---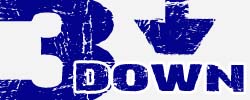 Ricky Romero against Red Sox.
It's just not working for the
Blue Jays
' ace when he squares off against Boston. The Red Sox lit him up for nine hits and six earned runs, including two home runs, Wednesday. As
noted on Twitter by Stats, Inc.
, Romero now has an 8.08 ERA in his career against the Red Sox and 3.28 against everyone else. It's an even bigger discrepancy this season, though. After the disaster in Fenway Wednesday evening, Romero has an 11.45 ERA and 2.88 WHIP this season against the Red Sox, while he's sporting a 2.45 ERA and 1.11 WHIP against everyone else.
Domonic Brown, Phillies.
He tripled in the sixth inning, only he didn't. Upon appeal at second base, Brown was called out for missing the bag. He even admitted after the game he missed it.
John Mayberry
followed with a home run, though there's absolutely no guarantee that happens with a runner on third, because you can bet the
Marlins
pitch Mayberry differently. Still, Brown missed the bag and gave away an out in a game where the Phillies lost in extra innings. Brown also misplayed a
Gaby Sanchez
single into a three-bagger that allowed two runs to score, meaning you could say he cost the Phillies the game with the two mistakes. Still, I could much more easily tolerate a physical gaffe than a mental one. I will never understand how a player misses a bag while running the bases in high school, much less in the MLB. That's an avoidable mental error at any level.
Jake Westbrook, Cardinals.
The
Reds
came into Wednesday having scored two or less runs in four of their past five games. The Cardinals had held the Reds to just one run combined in the first two games of the series. So I guess you could say they were due, though that's likely no consolation to Westbrook. He was torched by the Reds for eight hits and seven earned runs through just 4 1/3 innings. Five of those hits were of the extra-base variety, including three homers. After seeing his offensive teammates rally and his bullpen hold strong for much of the game, Westbrook had to have felt even worse when the Cardinals lost 9-8 in the 13th inning.
Spared:
Sure, the Reds ended up winning, but it shouldn't have taken 13 innings to do so after leading 8-0 through five. That is unacceptable.
For more baseball news, rumors and analysis, follow @cbssportsmlb on Twitter or subscribe to the RSS feed.