The Marlins' bullpen took on added clarity Saturday, as GM Larry Beinfest made two declarations.
The first is that Clay Hensley is likely to remain in the bullpen, as Joe Capozzi of the Palm Beach Post relays. Hensley contended for a rotation spot in spring training before losing out to Nate Robertson. He put together a gem of a season in the bullpen, pitching 75 innings and posting a 2.16 ERA, whiffing 77 and walking 29.
Hensley will set up what figures to be Leo Nunez, but Beinfest wouldn't commit to that.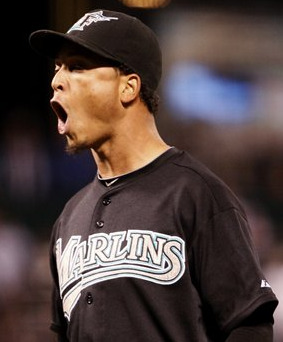 "I think it's going to be be Leo [Nunez], but we have to filter that out in spring training," Beinfest said of the closer's position via Juan C. Rodriguez of the South Florida Sun-Sentinel .
Nunez lost his closer's job near the end of the season after an overreliance on the changeup caused him to finishwith a 3.46 ERA and 30 saves. Given that was an improvement on 2009's 4.06 ERA and 26 saves, you would think the Marlins would be thrilled -- not so. Nunez (pictured) can be so much better, and his peripherals indicate he can reach elite status.
That's where newly signed catcher John Buck might come in.
"I know Nuñez very well,'' Buck told the Miami Herald , smiling as he recalled his Royals teammate from 2005-08. "It looks like he's 6 years old out there throwing 100 mph, right? It still baffles me how a little body like that can throw the ball that hard.''
Florida is expected to offer arbitration to Nunez, which may give the young closer a $4 million salary in 2012, so the team has plenty invested in the youngster.
"He's a competitor, and he has the attitude of `It's going to be me or you today,''' Buck said. "He'll go after you whether he's getting hit or not.''
Ah, but the catch is the changeups.
"The thing for me is, when he overthrows his changeup a little bit, that's when he definitely gets hurt," Buck added.
And that's going to be part of Buck's job in Florida -- to correct that trait of Nunez's.
-- Evan Brunell
For more baseball news, rumors and analysis, follow @cbssportsmlb on Twitter or subscribe to the RSS feed.