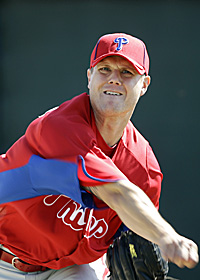 By Matt Snyder
New
Phillies
closer -- and former
Red Sox
closer --
Jonathan Papelbon
has never been afraid to speak his mind. Thursday morning, he did so on a
CBS radio affiliate in Philadelphia
-- and it likely won't endear him any further to the Boston fans he left via free agency.
"The difference between Boston and Philadelphia, the Boston fans are a little bit more hysterical when it comes to the game of baseball," Papelbon said (
CBS Local
). "The Philly fans tend to know the game a little better, being in the National League, you know, the way the game is played."
To be fair, it's tough to tell if an athlete is pandering to a new fan base when something like this is said, and he did say he enjoyed the Boston fans.
"I've had a guy take of his prosthetic leg and throw it in the bullpen in Boston," Papelbon said (
CBS Local
). "It's a religion. It's a way of life. They come to the field and they expect certain things out of players. It's an environment where you put up or shut up. I enjoyed that. It got my motor running every day."
So he wasn't attacking Boston or the Red Sox fans. Still, he did say Phillies fans are more knowledgeable and I can't imagine that sits well with Boston fans.
What say you, fans, was he right? Go ahead and vote, hash it out in the comments, whatever you wish ...
For more baseball news, rumors and analysis, follow @EyeOnBaseball on Twitter, subscribe to the RSS feed and "like" us on Facebook.