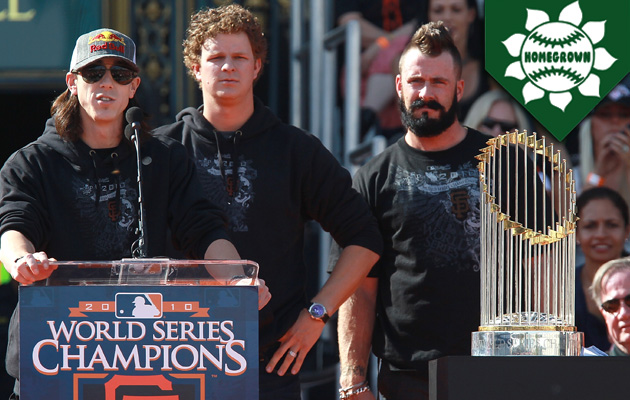 By Matt Snyder
What if players were only permitted to stay with the team that originally made them a professional? No trades, no Rule-5 Draft, no minor or major league free agency ... once you are a professional baseball player, you stay in that organization. This series shows how all 30 teams would look. We give you: Homegrown teams.
To view the schedule/past entries of this feature, click here.
On the strength of an incredible -- and mostly homegrown -- pitching staff, the San Francisco
Giants
won their first World Series in 2010 (yes, the Giants had won the World Series before, but that was as the New York Giants). So when you picture how the Giants would fare in this just-for-fun series, you might think these Giants will be pretty good. If so, you'd be wrong. You'll find a similarity to the real Giants in terms of pitching and offense, but the bad is much, much worse. In fact, it's awful. Don't say we didn't warn you ...
Lineup
1.
Brandon Belt
, RF
2.
Pablo Sandoval
, 3B
3.
Buster Posey
, 1B
4.
Nate Schierholtz
, CF
5.
Yorvit Torrealba
, C
6.
Brett Pill
, LF
7.
Matt Downs
, 2B
8.
Brandon Crawford
, SS
Starting Rotation
1.
Tim Lincecum
2.
Matt Cain
3.
Madison Bumgarner
4.
Ryan Vogelsong
5.
Francisco Liriano
Bullpen
Closer -
Brian Wilson
Set up -
Joe Nathan
,
David Aardsma
,
Sergio Romo
,
Scott Linebrink
,
Jason Grilli
Long -
Jonathan Sanchez
,
Kevin Correia
Notable Bench Players
Hector Sanchez
,
Emmanuel Burriss
and
Conor Gillaspie
.
What's Good?
The pitching staff could be even better than the real-life lock-down staff because you add the upside of Liriano, along with Nathan and Aardsma as setup men for Wilson. Of course, Nathan had a down year while recovering from Tommy John surgery, Liriano was pretty bad and Aardsma missed the entire season with his own injury. But since we're living in a dream world anyway, just picture this staff with everyone at his best. It's amazing, top to bottom.
What's Not?
Pretty much everything else. There is no bench depth at all, which is bad because Torrealba, Pill, Downs and Crawford don't have any business being everyday big-league starters. The Belt-Sandoval-Posey start to the lineup isn't bad, but after that the lineup is brutal. Schierholtz is fine for a six or seven hitter, but definitely not cleanup on a team that wants to be in playoff contention. The presence of Sandoval and Posey probably prevents this from being the worst Homegrown offense, but it's really, really bad. The team speed is lacking, too, so the offense can't exactly hope to put pressure on the defense that way. Oh yeah, the defense. Due to having one true outfielder (I still count Belt as a true first baseman) on the entire roster in addition to that guy being a corner outfielder having to play center, and we have four guys playing out of position. The outfield's range in particular would be crippling to the elite pitching staff in that spacious outfield.
Comparison to real 2011
It's similar in that the pitching is great and the offense is a big problem, but this offense is far worse than the real-life Giants' was -- and that wasn't good enough to make the playoffs. The actual 2011 Giants went 86-76 and were quite fortunate to get there with such a bad offense. This group couldn't possibly get to .500, even with the one of the best pitching staffs in this exercise -- and, again, the defense would make the pitchers look worse. I think it looks like a 75-win team, based purely on the pitching staff, Sandoval and Posey.
Up next:
Oakland
Athletics
For more baseball news, rumors and analysis, follow @EyeOnBaseball on Twitter, subscribe to the RSS feed and "like" us on Facebook.