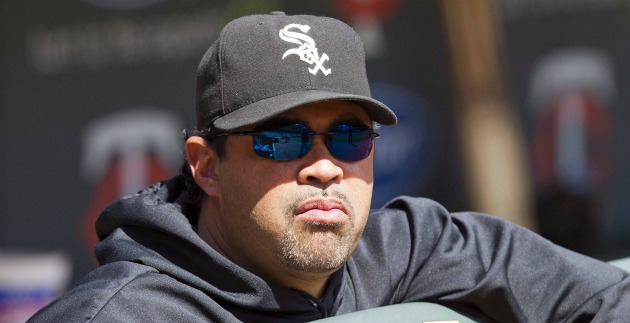 By Evan Brunell

Ozzie
: The dominant story Monday night and today is obviously Ozzie Guillen, who was released from his contract after Monday night's game.
It looks as if Guillen is headed to the
Marlins
to become their skipper, and that's just fine with outgoing manager Jack McKeon, who plans to retire (again) from managing. Guillen served under McKeon back in 2003, so the octogenarian has familiarity with the former
White Sox
infielder.
"I like Ozzie," McKeon
told MLB.com
. "I think he's a very, very intelligent manager. I think he was a very smart player. I think he'll do well. He's done well. I think he's a good man. I like him. He's a good baseball man."
McKeon continued, praising Guillen's ability to interact with players.
"I liked the way he was able to control the players, especially the Latin players," McKeon said. "He wasn't afraid to jump on them and encourage them, but also try to help him. He wasn't worried about being their friend. He'd tell it like it is. And that's Ozzie. That's what reminds me of another guy [Jack McKeon]. Sometimes it works, sometimes it doesn't."
In a separate story, the
Chicago Tribune
wonders whether Guillen moving to the Marlins could open up a
Carlos Zambrano
deal to Florida. Zambrano and Guillen are close friends, and the Marlins are looking to jack up payroll and raise fan interest heading into a new stadium and a new identity. It's certainly feasible -- the Marlins will have money to spend and a desire to upgrade the pitching.

Ripping Moneyball:
Honestly, I'd rather not even waste time giving Hawk Harrelson and Steve Stone publicity for this, but here goes: the two White Sox announcers ripped
Moneyball
despite not having read the book or seen the movie to
CSNChicago.com
. Credibility: out the window.
Hey, it's totally OK to rip things you disagree with. But to rip something with zero knowledge is ludicrous. (And no, being familiar with the "concept" of it or hearsay does
not
count.) Billy Beane isn't a perfect GM and he's made his share of mistakes, but that doesn't nullify the basic idea of
Moneyball
, which continues to be sadly unnoticed these days instead of the popular narrative of "
Moneyball
is about poor teams who love statistics and OBP and hate everything else!" Why are we still doing this in this day and age?
Oh, and according to Harrelson, playing like a kid is way better than putting up good statistics.
"You take
Mark Buehrle
, he has never lost his childlike qualities. That's one reason he can go out there and throw an 86 miles-per-hour fastball and still compete and win."
Uh-huh. Or maybe Buerhle is really good at commanding the ball and inducing weak contact.
Nahhh.
Ted Williams movie?
Could a movie be made about Ted Williams? Given the wealth of content of the Hall of Famer's life, a movie about Williams would be entertaining. John Underwood, who was a friend of Williams and wrote for years at
Sports Illustrated
, is developing a treatment he hopes can turn into something. With the success of
Moneyball
at the box office and Broadway wrapping up a play about Vince Lombardi, the time might be right. (
Washington Times
)
No charges
: Juan Carlos Oviedo, a.k.a.
Leo Nunez
, will not face charges in the Dominican Republic for falsifying his identity. Given Oviedo came forward with the admission and cooperated with officials, he is getting a free pass. Only time will tell, though, if MLB will allow Oviedo back for 2012. (
South Florida Sun-Sentinel
)

Moved
:
Phil Hughes
admits he isn't pleased with pitching out of the bullpen for the
Yankees
. The righty has struggled through a difficult year for the Yankees, with a recent back issue prompting the move to the 'pen. Even if Hughes would understandably prefer to start and although it depletes the Yanks' thin rotation, Hughes has a chance to make a major impact in the bullpen in October. In 2009, he was a lockdown reliever setting up
Mariano Rivera
. (
MLB.com
)
Signed
:
Omar Infante
has agreed to a two-year contract extension with the Marlins, worth $8 million. In his first year with the Marlins after coming over from Atlanta in the
Dan Uggla
deal, he hit .279/.317/.385 in 574 plate appearances. (
MLB.com
)
Returning
: The
Reds
want to bring closer
Francisco Cordero
back, and he's pleased to hear that. There is a $12 million option on the closer's remaining deal, and it's not clear whether or not Cincy will pick the option up. A return for Cordero isn't surprising following a solid season in which he notched 35 saves. (
MLB.com
)
Back to Washington
: If
Jonny Gomes
has his way, he'll be back with the
Nationals
after coming over from Cincinnati in a trade. Gomes hasn't quite impressed, but could be a strong bat off the bench for Washington next season. Gomes for his part says he would probably accept arbitration if the Nats offered it and believes the team will be "friggin' good." (
Washington Post
)

Where's Coco?
Coco Crisp
wouldn't mind returning to the
Athletics
, but Oakland's free-agent machinations will depend on the outcome of the A's prospects of building a new stadium in San Jose. The A's will have competition if they want to bring Crisp back -- two sources say that San Francisco is expected to make a run at Crisp. (
San Francisco Chronicle
)
Looking ahead
:
Joe Mauer
can't wait to put 2011 behind him, as the year represented a disappointment for both the club and Mauer, struggling with injuries and poor play. "You always want to do well when you put the uniform on," Mauer
told MLB.com
. "For me, my biggest goal is just to come back and be healthy. It's been a frustrating year. I haven't been healthy. Hopefully, we can do that as a whole. I'm talking about myself, but this whole room, we've kind of got the same thing going [with injuries]. My No. 1 goal is to just get healthy and just get ready for next year."
Lost season
:
Peter Moylan
, a reliever for the
Braves
, missed months with a back injury. Finally back, Moylan got lousy news once more as he'll need surgery for a torn rotator cuff and labrum, which will be his third major surgery in four years. Moylan will miss about six months worth of time, so may not be ready for Opening Day. (
Atlanta Journal-Constitution
)
For more baseball news, rumors and analysis, follow @EyeonBaseball on Twitter or subscribe to the RSS feed.