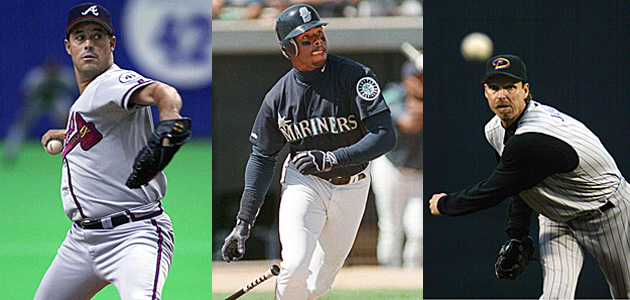 By Matt Snyder
With the 2012 Hall of Fame class set to be Barry Larkin and Ron Santo, we can now look ahead to future years -- while kicking and screaming about who should have gotten in or who didn't deserve it, of course; heaven forbid anyone just celebrate the careers of Larkin and Santo and move on. My colleague
C. Trent Rosecrans has taken a look at the explosive 2013 Hall of Fame class
of first-year eligibles. Just envision all the arguing and name-calling that will take place in our comments section next year at this time (remember, everyone's personal opinion is right and everyone else is an idiot with absolutely no room for discussion!). I have a headache already.
Anyway, the ballot doesn't let up anytime soon, either. Check out the first-year eligible classes for the ensuing three ballots. And remember, these guys are only joining those remaining on the ballot. It's going to get overly crowded with legitimate superstars unless a few classes have upwards of four or five inductees.
Here are the most notable guys joining the ballot before 2017, divided up by year.
2014
Greg Maddux
- Listing his numbers is a waste of time. He's as much of a lock as anyone.
Frank Thomas
- It's also hard to see the Big Hurt not getting in on the first try as well. He has more than 500 home runs, two MVPs, and a ridiculous .974 career OPS (156 OPS-plus).
Tom Glavine
- Are 300 wins good for automatic induction? I think so. The two Cy Youngs and six top three finishes in Cy voting also help to make him a lock.
Jeff Kent
- While not a very good defender, Kent was one of the best offensive second basemen in history. His 377 home runs are the most ever for a 2B while his .290/.356/.500 line is stellar from that position. Kent's WAR is very similar to Ryne Sandberg's, and Ryno got in on his third try. It might be tougher for Kent, with the crowded ballots and all. Think about it, are the voters really going to put in four first-year guys here? Very doubtful, especially considering there will be worthy guys lingering from previous ballots.
Mike Mussina
- Moose went 270-153 in his career with an assortment of Gold Gloves, All-Star appearances and top six finishes in Cy Young voting. His 3.68 career ERA came in a time when it was a hitters' game, as it factors out to a 123 ERA-plus. Will his shortfall in wins (30 shy of 300) and strikeouts (187 short of 3,000) cost him? It very well might.
Luis Gonzalez
- He was just a pretty good player until getting to Arizona, so he probably didn't do it long enough.
Moises Alou
- He actually has better rate stats than Gonzalez, but the feeling is neither makes it.
2015
Randy Johnson
- The only question is
Mariners
or
Diamondbacks
cap on his bust. I'll lean toward D-Backs with the four Cy Youngs and World Series ring, but he pitched 1 1/2 more seasons in Seattle. But this is a discussion for a different day.
Pedro Martinez
- He was the most dominant pitcher in baseball for a seven-year stretch. He won three Cy Young awards and had the best MLB ERA in five of those aforementioned seven seasons. In all, Pedro was 219-100 with a 2.93 ERA, 1.05 WHIP and over 3,000 strikeouts in a big-time hitters' era. He has to be in, probably on the first ballot.
John Smoltz
- How heavily will the 213 wins
and
154 saves weigh on the minds of voters? I'm guessing a good amount. He also has that Cy Young and over 3,000 strikeouts. Even if not on the first ballot, Smoltz will be enshrined.
Gary Sheffield
- One of the more feared hitters of his generation, Sheffield's offensive numbers say he's worthy (509 homers, .907 career OPS, over 1,600 runs and RBI). But he was in the Mitchell Report, so -- judging from what we've seen so far from the voters in terms of the steroid-connected guys -- he's probably not going to get in.
Nomar Garciaparra
- Through 2003, he was headed to Cooperstown, but things derailed after that. His career triple slash line (.313/.361/.521) is pretty damn good, but was he dominant long enough? I'll guess no.
Carlos Delgado
- With tons of power in his prime, Delgado ended up with 473 homers and 1,512 RBI. His .383 on-base percentage and .929 OPS (138 OPS-plus) are very impressive, too. My guess, though, is Delgado put up those numbers in the wrong era and he falls short.
2016
Ken Griffey Jr.
- Easy choice.
Trevor Hoffman
- The Hall voters haven't been kind to closers, but Hoffman saved 601 games, obliterating the previous record (held by Lee Smith) until
Mariano Rivera
passed him last season. I bet Hoffman gets in with relative ease. If not the first try, certainly the second or third.
Billy Wagner
- See the above comment about Hall voters' treatment of closers. Wagner was definitely dominant, but I feel like only Rivera and Hoffman get in from this generation of closers.
Andy Pettitte
- If you only look at the regular season stats, Pettitte has a case as a very good pitcher who wasn't a Hall of Famer. He went 240-138 with a 3.88 ERA, 1.36 WHIP and 2,251 strikeouts. He garnered Cy Young votes in five different seasons but never won the award. However, will 75 percent of the voters consider the postseason and cast a vote for Pettitte? It's possible. He was 19-10 with a 3.83 ERA in the postseason, in a whopping 263 innings. He has five rings and went to the World Series three other times (once with the
Astros
, remember). He will not be getting into the Hall on his first handful of tries, but maybe after a decade or so on the ballot Pettitte makes it. Then again, he also was named in the Mitchell Report.
Jim Edmonds
- The four-time All-Star won eight Gold Gloves and hit 393 homers. He hit .284/.376/.527 and racked up 67.9 WAR according to Baseball-Reference.com. Still, with less than 2,000 hits, less than 400 home runs and less than 1,300 runs or RBI, I'd bet he doesn't have a real shot of making it.
---
So there you have it. Without considering the guys who were already on the ballot from previous years and then factoring in the huge class of 2013, we have three years with what I think will yield nine Hall of Famers. Maybe 10 if Pettitte gets enough support. Now, keep in mind I'm not a voter nor was I saying above who I would personally want to see in the Hall. I'm merely trying to guess how the voting body will react to the players above, based upon how they've treated players in the recent past.
Simply put, the ballot is going to be very, very crowded in a few years.
For more baseball news, rumors and analysis, follow @EyeOnBaseball on Twitter, subscribe to the RSS feed and "like" us on Facebook.