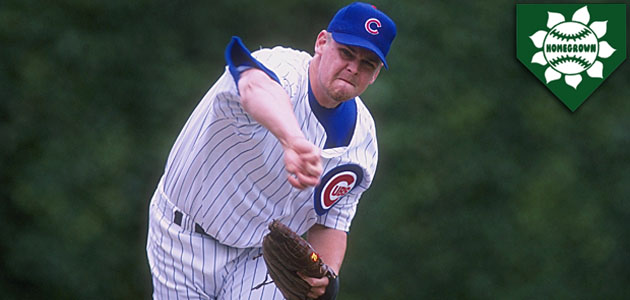 By Matt Snyder
What if players were only permitted to stay with the team that originally made them a professional? No trades, no Rule-5 Draft, no minor or major league free agency ... once you are a professional baseball player, you stay in that organization. This series shows how all 30 teams would look. We give you: Homegrown teams.
To view the schedule of this feature, click here.
When we discuss the Chicago
Cubs
, no baseball fan is lacking an opinion -- specifically, everyone seems to have some pet theory as to why the Cubs haven't won a World Series since 1908. I've long argued with the people who believe the streak has something to do with a stupid "curse" or somehow now has something to do with playing so many more day games than everyone else. No, the real problem is they've never put a top-to-bottom management system in place that has done the job consistently for more than a small handful of seasons. It's possible current Cubs chairman Tom Ricketts has done so with Theo Epstein, Jed Hoyer, et al (in fact, I'd argue it's likely), but that's a different discussion for a different forum.
For now, we're left looking at one of the worst Homegrown Teams in our series.
Lineup
1.
Kosuke Fukudome
, RF
2.
Darwin Barney
, 2B
3.
Starlin Castro
, SS
4.
Tyler Colvin
, LF
5.
Casey McGehee
, 3B
6.
Eric Hinske
, 1B
7.
Geovany Soto
, C
8.
Sam Fuld
, CF
Starting Rotation
1.
Ricky Nolasco
2.
Kyle Lohse
3.
Andrew Cashner
*
4.
Carlos Zambrano
5.
Randy Wells
* - if Cashner fell injured like he did in the real 2011 season, the options would be:
Jon Garland
,
Dontrelle Willis
and
Casey Coleman
.
Bullpen
Closer -
Kyle Farnsworth
Set up -
Kerry Wood
,
Sean Marshall
,
Carlos Marmol
,
Al Alburquerque
,
Juan Cruz
,
Michael Wuertz
Long -
Jeff Samardzija
,
Rich Hill
,
Sergio Mitre
Notable Bench Players
Robinson Chirinos
,
Ryan Theriot
,
Ronny Cedeno
,
Brandon Guyer
,
Corey Patterson
, Felix Pie,
Tony Campana
, Lou Montanez. In fact, feel free to grab any of these guys, plug them in the lineup and play around with it. There's really no wrong answer, because it's one marquee player (and he's only 21) amidst a heap of mediocrity at this point. Maybe Guyer proves a good player, McGehee bounces back and/or Colvin becomes a good everyday player, but we have to go on what we've seen up to this point.
What's Good?
The bullpen is really strong. It's well-rounded with righties and lefties, depth, power pitchers and specialists. Of course, there could be an issue with the lack of a reliable closer when it comes to either Farnsworth or Marmol, but a new-age manager might just abandon that idea and use whoever makes the most sense in the ninth.
What's Not?
The starting rotation doesn't have a true ace (or No. 2, for that matter). The infield defense sorely lacks range and the outfield isn't great either. The team speed is minimal, there isn't a good option at leadoff (or in the two-hole, or cleanup, or fifth ... you get the point) and who is the best power hitter? Colvin? Soto? Basically, everything other than the bullpen and Starlin Castro is lackluster.
Comparison to real 2011
You have to give former general manager Jim Hendry credit for scraping together a team good enough to win three division titles in six years, considering this bunch. Then again, he was in charge as the organization was assembling nothing more than a mediocre foundation (Baseball Prospectus now says the minor-league system is
"not bad" but is more "depth than starpower."
). Let's leave out the excuses, because there are far more bad picks (Montanez at third overall as a shortstop, for example) than there are instances of bad luck (Mark Prior, for example).
The amazing thing is that the 2011 Cubs were 71-91 and I actually think that team was better than this Homegrown unit. When we do the Homegrown rankings in mid-December, expect to see the Cubs toward the bottom. That probably changes in five years, but we're doing this exercise in the present. And this team would probably win somewhere in the ballpark of 65 games. Maybe fewer.
Up Next:
Seattle
Mariners
For more baseball news, rumors and analysis, follow @EyeOnBaseball on Twitter or subscribe to the RSS feed.