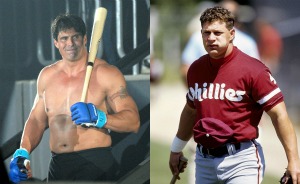 By C. Trent Rosecrans
The only thing worse than paying to see the Lenny Dykstra-Jose Canseco slapfest on pay-per-view? Paying for it and one of the contestants pulling out.
Dykstra, the former Met and Phillie, pulled out of Saturday's scheduled boxing match with Canseco despite being paid $5,000 cash, according to Dan Gross of the Philadelphia Inquirer.
Promotor Damon Feldman told the newspaper that he paid Dykstra on Thursday and was scheduled to give him another $10,000 after the fight. Dykstra then told promoters at 6 p.m. on Saturday that he wasn't going to show.
Gross reached Dykstra on his cell phone, but Dykstra said he'd call Gross back and didn't -- nor did he respond to text messages.
Gross also wrote he talked to a "friend of Dykstra's" who said Dykstra had never signed on to fight Canseco, nor did he receive any money. However, Dykstra tweeted about fighting Canseco and re-tweeted several well-wishers urging him on against the former A's slugger.
Canseco had been scheduled to fight Tareq Salahi, the White House party crasher, but Salahi pulled out and was replaced by Dykstra -- allegedly.
It seemed like a bad idea from the beginning, two disgraced stars fighting each other and a nation ignoring it. Or, this could be some elaborate hoax to drum up more interest in the fight at a later date. Either way, it's sad and a little pathetic.
Too bad Dykstra didn't have a twin brother he could send in his place.
H/T: Big League Stew
For more baseball news, rumors and analysis, follow @eyeonbaseball on Twitter or subscribe to the RSS feed.