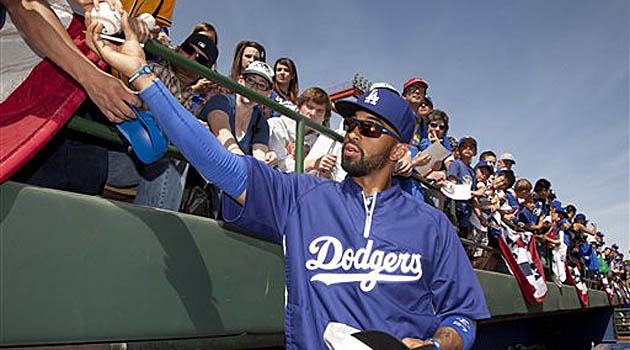 By Matt Snyder
Prior to last season, the common sentiment was that
Matt Kemp
was headed to stardom. It made sense. He was only 25 and was coming off a season where he hit .297 with a .352 OBP and 26 homers, 101 RBI, 97 runs and 34 stolen bases. Though he did hit two more home runs last season, he regressed rather significantly. His average dropped 48 points and OBP was a poor .310. He stole 19 bases, but was caught stealing 15 times. And the stat-line wasn't the worst part. His love life and butting heads with coaches made more news than his actual play.
But the proverbial page has been turned this spring.
"He seems great. I shouldn't say 'seems,' because he's been great,"
Dodgers
manager Don Mattingly told the
Los Angeles Times
.
Kemp came into the spring with that cliche of being in the best shape of his life. So far, it's coming through on the field, as he's hitting .316 with three home runs and three stolen bases. He's looking for it to carry over into the games that actually matter, and there's an extra motivation at play.
"Last year was a very disappointing season, personally and team-wise," he said to the Times. "I felt like I failed in some way. This year, I'm going to try to make sure that doesn't happen again, that we get back to the playoffs and get to where we should be."
HEILMAN ON THE HILL:
Aaron Heilman
hasn't started a game since 2005, but he's making a strong case to break camp as the
Diamondbacks
' fifth starter. Two of the three between Heilman,
Barry Enright
and
Armando Galarraga
will join the D-Backs' rotation, and Heilman became the first Arizona pitcher to toss five innings Thursday. He allowed two runs -- coming on a Matt Kemp homer, coincidentally. (
MLB.com
)
ABOUT FELIX'S NO-TRADE CLAUSE:
A popular topic this week on the interwebs has been this list of teams
Felix Hernandez
has on his no-trade clause. Specifically, he can block a trade to the
Yankees
,
Mets
,
Red Sox
,
Cubs
,
Angels
, Dodgers,
Rangers
,
Phillies
and two still-unnamed teams. Now, upon first glance, it might seem he's scared to play in a large-market, high-pressure situation. Quite the contrary, however, as this is actually a savvy move by Hernandez and his agents. Reports indicate these are the teams they felt were most likely to try and acquire King Felix and would be able to offer financial incentives to waive the clause. While we're here, Yankees fans, Felix is not going to be traded this year. It's time to turn the page. (
FOX Sports
)

NICE CATCH:
Yankees legend Yogi Berra was speaking with
Rays
manager Joe Maddon Thursday when Berra tripped and began to fall. Maddon caught him. "It's one of those things, you just see it and he's going down. There's Yogi Berra falling right in front of me," Maddon said. "I try to catch him. It might have been my best play as a professional." If not for Maddon's steady hand, it would have been the second fall this spring for Berra. (
TBO.com
)
OUTFIELD DEFENSE:
The best defensive outfield? The
Mariners
, followed by the Rangers,
Giants
and Yankees. (
MLB.com
)
BIG DAY:
Kendrys Morales is either going to play Sunday or start the season on the disabled list. He did say rather definitively that he plans to play, but words can only carry you so far. If he's not fully recovered from last season's broken leg, he's just not ready.
Mark Trumbo
would be the Angels' starting first baseman if Morales can't go. (
MLB.com
)
ROLEN FOR HALL:
This is interesting to me because I rarely consider a Hall of Fame case for a guy who has yet to retire, but
Fangraphs.com takes a look
at the possible Hall case for
Scott Rolen
. He probably doesn't pass that gut feeling test -- you know, when people say you should be able to hear the name and automatically just say "Hall of Famer!" if he belongs in -- but it does look like his numbers will merit strong consideration. Fangraphs does warn Rolen is in danger of becoming Ron Santo 2.0.
DEFUNCT LOGOS:
This is a fun one.
SBNation's Beyond the Box Score
takes a look at its top 30 defunct MLB logos. I'm partial to the No. 5 logo, but there are some good ones in there.
LASTINGS IMPRESSION:
It's easy to forget that
Lastings Milledge
is only 25. After all, he was a first-round draft pick in 2003 and was in the majors in 2006. Since then, it's been mostly disappointment, but he is raking this spring with the
White Sox
-- hitting .314 with four home runs and nine RBI. He hit two bombs in Thursday's win. The biggest plus might be seeing the humility. "Whatever production they get out of me is a plus. I'm not a key piece," he said. (
Chicago Sun-Times
)
A SIX-YEAR HIATUS?
How about a Darren Dreifort comeback? He hasn't pitched since 2004, but threw a bullpen session this week at Dodgers camp. He's 39, but had severe injury woes in his career and retired at age 32. I'd say don't hold your breath. It's spring and sometimes people are just trying to file any story even remotely interesting. (
MLB.com
)

ON CONTRACTION:
The
New York Post
has a theory on what the majors could do with the Rays, A's, Mets and Dodgers. The Rays and A's would be contracted while the respective ownership groups would take over the messes that are the Mets and Dodgers. In order to curb the complaints of the player's union, major league rosters would be expanded to 27 players, thereby not eliminating jobs -- it would actually very slightly increase the number of major-league players. It's decent fodder for this time of the year, when we're killing time until the regular season begins, but I just don't ever see contraction happening.
SOUTH KOREAN IDOL:
Shortstop prospect
Hak-Ju Lee
has fully embraced life in America, as he's become a huge fan of KFC and Papa John's, for example. He's also a big American Idol fan and sings really well -- according to himself. (
TampaBay.com
)
For more baseball news, rumors and analysis, follow @cbssportsmlb on Twitter or subscribe to the RSS feed.