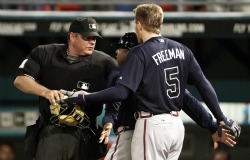 By C. Trent Rosecrans
Umpire Hunter Wendelstedt accomplished a rare feat on Monday, ejecting a Fredi (Gonzalez) and a Freddie (Freeman) in the Braves' game at Florida.
Gonzalez, the Braves' manager, was ejected for arguing balls and strikes during the fourth inning of the game, while Freeman was ejected after striking out to end the top of the eighth inning.
Gonzalez was ejected after Wedelstedt called a Derek Lowe pitch to Bryan Peterson a ball. After he did, he looked into the Braves dugout and ejected Gonzalez, who then walked out and argued for a moment.
"You can't argue balls and strikes," Gonzalez told David O'Brien of the Atlanta Journal Constitution. "I deserve what I got."
Freeman thought he checked his swing against Steve Cishek with two strikes and two outs, but Wendelstedt called him out. After Freeman tossed his helmet, Wendelstedt tossed Freeman. Freeman never turned to say anything or show up Wendelstedt before the umpire tossed Freeman.
After the game, Freeman said the call on the strike was correct, but wasn't so sure about the ejection. He said he only asked Wendelstedt to check with the third base umpire.

"Couldn't believe it. That was pretty incredible," Freeman said (via the AJC). "I didn't say anything. There was no reason I should have been thrown out of this game. All I asked was, 'Why?' All he said was, 'You know what you got thrown out.' At the time, I didn't."
It was Gonzalez's third ejection of the season.
For more baseball news, rumors and analysis, follow @cbssportsmlb on Twitter or subscribe to the RSS feed.