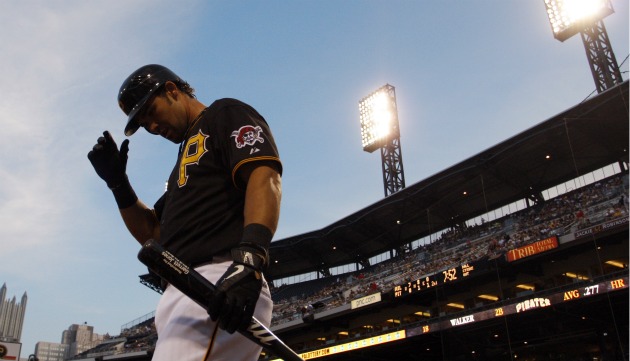 By C. Trent Rosecrans
The
Pirates
wrapped up arbitration season on Thursday, beating
Garrett Jones
and settling with
Casey McGehee
on a one-year deal before heading to the arbitration room.
Jones was the seventh and final player to head to his arbitration hearing this winter, with owners taking a decisive 5-2 victory in 2012. Last season only three cases went to arbitration, with the players winning two (both against the
Marlins
-- the arbitrators must have felt sorry for them having to wear those new uniforms).
In a nutshell, the way arbitration works is that the player and team swap demands and after both sides make their cases, three arbitrators pick one number or the other -- in Jones' case, the arbitrators picked the team's offer of $2.25 million instead of Jones' demand of $2.5 million. Or, at any point before the door closes on the hearing room, the two sides can compromise. That's what the Pirates did with McGehee, settling at $2.5375 million, more or less between his request of $2.75 million and the team's offer of $2.35 million.
Because the hearings are so late in the offseason, most teams budget for the worst-case scenario with their arbitration-eligible players and the final result really on effects the guy signing the check and the guy cashing the check.
But hey, what's the fun of having winners and losers if you don't have a scoreboard. So here's looking back at this year's arbitration cases.
Team victories
The
Brewers
($2 million) beat
Jose Veras
($2.35 million)
The
Nationals
($5 million) beat
John Lannan
($5.7 million)
The
Orioles
($800,000) beat
Brad Bergesen
($1.2 million)
The
Rays
($2.75 million) beat
Jeff Niemann
($3.2 million)
The Pirates ($2.25 million) beat Jones ($2.5 million).
Marlins losses

Player victories
Emilio Bonifacio
($2.2 million) beat the Marlins ($1.95 million)
Anibal Sanchez
($8 million) beat the Marlins ($6.9 million)
For more baseball news, rumors and analysis, follow @EyeOnBaseball on Twitter, subscribe to the RSS feed and "like" us on Facebook.