By C. Trent Rosecrans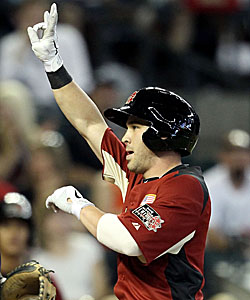 PHOENIX -- On Sunday, Jason Kipnis led off the game for the U.S. team with a home run. Next up is the Triple-A All-Star Game in Salt Lake City on Wednesday and after that, well, he'll be on a plane. The question is whether he's joining his Triple-A teammates in Columbus, Ohio, or headed to Baltimore to join the
Indians
.
Of all the young talent on display at Sunday's Futures Game at Chase Field on Phoenix, Kipnis is the one most likely to make an impact on this year's pennant race. The U.S. won by the way, 6-4.
The Indians recently brought up Cord Phelps to try to fill in at second base but sent him back down after 19 games that saw him hit .196/.315/.326 in 55 plate appearances. Orlando Cabrera started the season at second base for Cleveland, but the 36-year-old is hitting just .252/.284/.336 and the Indians are searching for an offense spark. That could be Kipnis, the team's second-round pick out of Arizona State in the 2009 draft.
"Right now, I know it's a little cliche, but we're going to take it one step at a time. I've got to worry about Salt Lake City next and then we'll worry about what's after that next," Kipnis said.
The left-handed hitting Kipnis is hitting .297/.380/.506 with 11 home runs and 11 stolen bases for the Clippers and with Cleveland just two hours away, the fans in Columbus and Cleveland are eager to see him in an Indians uniform. Of course, Kipnis is too.
"It's no longer nerves or anything like that, or being nervous, it's being anxious and being excited for what could happen," Kipnis said. "Whenever they feel ready, I'll be more than raring to go."
That's the attitude he brought into what was his second game in a big-league stadium. While at Arizona State, he played against Washington at Seattle's Safeco Field, and Sunday he had his own cheering section on the third-base line at Chase Field.
Leading off the game against the Braves' Julio Teheran, Kipnis worked a full count before taking a huge cut and putting the ball into the right field seats.
"I just want to put a good swing on the ball, make some hard contact, don't strike out, hope for the best and see what happens," Kipnis said. "I got a fastball I could handle, and I got lucky."
For more baseball news, rumors and analysis, follow @cbssportsmlb on Twitter or subscribe to the RSS feed.