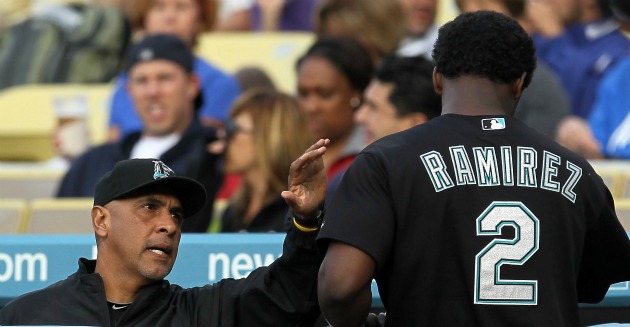 By C. Trent Rosecrans
Even before the Marlins signed Jose Reyes, the questions about Hanley Ramirez's willingness to move to third base were raised. And since Miami signed Reyes, those questions have remained unanswered.
There's been speculation, of course, but there's only been cryptic Twitter responses from Ramirez himself.
At this month's winter meetings in Dallas, Marlins manager Ozzie Guillen did his best to put aside the rumblings that Ramirez would refuse to move from shortstop and create a problem -- "I only care about what Hanley says on Feb. 20, when we start spring training," Guillen said earlier this month. "I mean, from now on, people can say whatever."
One of the people saying "whatever" is former Marlins manager Edwin Rodriguez, who spoke to MLB Network Radio on Wednesday about Ramirez and third base.
"I think it's going to be [a] very interesting situation to say the least," Rodriguez told Jim Memolo and Todd Hollandsworth (via the Sun Sentinel). "Knowing Hanley, he's a very proud player. It's going to be very hard for him to move out of shortstop. He's a big league shortstop. He's an All-Star shortstop. In my opinion I think they are going to have a tough time trying to convince him to move to third base. Even if he does that, move to third base, beginning of the season, I think it's going to be very interesting to watch how everything develops, how Reyes takes the front pages and how the people start talking about the All-Star shortstop Jose Reyes. It will be very interesting to see how Hanley will handle all that."
Rodriguez, also said he thought it was a mistake to sign Reyes instead of using that money to increase the offer to Albert Pujols.
That said, Rodriguez, who will manage in the Indians' minor-league system next year, said he believed the Marlins were approaching Ramirez's move the right way and if Ramirez buys in, it would be a successful move.
Ramirez backed Rodriguez before the Marlins replaced him with Jack McKeon.
Ramirez will be 28 on Friday, which is the same age Alex Rodriguez was when he traded from Texas to the Yankees. As good as Ramirez is, he's not as good as Rodriguez or as good defensively as Reyes. At some point, you'd hope he'd just set aside his pride and play the position that gives his team the best chance to win. With Reyes on board, that's third base.
For more baseball news, rumors and analysis, follow @eyeonbaseball on Twitter or subscribe to the RSS feed.