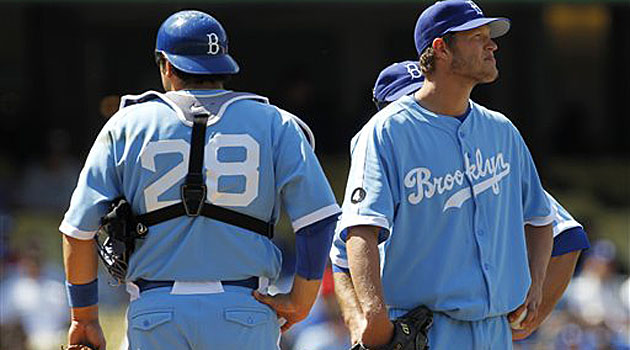 By Matt Snyder
Seemingly lost in the shuffle of the
Dodgers
' extra-innings win over the
Braves
-- on another
Matt Kemp
walk-off bomb -- was how long Don Mattingly stuck with
Clayton Kershaw
in the ninth. I generally find that managers, especially early in the season, seem to err on the side of pulling starters early when they're throwing well. It was the complete opposite here.
Kershaw recorded two outs to begin the ninth, so he was just one out from a complete game victory.
Chipper Jones
singled.
Dan Uggla
singled but advanced to second on a throw to third base. So there are now runners on second and third in a one-run game. Kershaw had thrown 113 pitches and didn't look completely done, so I could see letting him face one more hitter.
Then he walked
Freddie Freeman
on six pitches. The bases were loaded, Kershaw was sitting at 119 pitches and finally -- during the Freeman at-bat -- seemed to be losing some bite on his pitches. Closer
Jonathan Broxton
was ready to enter. Instead, Kershaw was left in the game and allowed a two-RBI single to
David Ross
. So much for the lead, now the Dodgers trailed by one.
Look, it's tough to blame Mattingly for giving Kershaw some leeway. He's their best pitcher, Broxton hasn't been good and they were one out from victory. It just seemed like Kershaw was cooked and Mattingley refused to acknowledge it.
Of course, had Kershaw recorded an out we wouldn't even be talking about it. That's just the way things go in this game. It's really an illustration for how hard it is for managers to truly judge when to remove a pitcher. Think about it: had Mattingly removed Kershaw and seen Broxton lose the lead, what would we be saying?
BASEBALL TODAY:
Ryan Braun
is going to be in a
Brewers
uniform for a long time. Watch Danny Knobler discuss this and more with Lauren Shehadi on CBSSports.com's Baseball Today.
HEY, SITTING IN THE BULLPEN IS BORING:
In a Class A-Advanced game Tuesday, members of the Clearwater Thrashers (a
Phillies
affiliate) bullpen came up with a game for fans peering over the edge. They simply put paper cups down and said if a fan tossed a quarter into the cup, he could win a prize. They had a cardboard sign up advertising the "promotion," even saying "we make change." The prize was a bat. No official word, but I'd guess the players keep the quarters that don't make it in a cup (hey, minor leaguers don't make much). You've gotta click through on this link and see the pictures -- in the last one you can see how many quarters are littered across the bullpen ground. (
The X-Log
)
HOUSE THAT RUTH BUILT COMES TUMBLING DOWN:
National Geographic is doing a show -- "Break it down" -- about the demolition of the old Yankee Stadium April 28 at 10 p.m. ET. After all the great games we've all seen there, it's going to be a bit surreal, no? (
NatGeo
)
PERFECTIONIST:
Joey Votto
had an RBI double in a 3-1 loss Wednesday night, but he was angry ... because he should have had a triple. "I stopped because runs were at premium. I was in scoring position. We had two outs to get the job done. It was a real in-between play. And I wish I had taken the chance. I left like there was a good shot I would have been safe." And you made the correct decision, Joey. Quit beating yourself up for making the smart play. The reining NL MVP is crushing the ball again this year, but he needs to realize he can't single-handedly carry the team. (
Cincinnati.com
)
CAPTAIN JUNIOR:
Ken Griffey Jr. followed in his father's footsteps in becoming a major league baseball player and now he's gone and done it again. Apparently, Griffey the elder is a pilot and now Junior is working on his pilot's license as well. Kudos to him. Is his flight path follows the same as his career path in baseball, he'll greatly exceed his father's abilities. Oh, and in case you're worried about Junior's well-being, his plane has a built-in parachute. (
Geekwire
)
THANK YOU, JOE:
I've long hated the phrase "Hall of the Very Good" when people try to denigrate the Hall of Fame cases of players who they believe don't belong. It doesn't make sense because it's not the same medium. Hall of the Very Good would be secondary to the Hall of the Great or Hall of the Elite or Hall of the Exceptional. But Joe Posnanski finally up and did it, he created a "Hall of Not Famous Enough," peppered with players every bit as good as lower-level guys in the real Hall, just lacking some mainstream oomph on their names. Bobby Grich, Dwight Evans, Alan Trammell, Rick Reuschel and several others make the list. I hightly recommend at least a quick glimpse. (
Joe Blog
)
GO AHEAD AND SLEEP ON SEATTLE:
The
Mariners
have some good, young arms like
Felix Hernandez
and
Michael Pineda
. The offense, however, is pretty bad. We know that. Surprisingly, however, the defense actually measures worse at this point in the season. (
Seattle Times
)
LITTLE LEAGUE HOME RUN:
In
Jason Bay
's first game of the 2011 season, he scored on his own plate appearance without recording a hit. Yep, he came around on a four-base error when
Hunter Pence
dropped a fly ball -- otherwise known as a "little league home run," for obvious reasons. It was the fourth in
Mets
history. (
ESPN New York
)
TEXEIRA DEMOTED:
C'mon, not Mark. His last name is spelled Teixeira anyway. Just going with a trick subhead there, as the
Royals
have sent Kanekoa Texeira to Triple-A. (
MLB.com
)
SHORT AND SWEET:
Matt Joyce
is swinging a hot bat right now, and he attributes it to shortening up his swing. (
TampaBay.com
)
MAD MAICER:
You wanna call
Maicer Izturis
fragile just because he's missed almost half the
Angels
' games in the past three seasons? You aren't going to endear yourself to him, that's for sure. "Those are ignorant people who say that," Izturis said. "They don't know the game. I could play 140 games at 90%, 80%. But that's not the way I play. I play 100%." It's interesting to note that later Izturis said something about how when
Josh Hamilton
gets hurt, people don't call him fragile. Um, they actually do. Quite a few people say that, actually. The broader point, however, is the guy doesn't like being called fragile and there's nothing wrong with that. Injuries happen during the course of 162 games. (
LA Times
)
IN THE SEATTLE AREA?
The boys over at Sports and Food have a sports bar suggestion for you. Check it out. (
Sports and Food
)
ON THIS DATE:
On April 22, 1970, Tom Seaver threw a complete game for the Mets against the
Padres
. He allowed only two hits, two walks and a run -- a solo homer by Al Ferrara. The game is noteworthy because Seaver struck out 19 hitters, which tied the major-league record at the time (held by Steve Carlton, along with a pair of guys from the 1880s). It has since been surpassed by
Kerry Wood
and Roger Clemens (twice). (
Baseball-Reference.com
)
MAKIN' IT RAIN:
Angels fans threw money at
Carl Crawford
when he was on deck Thursday night. You might recall Crawford spurned the Angels in order to sign with Boston. (
Big League Stew
)
For more baseball news, rumors and analysis, follow @cbssportsmlb on Twitter or subscribe to the RSS feed.