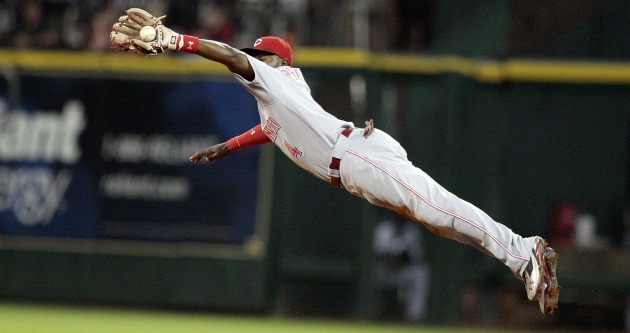 By C. Trent Rosecrans
For all free agency moves, check out the CBSSports.com free agency tracker.
Second base is hardly a marquee position -- there are some good players at the position, but at its core, it's a position of deficiencies. Second basemen generally aren't good enough defensively to play shortstop, or hit well enough to be a third baseman or outfielder. That's not to say there aren't some great players who play the position like Dustin Pedroia and Chase Utley, but it's not a marquee position, and it's even less so in this free agent market.

1. Brandon Phillips: If the Reds were to decide against exercising Phillips' $12 million option, he'd certainly be in demand. But that's not happening. Reds general manager Walt Jocketty has said he's planning on picking up Phillips' option, while Phillips prefers an extension. Phillips has said the Reds simply picking up the option on his contract would be a slap in the face -- but maybe one day I can be slapped in the face for $12 million. Phillips said the Reds won't get the "homeboy hookup" (otherwise known as the "hometown discount") in any extension talk. So while Phillips will be in a Reds uniform on opening day, the end of the season and beyond, that may be a question.
Possible teams: Reds

2. Jamey Carroll: Yep, Jamey Carroll is number two on this list -- which should tell you as much as you need to know about the remaining 11 names on this list. Carroll is a fine player, but nothing more than that. He hit .290/.359/.347 for the Dodgers this season and hasn't hit a home run since 2009. He did put up a .383 on-base percentage as a leadoff man, something that could make him much more attractive to potential suitors. Carroll could be a good second baseman (or shortstop) for somebody, but he's not exactly the type of player that's going to turn around the team or get a fanbase fired up.
Possible teams: Dodgers, White Sox, Royals, Diamondbacks, Rockies

3. Jerry Hairston Jr.: Hairston is one of the more versatile players in the game and also had a very good postseason, so good that someone may consider him an everyday player. Hairston played second, third, shortstop, left field and center field last season, but started each of the NLCS games at third base. He played 45 games for the Brewers and 75 for the Nationals in 2011, hitting .270/.344/.383 with five home runs overall.
Possible teams: Brewers, Rockies, Diamondbacks, Cardinals, Mets, Royals

4. Ramon Santiago: Santiago could play shortstop as well, increasing his value. This year was the first year he played mostly second base, starting 40 games at second and 22 at shortstop for the Tigers. Still, he doesn't exactly project as a first-division starter at either spot. He hit .260/.311/.384, not too far off his average in his 10 seasons in the big leagues with the Tigers and Mariners. He's most likely a utility infielder at this point in his career.
Possible teams: Twins, White Sox, Diamondbacks, Padres, Dodgers

5. Mark Ellis: Ellis certainly earned brownie points for teams watching from afar when he gracefully stepped aside for the arrival of second baseman Jemile Weeks in Oakland and was then traded to Colorado. Ellis, a good defensive second baseman, struggled offensively in Oakland before the trade but hit quite a bit better in Colorado (imagine that). Ellis is likely to return to Colorado.
Possibile teams: Rockies, Diamondbacks, Dodgers

6. Aaron Hill: The Diamondbacks have options for the next two seasons on Hill, but there's close to zero chance the team will pay him $8 million for next season. Still, Arizona has expressed interest in bringing back Hill, whom the Diamondbacks got in a change of scenery trade with the Blue Jays. Hill hit .315/.386/.492 with two homers in 33 games for the Diamondbacks after hitting just .225/.270/.313 for the Blue Jays.
Possible teams: Diamondbacks, Blue Jays, Cardinals



7. Aaron Miles: After his disastrous turn in Chicago, Miles has rebounded pretty well the last two seasons. For the Dodgers in 2011, Miles hit .275/.314/.346 in 136 games. Miles will be 35 next season. The Dodgers have expressed some interest in bringing him back. Miles made $500,000 last season and should get a little bump, but don't look for anyone giving him a long-term deal.
Possible teams: Dodgers, Cardinals, Nationals

8. Jack Wilson: Wilson finished last season with the Braves, playing shortstop and third base. he played mostly second base for the Mariners to start the season, but that was because the team had Brendan Ryan at short. Wilson, who has never had much of a bat, may be entering the stage of his career where he can serve as a late-inning defensive replacement at any of the infield positions.
Possible teams: White Sox, Royals, Brewers, Dodgers, Cardinals

9. Carlos Guillen: Let's just say Guillen will take a pay cut in 2012 after his four-year, $48 million contract with the Tigers has run out. In those four seasons, the Tigers got a .266/.345/421 hitter with 30 home runs and 12 stolen bases. At 35 in 2011, Guillen hit .232/.265/.368, playing second base and first base in just 28 games.
Possible teams: Blue Jays, Cardinals, Rockies, retirement

10. Kelly Johnson: Johnson was the other half of the Blue Jays-Diamondbacks underachiever swap. And like Hill, he responded well in his new home, hitting .270/.364/.417 in 33 games in Toronto, while hitting .209/.287/.412 with 18 homers in 114 games with Arizona. The Blue Jays are likely to offer Johnson arbitration, so he can take it or hit the free agent market. He's likely on the borderline between Type A and Type B, if a Type A, he'd almost be forced to take arbitration because his value on the free agent market would take a huge hit if a team had to give up a draft pick. But the class of second basemen is so weak, he may be able to go anyway. It's an interesting situation.
Possible teams: Blue Jays, Diamondbacks, Cardinals, Royals, Dodgers

11. Nick Punto: Punto hit .27 8/.388/.421 in a bounce-back year for the Cardinals, but was limited to just 166 plate appearances, so take that with a grain of salt. Punto's no longer an everyday player (if he ever really was), but is instead a utility player and there's always a place for that. He does add defensive value at most spots he plays, so there will be some demand.
Possible teams: Cardinals, White Sox, Mets, Nationals, Dodgers, Padres



12. Craig Counsell: After the NLCS loss to the Cardinals, the Brewers utility man said he wasn't whether he'd return for a 17th season, but he'd certainly listen to offers. "When you're hitting .170 and you're 41 years old, you question yourself, there's no doubt," Counsell told me after the Brewers' loss to the Cardinals. It's a good question. He's had a very good career, but he did hit just .178/.280/.223 and tied a big league record with a 45 at-bat hitless streak.
Possible teams: Brewers, Diamondbacks, retirement

13. Jose Lopez: The Marlins out righted Lopez to the minors in July, before calling him back up in August. With the Rockies and Marlins in 2011, he hit a combined .216/.245/.373.He did hit .273/.296/.597 with six home runs in 32 games (16 starts) after being called back up. He played third, second and first base. An All-Star in 2006 with the Mariners, Lopez will likely sign a minor-league contract to get into camp with someone, but he's no team's idea of an answer to any question other than who is on the travel roster for a split squad game.
Possible teams: Nationals, Dodgers, Padres, White Sox, Royals, Mets

Free-agent position rankings: C | 1B | 2B | SS | 3B | OF | DH | SP | RP

Free-agent overall rankings: Position players | Pitchers

For more baseball news, rumors and analysis, follow @eyeonbaseball on Twitter or subscribe to the RSS feed.