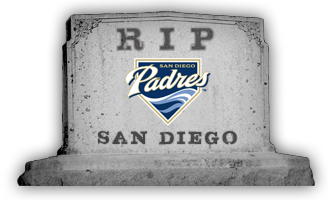 By C. Trent Rosecrans
Another season gone, another disappointment for 29 teams as one is immortalized forever. Let's take a look back at 2011 and forward in Eye on Baseball's R.I.P. series...
Team name:
San Diego
Padres
Record:
68-88, 19.5 games back in NL West
Manager:
Bud Black
Best hitter:
Chase Headley
-- .291/.377/.405, 4 HR, 44 RBI, 42 R, 28 2B, 13 SB
Best pitcher:
Mat Latos
-- 8-14, 3.60 ERA, 1.212 WHIP, 176 K, 187 1/3 IP
Nobody expected much out of the Padres after losing Adrian Gonzalez to the Red Sox and they didn't disappoint. If 2010's run at the NL West title was a shock, 2011's last-place finish wasn't.
2011 SEASON RECAP
San Diego was eight games back by the end of April, so it's hardly a surprise the team finished dead last in the NL West. After fantastic pitching led the team to the brink of the playoffs a year ago, the team couldn't recreate its magic of 2010. Mat Latos took a step back (but was still pretty good), while Clayton Richard made just 18 starts before being shut down for the season and undergoing shoulder surgery.
While nobody stepped up to take all of Gonzalez's offensive load, the team had some surprisingly good offensive performances, as third baseman Chase Headley put together a solid season, as did catcher Nick Hundley (.289/.352/.471 with eight homers) and first baseman Jesus Guzman (.313/.369/.479 with five homers). And then there was Cameron Maybin, the former first-round pick of the Tigers and big part of the trade that sent Dontrelle Willis and Miguel Cabrera from Florida to Detroit had been labeled as a disappointment for several years now despite the fact he's now just 24 years old. Not only did Maybin hit a respectable .266/.322/.397 with nine homers and 38 stolen bases, he's shown the ability to patrol the spacious outfield at Petco. If he continues to improve and works on his on-base percentage, Maybin can be a maintain in San Diego.
2012 AUDIT
With the rise of the Diamondbacks, the return of the Giants, what has to be a better year for the Rockies and hopefully new ownership in Los Angeles, there's not much room for optimism in the NL West for the lowly Padres. But hey, it's a really nice ballpark, and you live in San Diego, what can you really complain about?
The rotation should be relatively stable, with Latos, Richard, Tim Stauffer and Dustin Moseley, with Cory Luebke, Robbie Erlin, Joe Wieland and Casey Kelly ready to step in if needed. The bullpen is a bigger question, with free agent Heath Bell and the departure of Mike Adams.
The biggest weakness in the lineup is the middle infield, where Orlando Hudson was OK, but aging, and Jason Bartlett didn't do much. Kyle Blanks has once again flashed the ability to rise above the constraints of the ballpark, but lacked consistency.
FREE AGENTS
Heath Bell, RP
Jeremy Hermida
, OF
OFFSEASON FOCUS
Can the Padres get anyone who can actually hit the ball? Or is it that tough to do Petco Park? Well, it'd be nice to get a big bopper, but with the reputation of Petco, no free agent hitter in his right mind is going to sign with San Diego. Even those with good numbers before coming to Petco, like Ryan Ludwick, left without much success. While Ludwick hasn't exactly rebounded in Pittsburgh, his free agent stock will take a tumble and there's no doubt he and his agent will blame it on Petco. Petco -- and the team's payroll ceiling -- will force the Padres to add offense through trades and developments rather than free-agent signings.
Then there's the matter of the team's bullpen. There will be a lot of the same names, but the backend will be different than it was this season after the trade of Adams and the possible departure of Bell. Here's five things I'd do to help the Padres going forward:
No, the Padres aren't going to the World Series with these moves, but they'll be under budget and have a better idea of what their futures holds after the 2012 season. Some things may not work out, Rizzo may not be the hitter we think he is, but we'll know. And as a wise man once said, that's half the battle. The other half is lasers.
For more baseball news, rumors and analysis, follow @eyeonbaseball on Twitter or subscribe to the RSS feed.