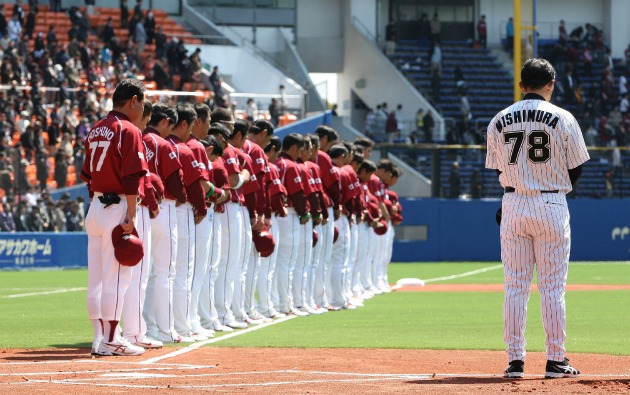 By C. Trent Rosecrans
Sendai, Japan, had something to cheer about on Tuesday -- baseball.
The northern Japanese city that was ravished by last month's earthquake is home to the Rakuten Eagles, who opened the Japanese baseball season with a 6-4 victory over the defending champion Chiba Lotte Marines.
The game was played a bit south in Chiba and the Eagles' stadium won't be ready until April 29, but TV showed people in shelters watching the game and each fan in the Chiba cheering section held up signs that said, "Stay Strong Japan."
"Despite the difficult conditions, we are able to open the season because everybody helped us to do it," former big leaguer and current Eagle Kaz Matsui told the Associated Press. "I want to carry this feeling of appreciation for the whole year by playing baseball."
Former National and Yankee, and current Eagle Darrell Rasner said he thought fans were happy to see games played, the Central League also started with the Yokohama BayStars beating the Chunichi Dragons 5-4.
"It is a sense of normalcy for them," Rasner told the AP. "It's something that's ingrained in them and, you know, I think this is going to be a healing process. This is going to be a great thing for them."
Not everyone aggress.
"Watching baseball is not the first thing on anyone's mind in Tokyo either," reporter Kozo Abe told author Robert Whiting, writing for SI.com. "The Japanese feeling at the moment is that they are not ready to root for the revival of Japanese baseball from the bottom of their heart."
One estimate says there are 30,000 people dead or missing and as many as 400,000 are homeless from the earthquake and tsunami. Half of the 12 NPB teams play in areas affected by the disaster. With many still without power, there's a debate whether using power on baseball games is the best way to use resources. Even though teams are playing more day games, enough power is used one day game at the Tokyo Dome to power 6,000 homes.
The Yomiuri Shimbun, Japan's largest newspaper, has had many call in and cancel their subscriptions to the newspaper that also owns the country's most popular team, the Yomiuri Giants, who publicly were against pushing back the season's starting date to today. The Giants will not play at home until next month in hopes of conserving energy.
It will be interesting to see how many people show up to games. Going to baseball games requires discretionary income, right now that's not exactly in abundance, and if it is, there's better use of that money in Japan.
Baseball did have to return to Japan, a country that loves the game as much (or more) than we do, but the start seems awkward, even though there was no easy way to avoid it.
TALKING PITCHING -- I join Lauren Shehadi to talk about some of the game's best pitchers. I don't like to overreact to one or two starts at the start of the season, so you know. But hey, you get the picture of me with my beard at its fullest.
NICE TOUCH -- Really nice scene last night when the Giants and Dodgers got together in a presume ceremony for Bryan Stow, who was beaten in the Dodger Stadium parking lot earlier this month. [Los Angeles Times]
ROAD DOGS -- The first nine games of yesterday were won by the road team and the Blue Jays took an early 7-0 lead on the Mariners before coughing up the lead and giving the home team its first victory of the day. Only once before -- on July 30, 1890, had all the road teams win on a day with 10 or more games.
WRIGLEY'S FOR THE BIRDS -- Flocks of ring-billed gulls have made Wrigley Field one of their favorite feeding spots. At times you'll see more birds than fans in the stands. [Chicago Sun-Times]
NO-HITTER -- Trey Haley, Francisco Jimenez and Clayton Ehlert combined for a no-hitter for the Class A Lake County Captains in a 3-1 victory over the Dayton Dragons on Monday. The Captains are the low-A affiliate of the Cleveland Indians. [MiLB.com]
EVEN PUJOLS SLUMPS -- St. Louis really is America's best baseball towns, and its newspaper, the Post-Dispatch understands that. The P-D has one of the best baseball teams in the business, including Derrick Goold. I say this just to point out the work Goold did on his blog for Monday. Goold took a look at Pujols' slumps in his career and what followed. The moral of the story? You don't want to be a Diamondbacks or Dodgers pitcher this week.
AND JETER -- Derek Jeter's .206 average through his first nine games is the second-worst start of his career. The only time he started worse was 1998, and he had one of his better seasons following that start. However, he was 23. [New York Times]
JIMENEZ CLOSER -- Ubaldo Jimenez threw a bullpen session on Sunday and is on track to re-join the rotation on Monday. Jimenez will throw in an extended spring training. [MLB.com]
DAVIS TO DL -- Blue Jays center fielder Rajai Davis is expected to go on the disabled list today with soreness in his right ankle. He had been playing with the injury, but the team decided he needed rest to fully recover. [MLB.com]
FRIDAY DUNN'S DAY? -- Adam Dunn took batting practice on Monday, less than a week after his emergency appendectomy, but don't expect him back in a game until Friday. [Chicago Sun-Times]
GOOD GENES -- Reds second baseman Brandon Phillips was a proud big brother on Tuesday as his sister, Prosha, was taken by the San Antonio Silver Stars in the third round of the WNBA's draft that was held on Tuesday. The younger Phillips played at the University of Georgia. Her big brother had signed to play baseball at UGA before being drafted. [Twitter]
YOU'D NEVER GUESS IT -- If you had to guess which American League player has a triple in every season this century, how long would it take for you to guess David Ortiz? [Providence Journal]
SUPER SLO-MO -- This video of Tim Lincecum is just killer.
Hat tip to Big League Stew.
YOUTH MOVEMENT -- We all know the Cubs' Starlin Castro is young, but did you know that's he's nearly four months younger than the next-youngest player in MLB, Florida's Mike Stanton. Royals lefty Tim Collins is the youngest -- and shortest -- player in the American League. How about the minors? Braves phenom Julio Teheran is the youngest player in Triple-A, while the Rangers' Jurickson Profar is the youngest player in a full-season league in the minors. He was born Feb. 20, 1993. [Baseball America]
DEFENDING THE INDEFENSIBLE -- Sam Mellinger defends Royals owner David Glass. [Kansas City Star]
SPEAKING OF BAD OWNERS -- Frank McCourt's former attorneys are suing him. [Los Angeles Times]
RETIREMENT INCREASING -- No, not Manny Ramirez, but maybe 99 or 24. Anyway, here's a cool article from Chris Jaffe at the Hardball Times about retired numbers and it has a list of the players with the highest WAR for each franchise without their number retired. Looking at the list, my guess for next to have his number retired is probably Ken Griffey Jr. ANother Cincinnati kid, Barry Larkin isn't on the list, but his number is likely going to be retired soon, too.
$2 MILLION TACTIC -- Is Buck Showalter's tactic of teaching his players to try to break up a double play when a ball is hit right at the second baseman worth $2 million a season? [Sabermetric Research]
HERO WORSHIP -- Nearly 12 years after the last game he pitched in the big leagues, Jim Abbott is still inspiring others. [Orange County Register]
REDDICK MAKING ENEMIES -- Buffalo Bisons general manager Mike Buczkowski can't be much of a fan of Red Sox prospect Josh Reddick. It's not just that Reddick hit .327 with four homers and 10 RBI in 12 games against the Bisons in 2010, or that he homered in his first game against Buffalo in 2011. No, Reddick added to the misery he's caused Buczkowski on Saturday when on the pitch before his homer, Reddick hit a foul ball that shattered the windshield of Buczkowski's car. Pawtucket play-by-play man Dan Hoard has the details and photos on his blog. [Heard it from Hoard]
PRESIDENTIAL VISIT -- The Nationals' Abe Lincoln mascot made a visit to Lincoln's Cottage in Washington last week. [Lincoln Cottage Blog]
LUCKY CATCH -- A former minor leaguer won a $1 million jackpot in a scratch-off lottery. Joel Torres was released by the Indians this spring and wants to continue his career. [New York Post]
BAY AREA BASEBALL FEVER -- The Giants' run to the World Series title has made an impact on the participation of Bay Area Little Leagues. There are now waiting lists in some leagues. [New York Times]
LINEUP SHOW -- This is an interesting bit of marketing from Japan, a TV program invited all six Pacific League managers to present their opening day lineups and talk about them. I could see that working on MLB Network -- teams know who they're facing and what they're going to do, it only helps build excitement for the hard core fans (and for silly complaints about lineup construction, if you're into that kind of thing.) [YakyuBaka.com]
PUT ME IN COACH -- The Omaha World writes about the best baseball songs. As a huge fan of the Hold Steady, I appreciate any list that includes not only that band, but also its singer. That said, I prefer "Pasttime" from the Baseball Project's first album to "Don't Call Them Twinkies." But my favorite baseball song is still probably "A Dying Cubs Fan's Last Request" by Steve Goodman. All in all, a pretty darn good list -- especially with the inclusion of "Talkin' Softball."
For more baseball news, rumors and analysis, follow @cbssportsmlb on Twitter or subscribe to the RSS feed.