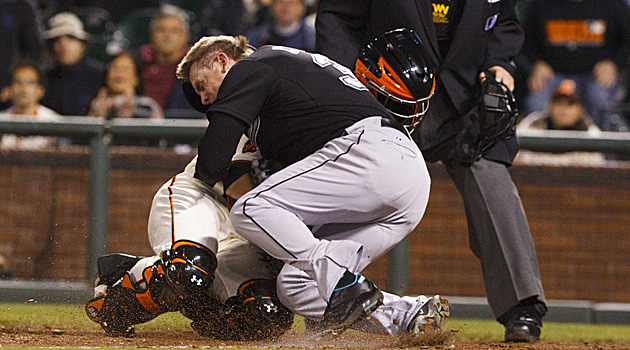 By Matt Snyder
Last May 25,
Marlins
bench player
Scott Cousins
bowled over star
Giants
catcher
Buster Posey
. The immediate result was a run scored that led to an extra-innings victory for the Marlins. In the process, however, Posey was injured and it turned out to be season-ending. He broke his fibula and tore three ligaments in his ankle.
The aftermath brought lots of backlash in Cousins' direction. At first, Posey wouldn't return his phone calls. Giants fans all over Twitter and message boards called the play dirty and threw taunts and insults Cousins' way. Those will all surely be rekindled when the Giants and Marlins face each other this season, too.
But new Giants reliever
Clay Hensley
has a unique perspective. He was on the Marlins when the play happened and is now playing for the Giants, so there's no worry of bias in standing up for a teammate. He was Cousins' teammate and now he's Posey's.
Andrew Baggerly of CSNBayArea.com
collected some really good quotes on the situation from Hensley.
On Cousins' perspective: "Awful," Hensley said (
CSNBayArea
). "You've got a player, Scott Cousins, who plays hard and he's a good guy and a good kid. He just wanted to make a play to help win a game. He's in his home town, trying to cut a groove for himself with the ballclub. He personally felt he had no room (to slide). Nobody can say one way or the other besides him ... It was tough to watch. I know for his part of things, nobody felt worse than he did. You play the game hard, but you don't want to hurt anybody."
On the Marlins' locker room after the win: "It was quiet. Nobody was celebrating," Hensley said (
CSNBayArea
). "I can guarantee you there wasn't any, `Yeah, we got his ass!' Nothing like that. Everybody was trying to figure out how bad it was. At the same time, Cousins was pretty distraught – wrecked, really – by it as well ... You're playing to win every time you take the field, but baseball is like one big family. You don't want anyone to get hurt."
On Cousins' mindset the rest of the season: "(The collision) is something that affected him for a long time," Hensley said (
CSNBayArea
). "We'd try. We'd say things. I remember I told him, `Hey, all you can do is keep your head up, keep working hard.' That's easy to say. I mean, this happened to him in his home city. Now we get home (to Miami) and he's getting hate mail. It was really, really tough for him. He was definitely, really upset about the whole situation."
Obviously Posey had a worse time last season than Cousins did, as the catcher had to rehab from a broken leg. I don't think Hensley is suggesting otherwise. But the hate in Cousins' direction is definitely unfair. Home-plate collisions are part of baseball. Just because Posey was injured on the play doesn't make it dirty. Hopefully by now all Giants fans have turned the page.
For more baseball news, rumors and analysis, follow @EyeOnBaseball on Twitter, subscribe to the RSS feed and "like" us on Facebook.