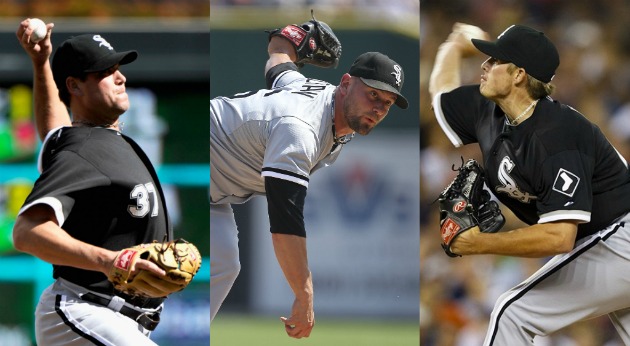 By C. Trent Rosecrans
Gearing up for spring training, we're headed east -- -but not too far east, just east from west, or in other words, to the Central, starting in the American League and what positional battles will be fought in the American League Central this spring, continuing the
spring position battles
series.

Chicago White Sox
Closer:
Matt Thornton
vs.
Jesse Crain
vs.
Addison Reed
With
Sergio Santos
in Toronto and
Chris Sale
headed to the rotation, the White Sox are once again looking for a closer. Thornton saved three games last season and Crain one, but both are more or less keeping the seat warm for Reed, the team's top (and perhaps only) prospect. Thornton, an All-Star in 2010, won the closer battle last season before blowing his first four save opportunities to start the season and he was ultimately replaced by Santos. Crain pitched well last season, but it's Reed that has a chance to be special.

Cleveland IndiansFifth starter:
Kevin Slowey
vs.
David Huff
vs.
Jeanmar Gomez
vs.
Zach McAllister
Ubaldo Jimenez
is the team's opening-day starter followed by
Justin Masterson
,
Derek Lowe
and
Josh Tomlin
. The fifth spot is probably Slowey's to lose. The 27-year-old right-hander was twice traded this offseason, first to Colorado and then to Cleveland. While he struggled last season (0-8 with a 6.67 ERA in eight starts and 14 games), he's a proven back-of-the-rotation starter with a 39-29 record and 4.66 ERA. He's also familiar with the AL Central. Gomez made 10 starts for the Indians last season, as did Huff, the only lefty of the group. McAllister made four starts and wasn't overly impressive.

Detroit TigersThird base:
Miguel Cabrera
vs. third base
When the Tigers signed
Prince Fielder
, the stated plan was that Cabrera will move to third, leaving the DH spot for
Victor Martinez
-- who isn't playing this year. The Tigers, it appears, are trying to keep Cabrera from getting too big to play third in preparation for 2013 when they'll really have a logjam at the position with Fielder, Cabrera, Martinez and
Delmon Young
. For now, it seems like wishful thinking that Cabrera can play a passable third base. But if he can, it helps the team out -- especially defensively in the outfield with Young not trying to figure out what to do with that that thing on his left hand.

Kansas City Royals
Second base:
Johnny Giavotella
vs.
Chris Getz
vs.
Yuniesky Betancourt
What you've heard is true -- there's a ton of talent in Kansas City. In fact, the lineup is nearly set, except for second base and center field. Center should be manned by
Lorenzo Cain
, who doesn't have a realistic competitor for the spot, but second could be a question. Giavotella came up in 2011 to middling results - .247/.273/.376 with two homers and five stolen bases in 187 plate appearances, but he has a chance to take the position if he can play at the level he established in the minors, where he was a .305/.375/.437 hitter since being taken in the second round of the 2008 draft. While just 5-foot-8, he has shown the ability to make contract (striking out no more than 67 times in any of his minor league seasons) and walk nearly as much as he strikes out (192 minor-league walks to 212 strikeouts). He's not the best defender, but he's adequate. Getz is nobody's idea of a long-term answer. He hit .255/.313/.287 last season, but plays good defense. And then there's Betancourt, who was signed not add depth. The former Royals shortstop will not and should not be pressuring light-hitting
Alcides Escobar
, but he could add some pop to the infield at second.

Minnesota TwinsDisabled list:
Joe Mauer
and
Justin Morneau
vs. the disabled list
No two players may be as essential to their team's success as Mauer and Morneau. The two made a combined $37 million last season -- more than the entire Royals team. And, by the way, Kansas City finished eight games ahead of the Twins in the AL Central. The Twins just barely avoided being a $100-million, 100-loss team, but it took a 1-0 victory over the Royals on the last season to do it. Mauer played in 82 games, while Morneau played in just 69, with the two combining to hit seven home runs between them. Morneau's never seemed to fully recover from the concussion he suffered in July of 2010 and Mauer's had a variety of injuries, missing games with a leg injury, as well as lower back stiffness, a bruised shoulder, neck stiffness and pneumonia. Both players will play first base and DH some to try to keep them healthy, but questions will continue until either plays a productive 130-game-or-so season.
For more baseball news, rumors and analysis, follow @EyeOnBaseball on Twitter, subscribe to the RSS feed and "like" us on Facebook.