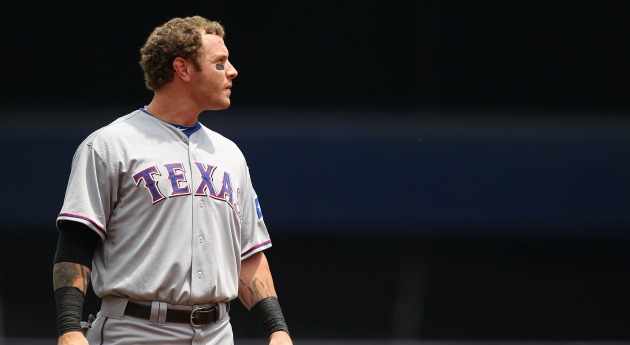 By Evan Brunell
Josh Hamilton
thinks he knows why he struggles in day games.
It's his blue eyes.
"I ask guys all the time" as to whether they struggle in day games, Hamilton told ESPN 103.3 FM" "Guys with blue eyes, brown eyes, whatever ... and guys with blue eyes have a tough time."
Hamilton is hitting .297/.360/.513 in his follow-up campaign to his MVP season, which is an impressive mark but quite a bit off his line from 2010. Yet, if you look at just his night numbers, he's tossing up silly numbers with a .376/.415/.661 line in 118 PA. His day numbers are a different story, as he's flailing to the tune of a .112/.246/.184 mark in 57 PA. Hamilton had a wide split in 2010 too, but it wasn't as severe: .286/.345/.474 in the day and .384/.433/.688 at night.
"It's just hard for me to see [at the plate] in the daytime," Hamilton said. "It's just what it is. Try to go up [to the plate] squinting and see a white ball while the sun is shining right off the plate, you know, and beaming right up in your face."
The solution could be in a pair of sunglasses that he used in the field last season, but could not find. Until now.
"Hopefully that'll help my eyes relax enough to take them off and bat and put them on again," Hamilton said.
For more baseball news, rumors and analysis, follow @cbssportsmlb on Twitter or subscribe to the RSS feed.