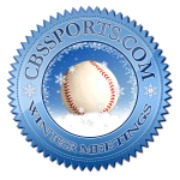 From December 6-9, baseball's offseason will kick into high gear as team officials, agents, players and media descend upon Orlando, Fla. This week, MLB Facts and Rumors will preview an aspect of the Winter Meetings each day. Today: The top storylines of the meetings.
There are three major storylines when it comes to the Winter Meetings and that's what will be dominating the airwaves. It's going to be all about free agency and possible trades Monday through Wednesday, then Thursday sees the Rule 5 draft take center stage.
That's not all that will happen, however. Below is a list of the major storylines of the meetings.
EXPANDED PLAYOFFS
The MLBPA wants owners to hold off on voting in any specific proposals for expanding the playoffs. Both sides seem to agree it is inevitable the playoffs will be expanded, but logistics such as timing, length of series and playoff bonuses need to be hashed out.
With one year remaining on the labor agreement, expanded playoffs probably won't happen until 2012, but there will be plenty of chatter around the topic as the MLBPA's executive board is currently meeting in Orlando, a week in advance of the meetings. That's not a coincidence, especially as Selig's own 14-man committee will be discussing adding two wild-card teams to the mix on Dec. 7, when they meet in Orlando. Other topics that could be touched on include expanding video replay (don't bet on it) and turning the amateur draft into a worldwide one with a slotting system.
FREE-AGENT SIGNINGS
No, it probably won't be Cliff Lee, although there will be plenty of developments in that arena during the Winter Meetings.
However, it's likely that a top free-agent name does come off the board, whether Carl Crawford, Jayson Werth or Carl Pavano.
With agents and GMs all in one place amid a haze of frenetic energy, things tend to accelerate faster toward getting things done and there is always a few significant free-agent pieces to come off the board.
CARL CRAWFORD
Of the three major free-agents left in Lee, Werth and Crawford, it's the Ray that figures to be the closest to signing. Lee is in no hurry and it's not known if there are even any bids in hand. Werth, for his part, says that negotiations haven't accelerated and figures haven't been exchanged, although that was days ago which is an entire millennia in baseball happenings.
However, Crawford has already been pitched heavily by the
Angels
, and the
Red Sox
met with him in Houston. Sounds like things are heating up. He could very well grab the lead story on many newspapers' sports sections next week.
TRADES
Every time a new free agent signs, the trade market gets clearer. For example, when the
Dodgers
signed
Juan Uribe
, that caused the
Giants
to strike for Miguel Tejada and essentially take themselves out of the
Jason Bartlett
sweepstakes. The Dodgers then sent
Ryan Theriot
to the
Cardinals
as a result of signing Uribe, which put the Cardinals in a position to decline Bartlett's services as well if they so choose.
Teams are starting to plug up gaps, which should accelerate the wheeling and dealing so GMs aren't frozen out of a player or a deal falls apart thanks to a resolution in free agency.
Zack Greinke
Greinke is going to be the popular name on the trade market, but he's not going anywhere until Cliff Lee comes off the board, and perhaps not even then. Remember, the
Royals
righty is two years from free agency and has a high price tag. Kansas City is holding out hope it can eventually convince Greinke to re-sign once he sees the talent around him improving.
There will be plenty of smoke surrounding Greinke, but don't be surprised if nothing comes of it.

RULE 5 DRAFT
On Thursday, the Rule 5 draft will cap the meetings and everyone will hit the airport in the afternoon. The draft will have plenty of machinations as there always seems to be a gem per year that emerges as
Josh Hamilton
,
Dan Uggla
and
Joakim Soria
can attest to. There was no such gem in 2009, so perhaps 2010 will fix that remedy.
There were 17 selections in the first round of the '09 Rule 5 draft in the major-league phase and 19 in 2008. That means one can comfortably assume at least half of the major-league teams will be participating in the draft. There is also a Triple- and Double-A phase, although the latter is rarely taken advantage of by teams.
-- Evan Brunell
For more baseball news, rumors and analysis, follow @cbssportsmlb on Twitter or subscribe to the RSS feed.