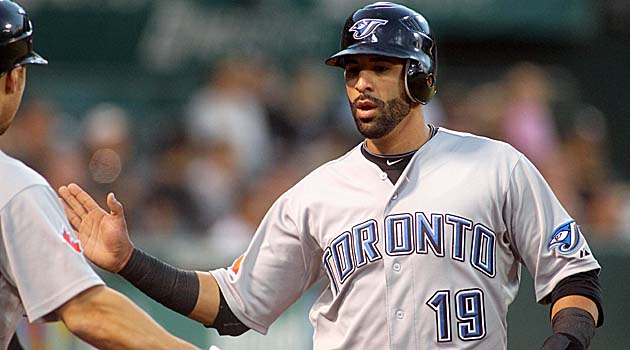 By Matt Snyder
It's that time of the baseball season. You know, we're nearing September, so in addition to watching the pennant races, it's the time when people start to pretty heavily argue about the MVP of each league. In addition to arguing which players have the best numbers, two fundamental criteria spark discussion as well.
1. Are pitchers eligible? They are. But many believe they shouldn't be (
see Evan Brunell's post on this
).
2. Are players on teams not in contention eligible? They are. But many believe they shouldn't be.
On No. 2, enter
Jose Bautista
of the
Blue Jays
.
He leads the majors in home runs, on-base percentage and slugging percentage. He's walked 21 more times than he's struck out. He has a cannon in right field, but can also play third if his team needs it. He's so scary to opposing ballclubs that he leads the AL with 18 intentional walks. And if you like this sort of thing, Bautista is dominating WAR (wins above replacement player), WPA (win probability added) and all other advanced value stats.
Basically, he's the most valuable player in baseball
unless
you discount him based upon his team.
Blue Jays general manager Alex Anthopolous believes it shouldn't even be close.
"On and off the field you can't find anybody more complete than him," Anthopolous said (
Slam Sports
). "His work ethic, community work, character in the clubhouse, helping out teammates, they're all first-rate. And his performance on the field has been as good as it gets ... defensively, offensively, changing positions in the middle of the season. I mean, check off all the boxes."
It's going to be interesting to see how the votes fall, assuming things remain similar through the next five weeks of play. One thing that always makes me cringe is when people say something like "he plays for a losing team" or "how valuable can he be? They could finish fourth without him."
Look at the standings
. The Blue Jays are three games over .500 and simply stuck in the wrong division. They'd only be four games out in the AL Central -- actually closer, though, because the schedule in the AL Central is worlds easier than the AL East. The Jays are most certainly
not
a "losing team."
And if you took Bautista off the Jays, they'd be far worse. It would be a much bigger hit to the team than if, say, the
Red Sox
lost
Jacoby Ellsbury
.
Hustle is bush league now?
Evidently the
Tigers
were yelling at
Rays
' infielder
Sean Rodriguez
for ... hustling? Tuesday, Tigers starter -- and reportedly "possibly some others" -- took exception with Rodriguez for running hard on an infield pop out. Rays manager Joe Maddon took exception to that. "For anybody to bark at another player for … hustling is absolutely insane, ludicrous,'' Maddon said (
TampaBay.com
).
Canseco's life:
I'd rather forget about Jose Canseco, but many aren't of that mindset -- witness his 400,000-plus Twitter followers. So if you want to read a lengthly feature on Canseco's "surreal" life, click on through to
TheStar.com
. It's well written and covers tons of material.
LoMo still in the dark:
It was a bit odd when
Marlins
outfielder
Logan Morrison
was demoted to the minors a few weeks ago. His batting average is a bit low, but his OPS is above average (115 OPS-plus) and he has 18 home runs and 61 RBI. Many believed he was being punished for being such an outspoken person Twitter and in other circles, though it hasn't been explicitly said. But he's back now and not worried about why. "I haven't talked to anybody. I don't really care. I'm just looking to move forward," he said (
Sun-Sentinel.com
).
'Cry-babies:'
The
Mets
don't win more games because they are "cry-babies," according to former big-leaguer and current
Phillies
broadcaster
Gary Matthews
. "Tell them Sarge said it - the Mets are crybabies," Matthews said (
NYDailyNews.com
). "That's why they lose."
Bell has more on mind than possible trades:
Padres
closer
Heath Bell
has heard his name in trade talk for quite a while now, but that's not the foremost thing on his mind. Specifically, his Dad has been battled cancer for a few years and just underwent open-heart surgery Wednesday. "It's kinda helped me get through all the trade and waiver stuff," said Bell (
signonSanDiego.com
). "Everybody's talking about that and I'm thinking, "Man, I'm just glad my dad's doing well.' "
No relief yet:
White Sox
starting pitcher
Jake Peavy
has been pretty good in short doses this season, but he doesn't believe that means he's in need of a switch to the bullpen, as he's still technically recovering from a rare surgical procedure. "I've had people tell me, 'Oh, you look good in short stints, Have you thought about going to the bullpen?'" Peavy said (
ChicagoTribune.com
). "To me, that's not a thought process of mind, simply because I haven't got to where the doctors told me you're as good as you're going to get. They told me from a year to 18 months, you are where you are."
It's opposite day:
Did you ever think you'd hear a player talking about feeling less pressure playing for the
Yankees
than the A's? Yeah, me neither. But
Eric Chavez
has extenuating circumstances. He went from being one of the best third basemen in baseball to never being able to stay healthy on a consistent basis, thereby creating pressure for himself when he did get on the field. He was also being paid a pretty penny. Now, as a Yankee, he's feeling fine.
"All of that [pressure] is completely gone," he said (
NJ.com
). "It was so refreshing going into spring training. I don't want to say I had to change myself as a ballplayer, but I am, I'm different now. And I'm okay with that because I don't have that big contract on my shoulders. There's tons of hitters in here that will produce and you just have to be part of the team."
For more baseball news, rumors and analysis, follow @EyeOnBaseball on Twitter or subscribe to the RSS feed.