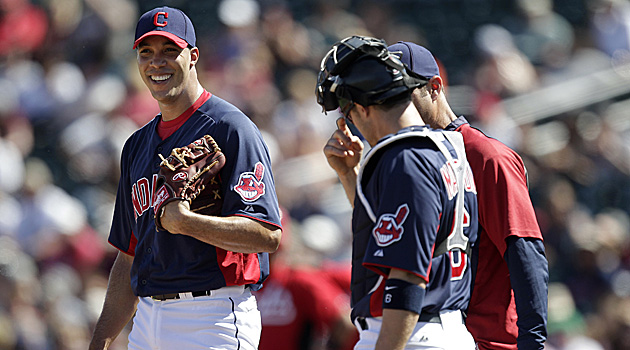 By Matt Snyder
The Cleveland
Indians
were the feel good story in baseball for the 2011 season ... as of May 23, when the Tribe was 30-15 with a seven-game lead in the AL Central. They were still tied for first as late as July 21, but just couldn't keep up with the red-hot
Tigers
in the second half, finishing 15 games out in the end. With a full season with some good, young talent and experience added to the starting rotation, the Tribe is hoping that they don't run out of gas this time around. Unfortunately, bad luck has already struck this spring with an injury to closer
Chris Perez
and center fielder
Grady Sizemore
already sustaining a major injury.
Major additions:
Casey Kotchman
, 1B, OF
Aaron Cunningham
, RHP
Derek Lowe
, RHP
Kevin Slowey
Major departures:
DH
Jim Thome
, OF
Kosuke Fukudome
Probable lineup
1.
Michael Brantley
, CF
2.
Asdrubal Cabrera
, SS
3.
Shin-Soo Choo
, RF
4.
Carlos Santana
, C
5.
Travis Hafner
, DH
6. Casey Kotchman, 1B
7.
Jason Kipnis
, 2B
8.
Lonnie Chisenhall
, 3B
9.
Shelley Duncan
, LF
Probable rotation
1.
Ubaldo Jimenez
2.
Justin Masterson
3.
Josh Tomlin
4. Derek Lowe
5. Kevin Slowey
The status for Roberto Hernandez Heredia (the artist formerly known as
Fausto Carmona
, that is) is completely up in the air right now. He will at least miss all of spring training.
Back-end bullpen
Closer: Chris Perez
Set-up:
Vinnie Pestano
,
Tony Sipp
,
Joe Smith
Important bench players
C
Lou Marson
, 1B/OF
Matt LaPorta
, OF Aaron Cunningham, IF
Jason Donald
, IF
Jack Hannahan
Prospect to watch
The Indians were chock full of these last season, but Kipnis and Chisenhall made the leap while
Alex White
and
Drew Pomeranz
were traded to the
Rockies
for Jimenez. Instead, we're scraping for guys with huge upside but not close to the majors (
like 18-year-old shortstop
Francisco Lindor
) or those who have already spent time in the majors (
Cord Phelps
,
Zach McAllister
). I'll go with
Nick Hagadone
here. He did get 11 innings of work for the Indians last season but he's still techinically a prospect. He also has the ability to be a high-strikeout addition the Bullpen Mafia. He struck out 77 in 71 minor-league innings and 11 in his 11 big-league innings last season.
Fantasy sleeper:
Jason Kipnis
"Granted, Kipnis' first couple weeks on the job were a little too good to be true. He hit six homers in the span of 11 days before his deal with the devil ran out, landing him on the 15-day DL with a hamstring injury. But just because he's not
really
a 40-homer threat doesn't mean the whole thing was a sham. He also had five steals during his time in the majors, demonstrating a combination of power and speed normally associated with the best of the best second basemen, such as
Dustin Pedroia
and
Ian Kinsler
. And the attributes he was most known for in the minors -- his .300-plus batting average and high walk rate -- weren't even on display during his 136 at-bat trial." - Scott White [
Full Indians team fantasy preview
]
Fantasy bust:
Asdrubal Cabrera
"OK, so Cabrera was the surprise of 2011, emerging off the waiver wire to contribute 25 homers and 94 RBI at the weakest position in Fantasy. It was fun, sure. But the danger for Fantasy owners is when that once-in-a-lifetime season becomes the new expectation. Not only were Cabrera's 25 homers a complete departure from his established track record, but they came with an elevated fly ball rate that began to wreak havoc on his batting average in the second half, when he presumably became homer-conscious. He hit only .244 after the All-Star break, and his .411 slugging percentage during that stretch was actually lower than the one he put together during a six-homer 2009. If he continues to force the issue, he could turn out like
Aaron Hill
. Then again, if he reverts to being more of a line-drive hitter, he'll have to settle for fewer homers.
" - Scott White [
Full Indians team fantasy preview
]
Optimistic outlook
Do Clevelanders do optimism? If not, they should. Everyone needs to think happy thoughts on occasion. Let's try to do so here. Ubaldo Jimenez rounds back in ace form and Derek Lowe keeps things together for one last year, giving the Tribe a pretty damn good pitching staff, top to bottom. Hafner and Sizemore (eventually) stay healthy and party like it's 2006 while Choo returns to form and the young guns blossom faster than expected. Or, as Lou Brown once said, "the veterans are playing back to form and the [young players] are developing faster than I thought ... " If that all happens, the Indians can win one of the wild cards and even have a shot at the mighty Tigers.
Pessimistic outlook
The division is divided into two parts. The Tigers and everyone else. Too much has to go right for the Indians to even come close to the Tigers, and the gap has widened from the 15-game gap that we saw at the end of last season. Also, the wild card is already plenty crowded with only two division winners coming from this group:
Yankees
,
Rays
,
Red Sox
,
Rangers
and
Angels
.
For more baseball news, rumors and analysis, follow @EyeOnBaseball on Twitter, subscribe to the RSS feed and "like" us on Facebook.