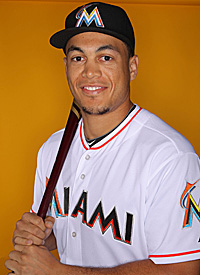 By Matt Snyder
Young
Marlins
slugger
Mike Stanton
's birth name is actually Giancarlo Cruz-Michael Stanton. He just started going by Mike in school because of the constant mispronunciations.
"It got really annoying having seven classes having to correct seven different people every single day.'' he said (
Fish Tank Blog
). "Mike is part of my middle name so it was the easiest (solution). But I never changed it because I didn't like it.''
And now, Stanton says he's going to be introduced -- at least in all home games -- as Giancarlo Stanton from this point forward.
The Fish Tank blog post notes that Stanton is pretty easy-going with the name choices, so it's cool if you keep calling him Mike. His teammates have a wide variety of names they call him.
"Everything,'' he said with a smile (
Fish Tank Blog
). "Cruz. Giancarlo, Mike, Mikey, Big Mike, Big Foot, Bam-bam. Man-Child. I respond to 25 different names.''
Stanton, 22, is one of the brighter young stars in all of baseball. He amassed 56 home runs before his 22nd birthday (which was last November). Last season, his second in the majors, he hit .262/.356/.537 with 34 homers, 87 RBI and 79 runs. If he continues to develop on this path, I'm pretty sure Marlins fans will be happy to call him whatever he wants.
For more baseball news, rumors and analysis, follow @EyeOnBaseball on Twitter, subscribe to the RSS feed and "like" us on Facebook.