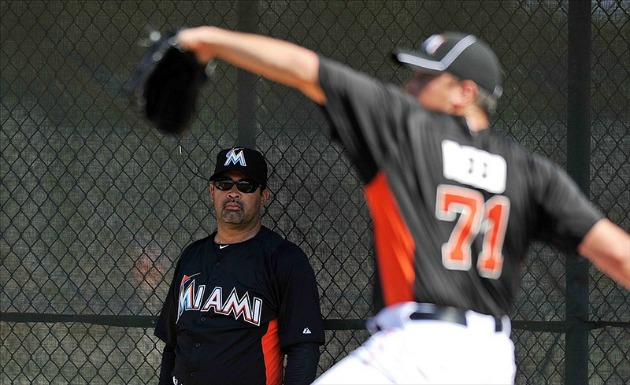 By C. Trent Rosecrans
There's been a lot of talk about rules in the last couple of days in response to Bobby Valentine's new rule banning alcohol in the clubhouse. The
Marlins
don't have such a rule.
New Marlins manager Ozzie Guillen went on a rant -- a rant that could only come from Guillen -- about his one rule: be on time for the National Anthem.
Here's part of what he said,
from Joe Capozzi of the Palm Beach Post
:
"I don't care if you go there buck-naked with your pants (bleeping) down your ass, your hair down to your legs. Just win games. When you win games you look cool. When you lose games, you look dirty," Guillen said.

"Be on time and play the game right – that's my rule. It should be that way. If you're late, you better give me a good excuse…

"You're late for the (bleeping) National Anthem? The National Anthem is (bleeping) 10 minutes before the game starts. We're going to start in 10 minutes and you're late?"
"A lot of people have been kllled to make this country free for us. You should be there for at least two minutes," he said.

"Respect that, especially if you come from another (darn) country, you should be there an hour before…

"I think it looks good for baseball when you are in the stands and you see the team respect the National Anthem," he said.

"Kids can see that, the respect."
For more baseball news, rumors and analysis, follow @EyeOnBaseball on Twitter, subscribe to the RSS feed and "like" us on Facebook.