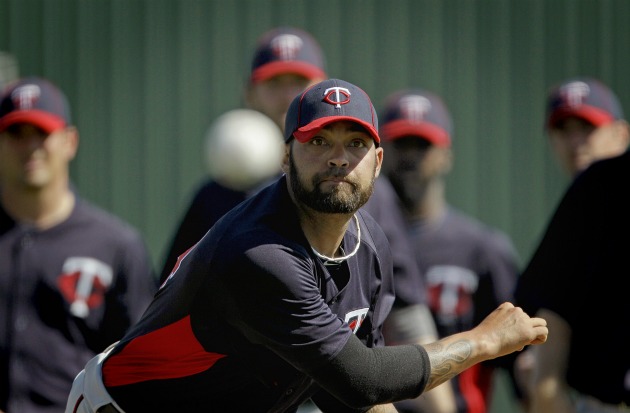 By C. Trent Rosecrans
If Friday was a
Grady Sizemore
injury, Saturday must mean it was time for
Joel Zumaya
to get hurt, isn't it.
Unfortunately, that was the case. Zumaya, now a Twin, cut short a throwing session on Saturday after about 15 pitches. He is scheduled to have an MRI on Sunday, manager Ron Gardenhire told reporters (
via MLB.com
).
General manager Terry Ryan said the MRI would be on the inside of Zumaya's right elbow.
"Obviously he felt something that was discomforting so he came off, which was right," Ryan said, according to the Star Tribune. "We've had this happen down here before. We've had people walk off the mound because they were hurt. I'm glad he came off there, we'll get it addressed tomorrow and see what the results of that MRI are. It would be a little less concerning if we didn't have the history with him, which he's experienced in his career.
"There's not a lot I give you until we get the results. They'll be out fairly soon. We'll get him in tomorrow morning, which is a good thing, Sunday morning."
Zumaya declined to speak to reporters.
CBSSports.com insider Jon Heyman reports Zumaya said he felt "something" and wasn't happy as he left the field
.
The right-hander missed all of 2011 after undergoing elbow surgery last spring training and hasn't played in a game since June 28, 2010, when he fractured his elbow while pitching for the
Tigers
against the
Twins
.
A rookie sensation in 2006, Zumaya appeared in 62 games, striking out 97 batters in 83 1/3 innings and lighting up radar guns, while putting up a 1.94 ERA for the Tigers. Since then, he's appeared in just 109 games over four seasons and no more than 31 in any season. His strikeout rate has been around one per inning since his rookie season, but hasn't exceeded it.
In 2007 he had a finger injury and a shoulder injury limited him in 2009 and 2009 before undergoing season-ending surgery.
The Twins signed the 27-year-old to a one-year contract in the offseason.
For more baseball news, rumors and analysis, follow @EyeOnBaseball on Twitter, subscribe to the RSS feed and "like" us on Facebook.