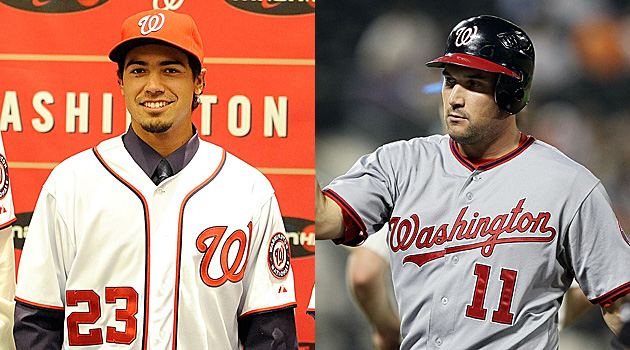 By Matt Snyder
Much of the attention in
Nationals
camp this spring will focus on the likes of
Stephen Strasburg
,
Bryce Harper
and
Gio Gonzalez
. There will surely be talk of
Jayson Werth
,
Wilson Ramos
and Mike Morse for varying reasons as well. But a major storyline that's lying in the weeds and could be an issue as soon as 2013 is
Ryan Zimmerman
vs. 2011 first-round pick
Anthony Rendon
at third base.
Rendon, 21, is a third baseman by trade, though he had played second base some in college, too. Speculation from many of the scouting websites (Baseball America, Baseball Prospectus, etc.) have him being big-league ready very soon, as early as the start of the 2013 season. And they also say he's best suited for third base, even a plus defender there, while he'd be below average at second or short.
Of course, in Zimmerman, the Nationals have a 27-year-old third baseman who has won a Gold Glove. The issue, however, is that Zimmerman regressed on defense in 2011. Injuries hampered his range (Fangraphs.com's UZR/150 score for Zimmerman was 17.8 in 2010 and -4.4 in 2011) and he had to develop a new throwing motion to try and protect himself from further injury. That new throwing motion caused accuracy issues, too.
The Nats Blog made a good case a few weeks ago
that Zimmerman could easily be the Nationals' first baseman of the future, with Rendon sliding right in at third.
For now, Zimmerman is saying all the right things.
"I think I want to play third base until someone is better than me at it," Zimmerman said (
Nationals Journal
). "I think there's teams that move people. I've said it all along — I want to be here as long as I can. I want to play my whole career here. If that means me playing third base for five more years and then moving somewhere because someone is better than me at third and it'll help us win, then I'll do it. If that means me playing third base for 10 years and then going to first base or wherever, then I'll do it. I don't care."
Rendon will be getting reps at third base, shortstop and second base in camp, and he gave the requisite due to Zimmerman.
"Oh, yeah, sure, he's going to be here a long time, I'm pretty sure," Rendon said (
Nationals Journal
). "He's an all-star. He's a great player. I'm not coming here to take anything away from him. He's set in stone. I'm not trying to ruin that."
It's very interesting to think about all the options moving forward, depending upon how things shake out. If Rendon pans out at second,
Danny Espinosa
could shift to shortstop and take out
Ian Desmond
. If Rendon needs to be at third and Zimmerman's health issues at third continue, Zimmerman could shift across the diamond. Of course, then the Nationals have nowhere to move Mike Morse when they acquire an upgrade in center field and have Jayson Werth and Bryce Harper at the corners.
This is all just something to think about, with no immediate urgency. Regardless, if Rendon develops into an All-Star-caliber bat -- as many believe he will -- Washington has a very nice problem on its hands.
For more baseball news, rumors and analysis, follow @EyeOnBaseball on Twitter, subscribe to the RSS feed and "like" us on Facebook.