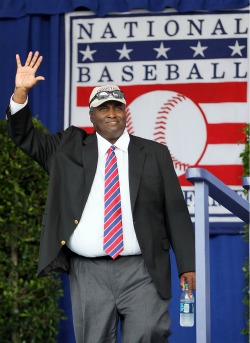 By Matt Snyder
Hall of Famer and baseball legend
Tony Gwynn
underwent surgery to remove a cancerous tumor in his right cheek Tuesday night
, and it was successful,
reports ESPN.com
.
The source ESPN.com used for the story is Gwynn's wife, Alicia, who told the outlet that the surgery didn't end until 1 a.m. PT, meaning the Hall of Famer was under the knife for 14 hours. But the good news is that just 7 1/2 hours later, Gwynn was reportedly in great spirits and drinking water.
"All is well -- it doesn't seem like last time,'' Alicia Gwynn said (
ESPN.com
). "It turned out great. He looks good, he looks normal. His eyelids are a little swollen, but they got all the cancer. They say they got it all. His face looks good. They did an amazing job.''
Also, it sounds like the doctors got all of the cancer:
"He's a little drowsy now, and we'll be talking to the doctors again, but, yes, the biopsies were clear," she said (
ESPN.com
). "The doctors and staff were amazing. They had nurses contacting me every hour while he was in surgery. And now Tony's talking already.''
Gwynn, 51, is the current head baseball coach at San Diego State. He used smokeless tobacco inside his right cheek for a period of at least 30 years and has admitted he was addicted. He hasn't used since his 2010 surgery.
For more baseball news, rumors and analysis, follow @EyeOnBaseball on Twitter, subscribe to the RSS feed and "like" us on Facebook.